6 Products You Absolutely Need In your Kitchen!
Have you decided on adulting this year? Or did you adult a long time ago and now your kitchen is a cluttered mess? No matter what life situation you're in, this article will help you figure out exactly what you need in your kitchen for maximum efficiency. Kitchen gadgets can make you go a little crazy. Walking down the cooking aisle at a store, specialty tools like avocado peelers, strawberry hullers or a teensy-tiny wooden spoon are always tempting. But before you purchase gadgets that your kitchen simply doesn't provide the space you need to store them, Lets look at the Products that you NEED in your kitchen!
Chef's Knife & Cutting Board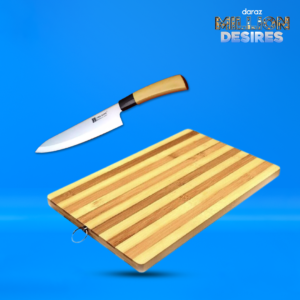 A good knife is a chef's best friend. This is one of the few things that you'll thank yourself for investing in. Carbon-plated stainless steel will stay sharp over time, but go to a specialty store to find the best match for you. Choose a knife that you feel comfortable handling. It should feel balanced in your hand, easy to hold and control, not too heavy, but definitely not flimsy.  And of course, what's a good knife worth without a cutting board. Definite MUSTHAVE for your kitchen!
A sturdy, stable surface is essential when it comes to prepping your food. A wooden cutting board will help protect your knife from dulling quickly, as well as make cleanup a breeze.
Measuring Cups & Spoons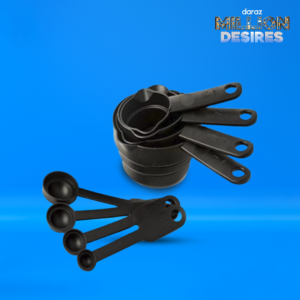 Purchasing a matching set of measuring cups and spoons is especially helpful, but let's talk spoons first. If you're are buying new ones, we really recommend the square and narrow ones. They easily fit into spice containers and are stackable. Measuring cups are used for precisely measuring the volume of liquid or solid cooking ingredients. You may not think that measuring cups can be anything special. Any set will do, right? Well as it turns out, great design can extend all the way down to measuring cups. They're also the most help when looking up recipes on the net that require minute attention to detail. Whether you're whipping up something sweet or savory, trust me you'll need these babies in your kitchen drawer more than you know.
Immersion Blender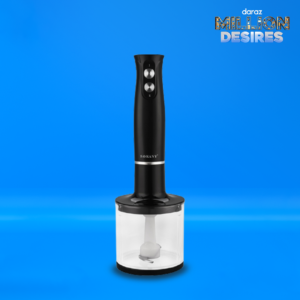 This handheld tool makes it so easy to blend soups, smoothies, and pestos with the push of a button. I find much easier to handle than a traditional blender, and it's great because it takes up much less space, too. From blending soups and sauces directly in the pot, to whipping up homemade whipped cream for dessert, to easily making mayonnaise for hard boiled eggs. Immersion blenders also come with various attachments and sizes to perfectly fit what your kitchen needs. Need? definitely.
Baking Tray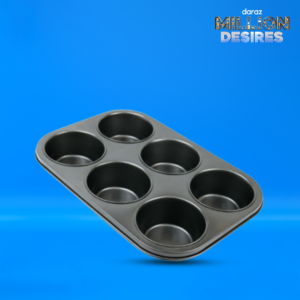 A regular baking pan (13x9x2 inches) is a definite must-have. You can use it for so many sweet things—cakes, brownies, cookie bars—and, of course, it has savory uses as well. If you pick only one baking pan to stock your kitchen with, make it this one. Muffin pans, like this one are super handy too! Use this pan to show up at your next brunch with a tray of freshly-baked muffins, or use it to make cupcakes for your next birthday celebration. Plus, you can use a muffin pan for lots of savory recipes too, like meatballs, pizza cups, and mini meat loaves.
Spatula, Tongs & Ladle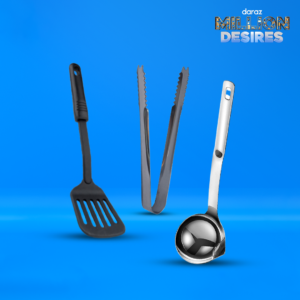 These are 3 of many kitchen utensils that we feel are ABSOLUTELY necessary for your kitchen.
Spatula – A sturdy metal (or high-quality plastic) spatula is vital for flipping, tossing, and serving all kinds of foods. Think eggs over easy, puffy pancakes, roasted veggies, sauteed meats, baked salmon…we could go on. A silicone spatula is crucial for scraping out the food processor or the sides of the mixing bowl, swirling frosting onto a cake or folding egg whites into cake batter. Make sure your spatula is silicone and not rubber, or else it may risk melting under high heat. If you make lots of garlicky things, you may want to have a separate spatula for sweet baking only.
Tongs – For easily flipping meats and vegetables, a good pair of tongs that can handle all kinds of different sized foods is a must. It's important for them to have silicone tips to prevent scratching and a high degree of heat-resistance so they don't melt away after frequent use.
Ladle – A ladle is essentially a very large, long-handled spoon. It is used for serving liquid dishes like soups, stews, or sauces. Purchase Ladles with a combination of steel and silicone to ensure they don't melt / stain when put in the dishwasher
Saucepans & Skillet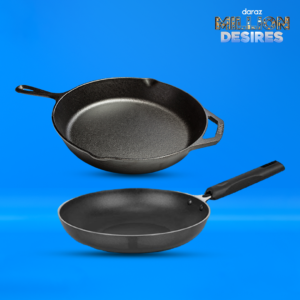 A stainless steel skillet will likely be the workhorse of your kitchen. You will be using this cookware for frying, searing, sautéing, and browning, among other functions. For this reason, it's important to pick a high quality stainless steel skillet that you can use for a lifetime. For small portion cooking of soups, stews, pastas or sauces, a lightweight and easy to handle saucepan is necessary. Based on the size/ portions you intend to cook for, you may adjust the sizes of your saucepan/ skillet. For smaller portions, smaller sizes will do.
To purchase all your essential Kitchen Products at the best prices, shop on the Daraz Million Sale happening right now! You can crazy discounts, price drops and flash sales on your favorite products from the top lifestyle brands in Sri Lanka. All delivered right to your doorstep! Don't miss out. Shop now!