5 Easy Lockdown Treats To Make At Home!
Ah yes, these small treat recipes are back to haunt you. I'm sure disconnecting from the world again has you taking refuge in your kitchen. And, what better way to make time go by faster than whipping up a quick treat for yourself to devour. From baking your own bread to figuring out what to do with those extra bananas, Here's 5 VERY Easy Lockdown Treats to help you get through the long days.
Chocolate Chip Cookie Brownies
Now we love our good old classic Chocolate chip cookies and Brownies, But together? It's a treat that's making it's way to the top. And it's much easier than you're thinking.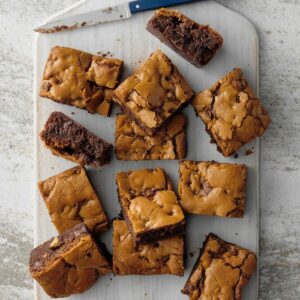 Ingredients
3/4 cup butter
1-1/2 cups sugar
1/2 cup baking cocoa
3 large eggs, room temperature
3/4 cup all-purpose flour
1/2 cup chopped walnuts
CHOCOLATE CHIP LAYER:
1/2 cup butter
1 cup packed brown sugar
1 large egg, room temperature
1/2 teaspoon baking soda
1 cup all-purpose flour
1 cup semisweet chocolate chips
Method
Preheat oven to 350°. Line a 9-in. square baking pan with foil, letting ends extend up sides; grease foil.
In a microwave, melt butter in a large microwave-safe bowl. Stir in sugar and cocoa. Add eggs, 1 at a time, whisking to blend after each addition. Add flour; stir just until combined. Stir in nuts. Spread into prepared pan. Bake 15 minutes.
Meanwhile, for cookie layer, melt butter in another microwave-safe bowl. Stir in brown sugar. Whisk in egg. In a small bowl, whisk flour and baking soda; stir into butter mixture just until combined. Stir in chocolate chips. Spoon mixture over hot brownie layer.
Bake 35-40 minutes longer or until a toothpick inserted in center comes out with moist crumbs. Cool completely in pan on a wire rack. Lifting foil, remove brownies from pan. Cut into bars.
Hot Milk Cake
If you love sponge cake, milk or better the infamous Tres Leches Cake then this dish will blow you out of the water. It's 10x simpler and unlike the Tres Leches, can be served as soon as it's been made. Yup, we've got all the solutions.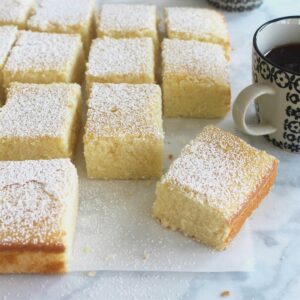 Ingredients
4 large eggs, room temperature
2 cups sugar
1 teaspoon vanilla extract
2-1/4 cups all-purpose flour
2-1/4 teaspoons baking powder
1-1/4 cups 2% milk
10 tablespoons butter, cubed
Method
Preheat oven to 350°. In a large bowl, beat eggs on high speed for 5 minutes or until thick and lemon-colored. Gradually add sugar, beating until mixture is light and fluffy. Beat in vanilla. Combine flour and baking powder; gradually add to batter beating on low speed until smooth.
In a small saucepan, heat milk and butter just until butter is melted. Gradually add to batter; beat just until combined.
Pour into a greased 13×9-in. baking pan. Bake until a toothpick inserted in the center comes out clean, 30-35 minutes. Cool on a wire rack. And Voila!!
Simple Biscuits
If you're running out of your store bought snacks and cookies, then this super easy recipe will be your new fix. Trust me, you won't be shopping for snacks no more.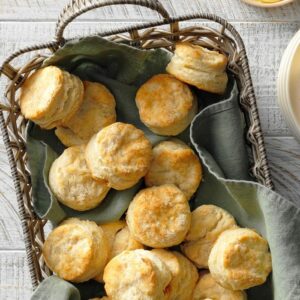 Ingredients
2 cups all-purpose flour
3 teaspoons baking powder
1 teaspoon salt
1/3 cup cold butter, cubed
2/3 cup 2% milk
Method
Preheat oven to 450°. In a large bowl, whisk flour, baking powder and salt. Cut in butter until mixture resembles coarse crumbs. Add milk; stir just until moistened.
Turn onto a lightly floured surface; knead gently 8-10 times. Pat dough to 1/2-in. thickness. Cut with a 2-1/2-in. biscuit cutter.
Place 1 in. apart on an ungreased baking sheet. Bake until golden brown, 10-15 minutes. Serve warm!
Frosted Banana Bars
If you're looking to switch up your usual Banana Bread fix for something sweeter and maybe more iced, to beat the heat, these frosted Banana Bars are exactly what you're looking for!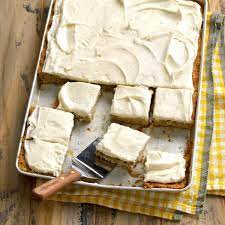 Ingredients
1/2 cup butter, softened
2 cups sugar
3 large eggs, room temperature
1-1/2 cups mashed ripe bananas (about 3 medium)
1 teaspoon vanilla extract
2 cups all-purpose flour
1 teaspoon baking soda
Dash salt
FROSTING:
1 package (8 ounces) cream cheese, softened
1/2 cup butter, softened
4 cups confectioners' sugar
2 teaspoons vanilla extract
Method
In a large bowl, cream butter and sugar until light and fluffy, 5-7 minutes. Beat in the eggs, bananas and vanilla. Combine the flour, baking soda and salt; stir into creamed mixture just until blended.
Transfer to a greased 15x10x1-in. baking pan. Bake at 350° for 20-25 minutes or until a toothpick inserted in the center comes out clean. Cool in pan on a wire rack.
For frosting, in a small bowl, beat cream cheese and butter until fluffy. Add confectioners' sugar and vanilla; beat until smooth. Frost bars.
Dalgona Coffee
What's a quarantine snack list if the infamous year old, Dalgona Coffee recipe isn't on it. You probably know this religiously by now, but incase you're memory's a little rusty, and you're a more drink person. Or maybe you need your caffeinated beverage to wash down your treats. Here you go.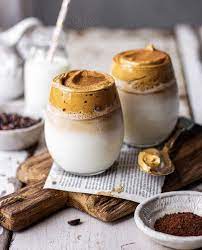 Ingredients
Instant Coffee – 2 Tablespoons
Sugar – 2 Tablespoons
How water – 2 Tablespoons
Ice cubes
Milk
Method
Whish coffee, sugar, and hot water until thick and creamy. If you don't have an electric mixer, you can use a whisk.
Grab a glass. Put 2 or 3 ice cubes. Fill milk. Fill only 3/4. Top with whipped coffee. Mix well before drinking!
Grab All your Essentials to make your Lockdown Treats this season with dMart! dMart carries all your essential grocery fixes that you can have delivered to your home at the tap of a button! Dn't miss out on all the best deals and amazing price drops. Download the Daraz App and Shop on dMart now!