List of Best Herbal Shampoo in Sri Lanka
Want to Pamper Your Hair? Try These Herbal Shampoo In Sri Lanka (2021)
Check out our list of the best herbal shampoo in Sri Lanka from some famous and accessible brands in the country.
Ever wondered which herbal shampoo in Sri Lanka would best suit your hair? Read on to find out the difference these shampoos could make in your hair care routine.
Our hair is quite delicate, and maintaining a beautiful, healthy mane might appear to be a difficult task than we imagine. There are limitless products in the market, but they do not generate the desired results. In addition, hair care can be expensive, and salon-recommended shampoo brands are pricey.
Is Herbal Shampoo Good for Hair?
There are several renowned benefits of using herbal shampoo. Herbal shampoos have the same cleansing efficiency as chemical shampoos. Still, they are free of sulfates and parabens that cause adverse effects. Also, a majority of herbal shampoos have natural conditioning and smoothing properties. When utilizing herbal shampoos, you can even avoid applying chemical conditioners after shampooing.
Herbal shampoos help promote healthy hair growth by providing natural nutrients required for hair in minerals and vitamins contained in herbs. And, the best part is most herbal shampoos on our list would not break your bank. Without further ado, let's take a look at the list.
List of Best Herbal Shampoo in Sri Lanka
Lifebuoy Health Herbal Shampoo
Kumarika Shampoo
Ayush Anti- Dandruff Neem Shampoo
7 Herbs Herbal Shampoo
Helinta Neem Hair Cleanser
Lia Herbal Shampoo
Himalaya Anti Hair Fall Shampoo
Shello Herbal Shampoo
Anti-Dandruff Kumbuk Herbal Shampoo
Best Herbal Shampoo For Hair Fall
7 Herbs Herbal Shampoo
7 Herbs Herbal Shampoo is enriched with herbs that penetrate the scalp and stops hair fall at the roots. The shampoo restores hydration of the hair from root to tip and makes it silky soft. In addition, this is a unisex product that is also great for dandruff as well as to fix split ends.
Helinta Neem Hair Cleanser
Helinta Neem Hair Cleanser is a herbal shampoo that predominantly contains Neem as its key ingredient. Neem holds a ton of benefits for healthy hair. It strengthens hair and promotes the growth of hair. One of its primary functions is to stop hair fall.
The best part is that this product is paraben and sulfate-free, making it safe and suitable for even daily use. This is a highly reviewed product that's capable of bringing life to your hair.
Himalaya Anti Hair Fall Shampoo
If your hair is coming out in clumps and begging for you to do something it is about time you took a stand.  You can remedy the situation by using one of the best herbal shampoo in Sri Lanka.
Anti-Hair Fall Shampoo by Himalaya contains a groundbreaking 2-in-1 formula that decreases hair fall while also nourishing hair shafts. This unisex product also conditions and improves the texture of your hair, reducing hair loss caused by breakage. The two herbs, Butea Frondosa and Bhringaraja, promote hair follicle growth and strengthen hair roots and reduce hair fall.
Best Herbal Shampoo For Hair Growth and Thickness
Kumarika Shampoo
While the rest of the world is trying to deal with frizzy or dull hair, you have better things to worry about, like hair growth, for instance. Of course, the length alone won't strike a balance; it has to be thick as well. You can rest your worries and rely on Kumarika shampoo to provide answers to your hair growth issues.
Kumarika Shampoo is enriched with green almond oil and fruit vitamins to provide nourishment to hair from root to tip. It reduces hair fall due to damage and promotes hair growth on a healthy scalp for long, strong, and thicker hair.
Lia Herbal Shampoo
Everyone wants their hair to be healthier, thicker, and stronger. The question of how to grow voluminous and healthy hair is one that hair experts have been trying to answer for centuries. However, Lia herbal shampoo might be able to help you achieve your hair growth goals.
This shampoo combines Sawendara (Rubia Cordifolia stem), Amla, aloe vera, and hibiscus flower extract to revive hair for a fuller, thicker, lifted look. They condition your scalp fostering a healthy environment for hair growth. Long-term use of this shampoo can generate successful results for those of you who love long and bouncy hair.
Lifebuoy Health Herbal Shampoo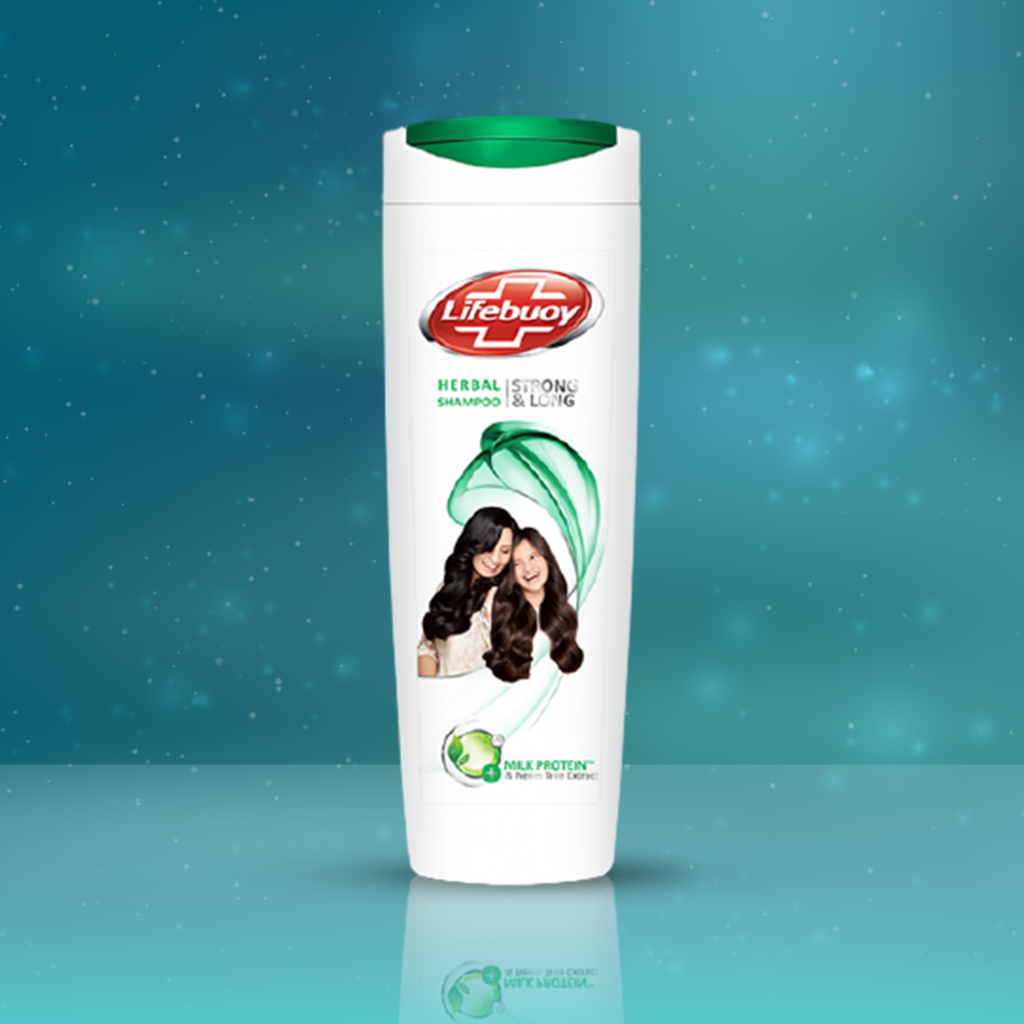 Diet, vitamins, and even the shampoo you use can all affect hair thickness and growth. Sure, there are many ways to help hair grow quicker and longer, but for now, let's check out how Lifebuoy herbal shampoo can help you achieve that goal.
This over-the-counter unisex shampoo is unfused with milk protein and enriched with herbs. It has proven to reduce hair fall due to hair damage and nourishes hair from root to tip, making it healthy and fuller. If you are looking for an easy to access and budget-friendly product, this is one of the best herbal shampoos in the market.
Best Herbal Shampoo for Dandruff
Ayush Anti- Dandruff Neem Shampoo
Flakes are unpleasant, especially when they are all over your head. The most effective treatment for dandruff is a dandruff shampoo, of which there are many. There's also the challenge of determining why your scalp is peeling in the first place. You could simply have a dry scalp if your dandruff comes and goes with the seasons. We are here to provide you a solution to stay dandruff-free throughout the year.
Ayush Anti- Dandruff Neem Shampoo is an excellent remedy to battle the dandruff build-up on your head. It combines the benefits of Neem, a natural healer renowned in Ayurveda for its potent anti-fungal activity that gently cleanses the scalp and prevents dandruff from returning. It also contains Rosemary Tailam, a powerful Ayurvedic oil known to nourish the hair and promote hair growth. Neem is well-known for its anti-fungal qualities and medicinal benefits. Therefore, this is an excellent unisex product suitable for anyone trying to get rid of dandruff.
Shello Herbal Shampoo
An active ingredient that can fight flakes sounds harsh on the scalp. However, Shello herbal shampoo is gentle on the scalp, protecting it from dryness. It hydrates hair and prevents fungal infections on the scalp. Aloe Vera softens hair and relieves irritation by soothing the scalp.
This shampoo is excellent to use on color-treated or permed hair.
Anti-Dandruff Kumbuk Herbal Shampoo
Kumbuk shampoo is a 100 percent herbal shampoo that moisturizes, thickens, lengthens, and strengthens your hair. It contains fenugreek, Amla, and other herbs with medicinal properties with anti-fungal properties that can get rid of dandruff. Also, this is perfect for daily use, as it contains only all-natural ingredients.
We hope our list of the best herbal shampoo in Sri Lanka will be helpful to resolve your hair trouble. You can select your favorite products on the Daraz app and get them delivered right to your doorstep. Also, don't forget to check out Best Sulfate Free Shampoo In Sri Lanka For Lustrous Hair and other helpful hair care guides.