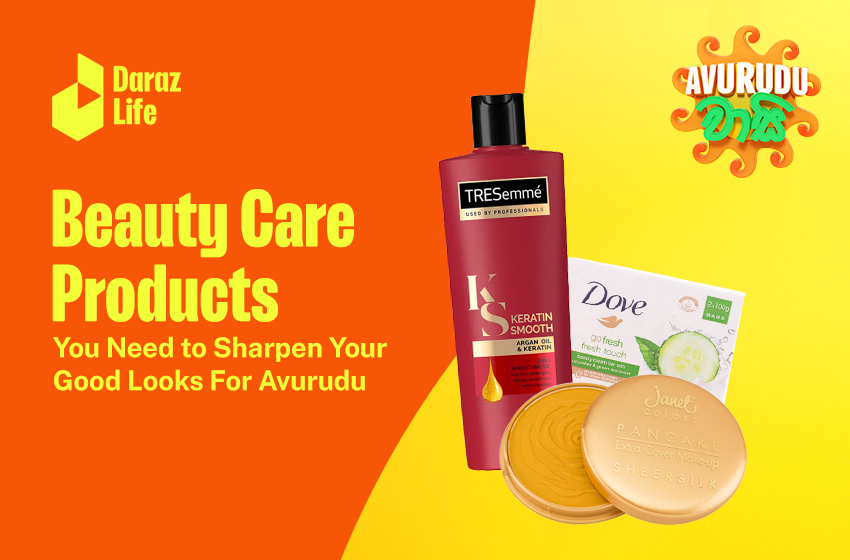 Best Skincare and Cosmetic Products Online to Get This Avurudu Season
You can easily get the best skincare and cosmetic products online during Daraz Avurudu Waasi. In this post, we will take a look at some of your favourite products that are available at discounted prices.
Are you waiting to buy skincare and cosmetic products online at the best prices in the market? Then, continue reading to find out how you can save more money as you shop your favourite makeup and skincare products.
Shop Your Way to Prosperity With Daraz Avurudu Waasi 2022
Are you ready to shop your way to prosperity this Avurudu Season? The Daraz Avurudu Wasi Sale is back bigger and better! Get ready to steal the biggest bargains with up to 80% OFF on all your favourite brands. With over 5 million products on a single platform, the choices are unlimited! So join in and shop your heart out from the 25th of March Onwards!
Mega Deals, Discount Vouchers and Free Shipping!
Daraz online shopping hits the biggest discounts during the Avurudu Waasi Sale. There are jaw-dropping Mega Deals on products ranging from electronics, fashion, household essentials, sports goods and across all other categories of products available on the Daraz App.
If you are shopping for skincare and cosmetic products online, get up to 30% OFF when you shop with our brand partners Dove, Tresemme, Ponds, Rexona, Vaseline, St.Ives, Axe, Pears, Janet, Nature's secret, Panda Baby, Champion, and Revlon. Furthermore, watch out for free shipping, valuable vouchers and freebies.
So, get ready to lower your Avurdu expenses and shop your way to prosperity! Download the Daraz app now and get ready for Daraz Avurudu Wasi.
Without further ado, let's look at skincare and cosmetic products online that you can get to sharpen your good looks for the Avurudu season.
Face Wash
It's essential to incorporate a face wash to your skincare routine. Impurities, bacteria, dust, and cosmetics can cause skin irritation, thus, face washes are meant to eliminate these. Here's the catch: if you wash your skin too often, expose it to water, or use soaps, your skin's natural hydration can be drastically affected. This can result in dryness and irritation. While some dry skin face washes use harsh detergents to make your face squeaky clean, the right type of face wash is gentle on the skin. It succeeds to eliminate impurities without depriving your skin of the natural oils that keep it moisturized and looking healthy. Ponds is a trusted name in the market that has helped many achieve their skincare goals. Therefore if you are looking for a facewash, you should definitely try a Ponds face wash for your type of skin.
Face Cream
Are you on the lookout for a moisturizer? After all, every skin can use a glow during the Avurudu season. No amount of make-up can beat glowing, nourished skin. The ideal face cream hydrates and nourishes the skin, which helps to decrease dark spots the appearance of wrinkles and lines. In addition, face creams also aid in the improvement of the skin's texture and natural appearance. It is estimated that 25.54 million individuals use face creams on a regular basis. So, find out for yourself how a face cream can make a difference on your skin.
Make up
If you are going out and about to Avurudu get-togethers and celebrations this season, add a touch of makeup to look extra good. When it comes to using makeup, the advantages go beyond appearances. Wearing cosmetics, believe it or not, may help you improve your life in ways you never imagined. According to recent research, the right makeup combination has played a part in the success of women all over the world. Good looks may not be everything. However, it doesn't hurt to look your best and feel more confident about how you look and feel.
Hair Care
Haircare is essential not only for our looks but also for our overall well-being. Healthy hair helps us to appear our best while also ensuring the health of our hair and scalp. After all, frizzy, dry, and unhealthy hair is sure to guarantee a bad hair day when you go out. Simply washing your hair does not guarantee that you have done it correctly. Proper hair care also entails proper grooming and the use of the appropriate hair care products such as shampoo conditioner, leave on cream as such. Therefore, browse through the available hair care products on Daraz and get them delivered to your doorstep.
Men's Care
If you are a metropolitan man who likes to keep yourself well-groomed and looking your best, we have great news for you. You can get amazing discounts on a variety of skin and hair care products for men. Furthermore, don't forget to check out the aftershave and fragrances available to look good and smell great at the same time.
Bodywash
Your choice of body wash is more crucial than you would realize. Your skin, after all, is the biggest organ in your body. So, just as you should be careful about hurting your liver with alcohol or putting additional fat and cholesterol on your heart valves, you should also be concerned about what you're putting on your skin. Therefore, a good body wash not only gets rid of the germs on your skin but also moisturizes it can have a beneficial effect on the health of your skin in the long run. There are many body wash products available in the market. However, if you haven't tried Dove body wash, we can recommend that it will do wonders to your skin and daily cleaning routine.
Body Lotion
Just like body wash, body lotion can play an important role in your daily cleaning and self-care routine. If you have dry skin, you would definitely want to use the right body lotion to make sure your skin doesn't peel off. Therefore, make use of the discounts available on different body lotions during the Daraz Avurudu Waasi sale. There is no better time than now to shop for a quality body lotion that would last you for months.
Hope this blog post helped you to determine what you need to get to sharpen your looks during this Avurdu season. If you are on the hunt for a good bargain on clothes, don't forget to check out; Slay The Avurudu Season with Affordable Fashion Online.