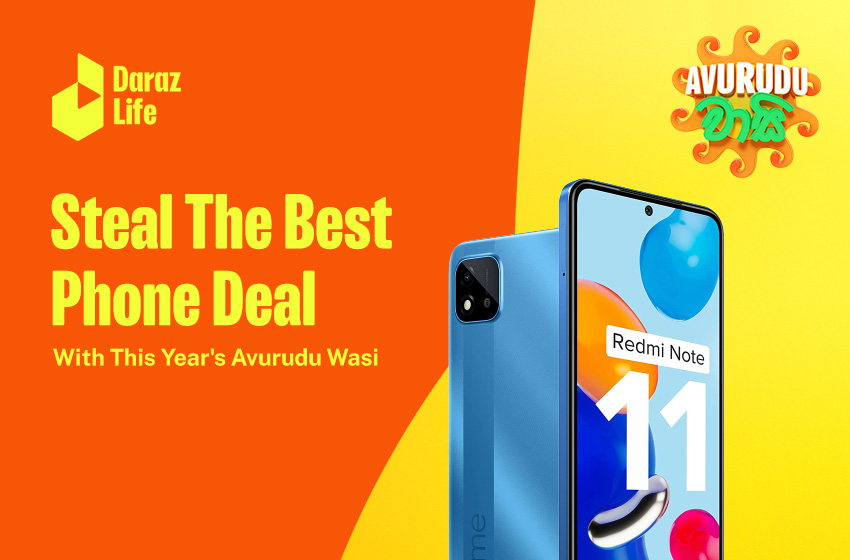 Grab The Best Mobile Phones Price in Sri Lanka During Avurdu Waasi
If you are seeking the best mobile phones price in Sri Lanka we have great news for you! Daraz Avurudu Waasi is LIVE, and if you haven't purchased your dream phone, this Avurudu it's about time you grab the best mobile phone price in Sri Lanka.
Are you searching for the best mobile phones price in Sri Lanka? Continue reading to see how you can save the most on mobile phone price in Sri Lanka during Daraz Avurudu Waasi.
Shop Your Way to Prosperity With Daraz Avurdu Waasi 2022
Are you ready to shop your way to prosperity this Avurudu Season? The Daraz Avurudu Wasi Sale is back, bigger than ever! Get ready to grasp massive deals and discounts with up to 80% OFF on all your favourite brands. With over 5 million products on a single platform, the choices are unlimited! So join in on the Avurudu shopping fun from the 25th of March Onwards!
Mega Deals, Discount Vouchers and Free Shipping!
Daraz online shopping hits the biggest discounts during the Avurudu Waasi Sale. There are unbelievable offers, including Mega Deals on products ranging from mobile phones, electronics, fashion, household essentials, sports goods and all other categories of products available on the Daraz App.
If you are looking for the best mobile phones price in Sri Lanka, we have great news for you! You can get up to 20% OFF when you shop with our brand partners Vivo, Samsung, Apple, Xiaomi, Oppo, realme, Nokia, Huawei, Infinix, ZTE, TCL, Greentel, Brantel, Oukitel, Blackview, Symphony, E-tel, Sony, MI, Redmi,iTel, Oneplus, DATAMINI, Tecno, Amazon, Motorolla, MSI, Lenovo, Energizer, LAVA, LG, Zigo, ASUS, CAT, and Dialog. Furthermore, collect valuable vouchers, and get free shipping when you purchase smartphones during Daraz Avurudu Waasi.
So, get ready to lower your Avurdu expenses and shop your way to prosperity! Download the Daraz app now and shop to your heart's desire from the Daraz Avurudu Wasi sale.
Without further ado, let's look at some products you can get at the best mobile phones price in Sri Lanka.
Huawei Y6p
Huawei founded in 1987, is a leading brand in the phone market that make technology available to people from all walks of life. Furthermore, they manufacture all kinds of smart devices and hold an industry-wide reputation as a dependable brand.
The Huawei Y6p offers a top of the line user experience and style, taking the phone technology to a different level. Furthermore, Huawei Y6p is intended to meet the ever-increasing digital requirements of the modern-day user, whether it's for work, pleasure, or content streaming. This perfect entertainer features a large display of 6.3 inches, a quality battery, and a fantastic camera for an affordable price.
This phone offers many functions, including assisting with remote learning and joining video conferences for work. Furthermore, it's a great device to keep in touch with your loved ones all over the world.
Redmi Note 11
Xiaomi Redmi Note series has introduced some of the best mid-range smartphones to the market. Their cutting edge design and innovative technology offered at an affordable price range have earned them a stellar reputation worldwide. And the Redmi Note 11 is one more of those examples that will not disappoint consumers.
It's quite a stylish phone which easily fits in your pocket. You get this phone in Graphite Grey, Twilight Blue and Star Blue so you can get the color that vibes with your style. Furthermore, the Redmi Note 11 has a fingerprint scanner and a power button on the side. In addition, it has the IR sensor on the top like most other Redmi phones. If you are into an adventurous lifestyle, you'll be glad to know that the outer cover is splash resistant.
It has a screen of 6.43 inches which is perfect to view content and browsing through videos. So, if you are on the lookout for a high-quality mid-range phone, the Redmi Note 11 will definitely tick all the boxes.
OPPO F19
If you are looking for a phone power-packed with the best of features, OPPO F19 is the perfect choice for you. Also, if what you desire is long battery life and fast charging! OPPO F19 is the ideal phone as it comes with a 5000mAH battery and 33W Flash Charging. In addition, you get features such as face unlock, and finger unlocks, promising to keep the information on your phone protected. The 48 MP rear camera lens is ideal for shooting everyday memories with precision and vivid colour. All these high-quality flagship phone specs for a mid-range price point. Can you imagine a better deal?
Realme C11
Realme unleashed the C series of phones for consumers who seek the most bang for their buck. We have seen C1, C2, C3, and now we are ready to explore the Realme C11. If you are on the lookout for a budget Smartphone that doesn't compromise on the special features, Realme C11 is the perfect deal. Furthermore, it packs a massive 5000 mAH battery that can last up to 43 days on stand by mode. So you don't have to ever worry about running out of juice. In addition, it comes with an epic 6.5-inch display with an aspect ratio of 20:9. So it's the perfect device to browse content, stream videos, connect to video conferences as well as gaming. If you are looking for a perfectly affordable mid-range phone, this Avurdu Realme C 11 is definitely an option you should consider.
ZTE Blade A5
What's good about ZTE? They usually have fantastic designs and specifications, and they're usually far less expensive than the competitors. So, if you are looking for a reasonably priced phone that gets basic jobs such as browsing social media, videos, and taking pictures done, this phone easily ticks the boxes.
Vivo Y20
Vivo is a leading smart device manufacturer that has produced some of the top-notch phones available at affordable prices. If you are looking for a phone with great battery life, great camera features and a good size, you will not get disappointed investing in a Vivo Y20. Click on the image to check out more specs of this phone.
Hope this blog helps you decide on your next phone purchase. If you are on the lookout for Laptops and computers, don't forget to read Get The Best Laptop Price in Sri Lanka From Daraz Avurudu Waasi and check out the deals available on Laptops.