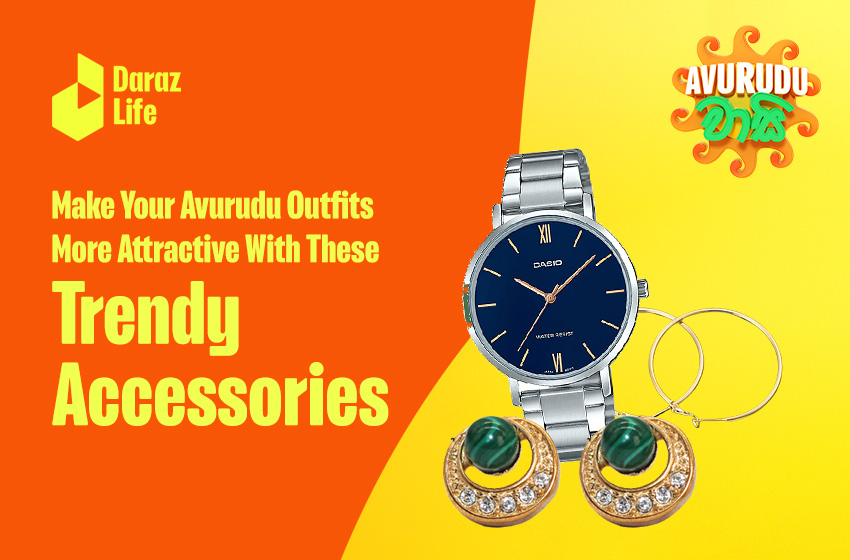 Trendy Accessories Online to Make Your Avurudu Outfits More Attractive
This is the best season to get some trendy accessories online. With Avurudu approaching, adding a few fashion accessories in Sri Lanka to your accessory box can be just the game-changer you need to glam up your outfit.
Are you seeking accessories online to mix and match with your Avurudu attire? Then, continue reading to find out what fashion accessories in Sri Lanka would best complement your Avurudu wardrobe.
Shop Your Way to Prosperity With Daraz Avurdu Waasi 2022
Are you ready to shop your way to prosperity this Avurudu Season? The Daraz Avurudu Wasi Sale is back, bigger than ever! Get ready to grasp massive deals and discounts with up to 80% OFF on all your favourite brands. With over 5 million products on a single platform, the choices are unlimited! So join in on the Avurudu shopping fun from the 25th of March Onwards!
Mega Deals, Discount Vouchers and Free Shipping!
Daraz online shopping hits the biggest discounts during the Avurudu Waasi Sale. There are unbelievable offers, including Mega Deals on products ranging from mobile phones, electronics, fashion, household essentials, sports goods and all other categories of products available on the Daraz App.
If you are looking for the best mobile phones price in Sri Lanka, we have great news for you! You can get up to 50% OFF when you shop with our brand partners Stone N Strings, Casio G-Shock, KLF, Casio Edifice, Casio Enticer, Casio Youth, Casio Vintage Series, Casio Sheen, Casio Pro Trek, Casio Baby-G, Casio, Embark, Vision Care, Prada, Oakley, Polar One, Polar Sun, Rayban, Daraz, Vogue, Emporio Armani, Michael Kors, Curren, Invu Sunglasses, Chamathka Jewellers. Furthermore, collect valuable vouchers, and get free shipping and gifts when you purchase accessories online during Daraz Avurudu Waasi.
So, get ready to lower your Avurdu expenses and shop your way to prosperity! Download the Daraz app now and shop to your heart's desire from the Daraz Avurudu Wasi sale.
Without further ado, let's look at some accessories online you can get during Avurudu Waasi.
Ladies Watches
Due to convenience, many of us ladies have settled to checking the time on our smartphones. However, wearing a stylish watch can convey an air of professionalism. In addition, it can do wonders to bring out the elegance of an outfit. Furthermore, imagine you're at a meeting or in conversation with a person. Disengaging from the meeting or discussion to locate your phone and access your home screen can appear to look quite impolite than glancing at your wrist.
If you are looking for elegant ladies' watches, we highly recommend you check out ladies watches and watches for girls on the Daraz platform. The options are numerous, and you will be able to find the best design that suits your tastes. Moreover, the best part is you can get it delivered straight to your doorstep.
Mens Watches
Similarly, gentlemen can definitely enhance their professional appeal by combining a sophisticated looking timepiece with their outfit. Wristwatches make it easy to show off a sense of style in addition to helping you stick to your schedule. Wearing a wristwatch can also be a type of self-expression that, depending on the brand, convey hints of risk, adventure, and sports. In addition, a watch can reveal a lot about the person wearing them. Therefore, choose a mens watch that can complement your personality as well as your outfit. . You get discounts on brands such as Casio and G-shock. So, don't forget to check them out.
Couple Necklaces
If you are in a relationship, it would be an extremely fun idea to buy yourselves a couple necklace. It can symbolize that you are carrying a part of your other half with you while you wear it around your neck. So, browse through Daraz and find a variety of couple necklaces at discounted prices during Avurdu Waasi.
Sunglasses For Men and Women
Sunglasses have become more than just a fashion item. Moreover, sunglasses not only complete your outfit for the day, but they also provide excellent eye protection. It's a known fact that eyes are vulnerable to harm from the environment and UV radiation from the sun. Therefore, maintaining optimal eye health is critical, and sunglasses can assist you in doing so. If you don't already wear a decent pair of shades every time you go out, here are several compelling reasons to start.
Spectacles For Men and Women
Speaking of healthy eyes, if you have been prescribed a pair of glasses to improve your vision, you already understand the importance of having a decent frame for your specs. Furthermore, it's important to find a pair that fits the shape of your face. Furthermore, eyeglasses that are well-fitting to your face will give you a sense of visual equilibrium. You should wear your glasses at the centre of your face, not above your brows. The whole width of your frames should, once again, equal the width of your face at the temples.
Earrings for Girls
Earrings lend appeal to a woman's appearance, adding to her looks and enhancing beauty, fashion and trendiness. Therefore, you have every excuse to get as many pairs as possible during a big sale like Daraz Avurudu Waasi. Whether you are in search of plain and simple studs or larger earrings with intricate designs and stones, you are sure to find them on your Daraz App.
Gifts for Girlfriends or Loved Ones
Finally, if you are on the lookout for Avurudu Gifts for special someone, here's your chance! Watches, jewellery, and accessories make excellent Avurudu presents when you are visiting relatives. Make the most of up to 50% off and buy accessories for your loved ones.
Hope this post helped you to decide on which accessories you want to get to complete your Avurdu attire. If you are shopping for clothes this season, don't forget to take a look at Slay The Avurudu Season with Affordable Fashion Online.