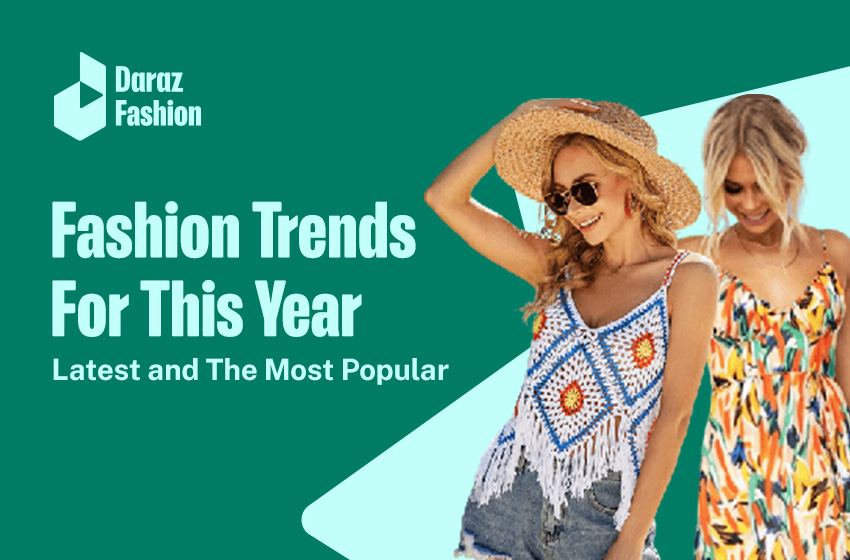 Get Ready to Turn Heads With The Latest Fashion Trends 2022
Latest Fashion Trends 2022 are out ready to capture the attention of all fashionistas out there! Ahead we have listed some of the latest fashion trends for girls available and easily accessible through Daraz.
Are you up to date with the latest fashion trends 2022? Continue reading to find out the hottest looks of the season and how you can get them.
Following the bizarre fashion trends of 2020-2021 – with everything moving online and WFH – 2022 ushers in some fresh changes that you will definitely find exciting to learn about.
The 'current' fashion trends have been populating fashion magazines and runways for the last 60 years or more. However, fashion trends from the past re-emerging are quite common.
Nowadays, more than fashion shows and magazines, social media influencers determine what's popular and new in fashion. So, without further ado, let's take a look at some trending hot looks that will look good on your Insta grid and Tik Tok clips.
Crotchet Sets
Crotchet sets are a hit among celebrities, as showcased in harry style's ensemble in the 'Watermelon Sugar' music video. After the launch of the video, the popularity of crochet sets skyrocketed. Furthermore, they are perfectly fitting attire for a day out at the beach, or a vacation getaway. Solid colored and bright, colorful crochets are ideal for those of us who live on a tropical island. Also, you can effortlessly combine your crotchet tops with denim jeans or shorts. Also, if you are opting for a more feminine vibe, pair it up with a long skirt. Check out Daraz Fashion for the diverse range of crotchet tops available online.
Oversized Bomber Jackets
Wearing an oversized bomber jacket comes with its own set of rules. Unless you've chosen a slightly cropped version, bomber jackets should always lie freely around your midrib. The cuffs should be snug, so if it drapes freely over your hand, consider a smaller jacket size.
Ideally, it would look great with a pair of skinny jeans or a short skirt. However, you can always divert from the mainstream and pair it with anything that vibes with your personal style.
Cropped Cardigans
Nothing characterizes contemporary fashion trends quite like the simple cropped cardigan. It was one of the most popular fashion trends in 1990s fashion. However, there's something for everyone, with styles ranging from basic button-ups to embroidered, embellished, or printed knits. The best part is you can go all out casual or super professional with a cropped cardigan. You can match them with jeans and boots, or throw them over a short dress. They are the perfect add on to compliment any outfit.
Bohemian Dresses
Bohemian attire is more than just a fad. It's a distinct culture with its own distinct beliefs and complex history. While bohemian fashion is most strongly identified with hippie trends of the 1960s and 1970s, it is now a part of popular fashion culture. The basic notion of feminine symbols such as flowers in clothes alters as the status of women in society (equality, empowerment) evolves. Therefore, the modern-day boho prints are usually seen on famous Goth fashion brands. So, there is a bit of twist to how bohemian dresses were embraced traditionally and how they are accessorised to fit the modern-day trend. So, if you are into bohemian dresses, browse through your Daraz, and we promise it will not disappoint.
Puff Sleeves
We anticipate fashion trends to evolve and assume varied forms and even completely veer off the scene. On the other hand, some fashions have proven to be more than transitory trends, and the puff sleeve is a prime example. The super puff sleeve is one of the most popular 2022 fashion trends for women. Therefore if you do not have a puff-sleeved top or dress in your wardrobe, it's high time you get one.
Maxies
The maxi dress has long been one of the most adaptable pieces of clothing available to women. The popularity of the maxi dress peaked in 2021. However, it continues to reign at the top in 2022 as well. This year the bolder and clashing prints are seen frequently on the maxi dress trends. The best part is whether you are going to a wedding or a date night with your significant other if you accessorise a Maxie with the right jewellery, it will never fail to make you look stunning.
Sash Belt Dresses
Belts are far more than practical; they can complete your ensemble and give that final stylish touch. In addition, a belt might be thought of as the equivalent of putting a period at the end of a phrase. However, sash belts will be a popular fashion statement accessory this year that you may tie around your waist (like a sash) and walk around like a style-goddess.
Bralettes
The fundamental distinction between a bra and a bralette is that bralettes are softer, lighter, and typically do not have any wires. However, you can style them in many ways. You can combine it with skirts, shorts or jeans and wear it as a top. Or you can simply throw a blazer over your bralette if you want to look more put together.
These are just a few trends that have skyrocketed in popularity this year. We hope you were able to get some inspiration on what you would want to wear for your next Insta shot. You can get the latest and the most popular fashion trends for this year on Daraz fashion. Simply browse through your Daraz app, select the product you need, check out the product description and the reviews to get the best feel for the outfit. Then simply check out, and it will be at your doorstep before you know it! Don't forget to keep an eye out for bank discounts and special offers available around the year.
If you are on the look out for trending accessories, check out our blog post; Top Trending Fashion Accessories Online Sri Lanka At The Lowest Prices.