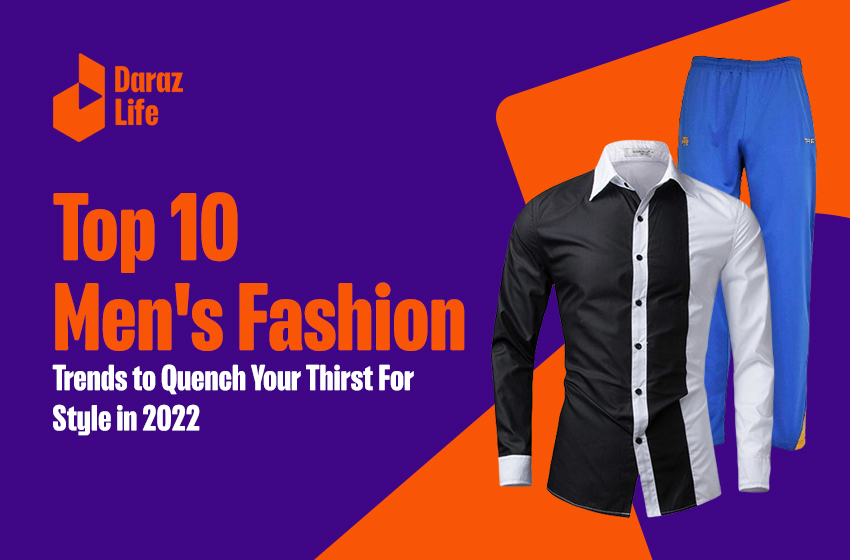 Stay Up to Date With The Latest Trends in Men's Fashion 2022
If you are in search of the trendiest men's fashion for 2022, continue reading. In this blog post, we go over some of the latest men's fashion available online in Sri Lanka.
Are you ready to upgrade your wardrobe with the trendiest men's fashion attire in 2022? Ahead, we have listed some of the hottest and the boldest mens fashion trends in the market.
Men's Fashion Online Shopping Sri Lanka
As the prolific poet Ralph Waldo Emerson once stated, "Being perfectly well-dressed gives one a tranquillity that no religion can bestow." There's much truth to this statement because if you are ever underdressed or continue to wear trends of the yesteryear, it can affect your confidence levels when you're in a crowd. However, if you got the trendiest garments and accessories, you will not only stand out in a crowd but you will also be perceived as someone who keeps up with the times.
So, if you are planning to make some style moves as you run through the year 2022, you are at the right place. We are here to enlighten you with some of the latest men's fashion trends in the world. So, if you plan to stay on top of men's wear in Sri Lanka and continue to look good as you always do, let's take a look at the hottest fads for this year.
Chunky Chains
a smartly worn necklace is an absolutely appealing look on any man. Whether tucked beneath a shirt, unbuttoned to display it across your chest, or worn over a shirt, a necklace may add a classy, sensual, and cool vibe to any outfit.
Most men's designer fashion brands keep featuring thick-as-hell chains on the runways this year. Therefore, outrageously thick gold chains and Cuban link chains, which are popular choices among rappers like Jay Z, are here to stay for the rest of 2022.
Glasses
Less of a vision correction application, and more of a style addition, glasses are one of the illest accessories trending in the men's fashion world this year. Therefore, men's glasses are now often regarded as a high-end accessory that completes any ensemble. Also, there is a range of styles to choose from, from boutique opticians to branded labels. Vintage design frames like the round style, minimalist frames and clear frames are some of the designs that are totally in style this year.
"People will stare. Make it worth their while." — Harry Winston
Vests
Men's fashionable vests are now regarded as a statement outfit with class, elegance, and distinction. The vintage look and feel of vests give off a trendy vibe. Therefore, this year men's vests have given the fashion industry a whole new meaning and recognizable trend.
Artsy Prints
With an audacious desire for a bright, optimistic, and colourful attire, a kaleidoscopic variety of hues from neon green to fluorescent pink and electric blue was seen in several runways this year. Especially with many people embracing tie-dye prints and graffiti prints, you can see the emergence of a new psychedelic trend on the streets.
Black and White
The traditional non-colour combination is making a comeback, with designers from Paris to New York praising the timeless palette. We're seeing the black and white trend in a whole new light thanks to new fascinating forms, cuts, and patterns. If you are up to date with the latest fashion trends, you can put together a plethora of white-on-top, black-on-bottom combinations looking both timeless and classy. So if your wardrobe is missing a black and white ensemble, it's about time you add one to it.
Summary Linen Shirts
Linen is always in fashion when it comes to men's wear in Sri Lanka!! Moreover, it's a warm-weather must-have for all men. If you live on a tropical island, there is no way you can pass on a comfortable linen shirt. They symbolize an exotic look and feel and are perfect to clad yourself on a warm sunny day.
Sportswear
This year's main winner is, once again, sportswear. Sporty never goes out of style. With many of the youth embracing the gym life, sportswear is becoming trendier by the day. Therefore, you can see many popular figures from celebrity icons to influencers and models, including tracksuits, jogging suits, hooded sweatshirts, football, and basketball jerseys in their day to days active wardrobe. Check out online stores such as TRE, Yfashion, Bolt Gear on your Daraz app to grab some trending sportswear online.
Tank Tops
Tank tops are a great way to show off your arms and shoulders while also increasing airflow into the body on those warm days. Furthermore, they can also help you feel more comfortable on humid sunny days. However, the best part is tank tops are a reigning fashion pick in men's fashion 2022.
Sleeveless Sweaters
The sleeveless sweaters are back baby! And, you know you definitely ought to own one of these bad boys. They are comfy and perfect to gear up whether you are heading to the grocery store, the gym or the mall. Dress them up with your favourite pair of sneakers, or dress down to your most comfortable pair of slippers. Regardless of what trousers, shorts or shoes you wear, you can always appear fashionable in these.
Aesthetic Sandals
Ever imagined sandals would be a statement piece? It's time to ditch the rubber slippers in favour of a pair of aesthetic sandals after many lockdowns and over two years of combating the pandemic. This year aesthetic sandals are one of the most trending footwear available in the global market. Therefore, if you don't own a pair of sandals yet, we highly recommend you get a pair now.
Hope you were able to gain some valuable insights into what's trending in men's fashion in the year 2022. Also, don't forget to check out Boost Your Good Looks With Original Polo T-Shirts in Sri Lanka if you love your Polo shirt, which will continue to be in style forever.