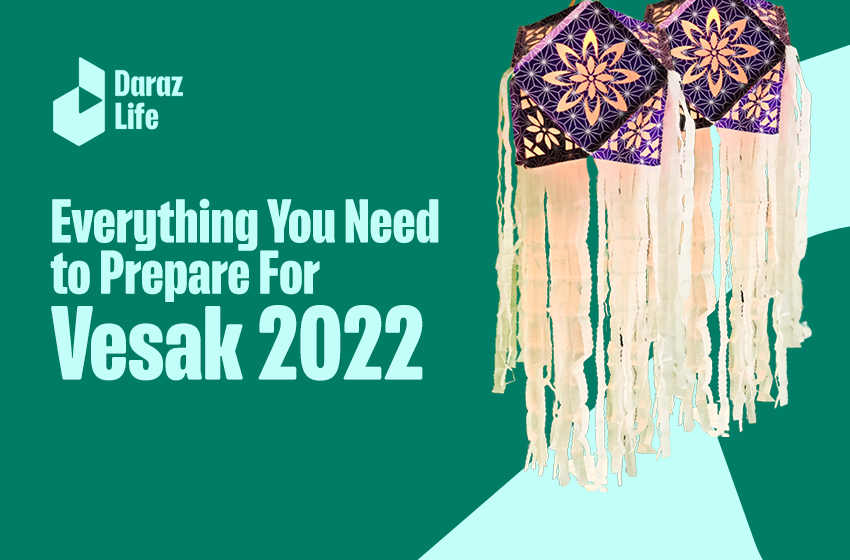 Everything You Need to Prepare For A Beautiful Vesak 2022
The Vesak Day 2022 is just around the corner. So, continue reading if you are still looking for Vesak items and accessories to celebrate Vesak festival this year.
Are you preparing to celebrate Vesak 2022? Ahead, we have listed decorations and other items you might require to add a touch of Vesak festival spirit to your home.
Vesak Festival in Sri Lanka
Vesak is a cultural and religious festival celebrated by Buddhists all over the world. In Sri Lanka, the full moon day in the month of May is chosen to commemorate the important events that took place in Lord Buddha's life.
People organize various activities during the season to celebrate the festival. Some of these activities include visits to temples to participate in religious activities, "Sil" campaigns, events where people get together and sing Vesak devotional songs, and stalls by the roadsides giving food and drinks to people as an act of merit. Also, you see pandols (thoran) in the streets, which convey Buddhist stories. Furthermore, most Buddhists and many non-Buddhists embrace the season by decorating their homes with lights and Vesak lanterns.
If you are on the lookout to get Vesak accessories online this year, get on your Daraz app right now. You can get almost everything you need to celebrate Vesak 2022. Without further ado, let's take a look at some of the items that you can order online on Daraz and get delivered right to your doorstep.
Buddhist Prayer Flag
The multi-coloured Buddhist prayer flag is a representation of the Buddhist faith and a symbol of peace. The six colours on the flag represent the aura that surrounded Lord Buddha after he attained enlightenment. Therefore, many temples, as well as Buddhist houses, put out a Buddhist prayer flag as a symbol of the Buddhist faith.
If you are looking for a Buddhist prayer flag this year check out daraz, or if your prayer flags are old, check out daraz.lk.
Vesak Lanterns
Vesak festival is a time when the people decorate the entire country. Therefore, it's also known as the festival of lights. The decorations draw crowds across the towns. People get together with their family and friends and walk around the cities to see the beautiful festive decorations. Most decorations are Vesak lanterns.
Traditional Vesak lanterns carry symbolic meanings. The octagon-shaped lantern (ata pattama) represents the eightfold path. The lotus-shaped lantern represents the story of the birth of Prince Siddhartha Gautama (name of Buddha before he attained enlightenment), where he stepped on lotus flowers following his birth.
Building Vesak lanterns from scratch is an enjoyable activity which brings children and families together. However, in recent times due to the busy lifestyles, the ready-made lanterns are available for purchase. Therefore if you do not have the time to build lanterns but still would like to decorate your home, get on your Daraz app and get yourself a few ready-made Vesak lanterns.
Vesak Lantern Structures
Traditional Vesak lanterns carry symbolic meanings. The octagon-shaped lantern (ata pattama) represents the eightfold path. The lotus-shaped lantern represents the story of the birth of Prince Siddhartha. It is said that he stepped on lotus flowers following his birth.
If you are looking to get your children involved in fun Vesak lantern decorating crafts, you can always buy the structures. Then you can decorate them with tissue paper. It would be more enjoyable if you could invite the children's friends over and organise an activity where they can decorate lanterns and socialise. It's a great way to bring some calmness to children during these anxious and stressful times.
Vesak Lantern Paper
DO you plan to make your own Vesak lanterns or decorate lantern structures? Then, you are definitely going to need tissue paper. So, instead of going in search of tissue paper or any other form of art and craft material from book store to book store, it's best to order them online. Don't forget to place your order soon, so your material gets delivered before Vesak.
Vesak Buckets
Vesak buckets are another popular choice of decoration during the Vesak 2022 season. These buckets come in a variety of shapes and colours. Some of them even have Vesak greetings written on them. The best part is you can light them using candles. So, if you are looking to use a more simple Vesak decoration Vesak buckets are perfect the choice. They can also serve the purpose of lighting the room during power failures.
Candles
Candles are a much sought-after commodity due to the prevailing power cuts. Traditionally. Candles were placed in the middle of the Vesak lanterns. When the wind blows, and the lanterns catch fire, earlier generations used to ponder the impermanence of life and material things. Since the electricity charges have increased, and the power cuts continue, you can kill two birds with one stone by lighting candles inside the lanterns.
Oil Lamps
Clay oil lamps are an excellent way to decorate during the Vesak festival. Furthermore, you can use them when visiting the temples on Poya days or for "Bodhi Pooja."
Vesak Cards
If you still enjoy conveying your Vesak greetings to family and friends through a card, it's important that you find the right card for the purpose. Check out the range of beautiful Vesak cards with meaningful verses available on Daraz.
Other "Pooja" Essentials
Finally, stock up on essential items you need for the Buddha Poojas and other religious rituals. You can easily get oil wicks, incense sticks, and other essential items you use to pay homage to the triple gem online. Get on your Daraz app, and everything is just a tap away.
We hope this post was helpful, and you will be able to enjoy the convenience of ordering Vesak-related items online. Also, don't forget to check out our blog, Electronics to Power Through The Power Cut Schedule.