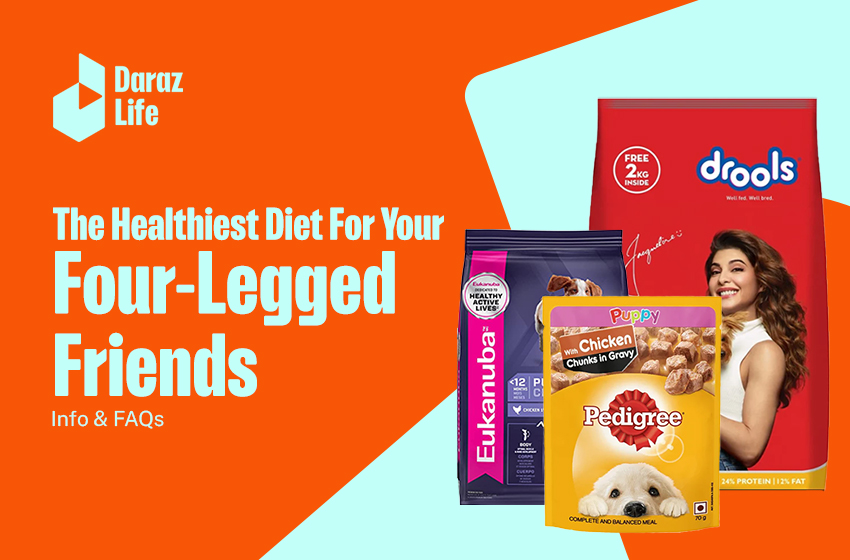 Get The Best Pet food Price in Sri Lanka From Daraz Mart
If you search for healthy pet food at the best pet food price in Sri Lanka, continue reading this post. Whether it's dog food in Sri Lanka or cat food, we have covered all required categories.
Are you looking for the lowest pet food price in Sri Lanka? Ahead, we have listed how to select the healthiest pet food in Sri Lanka, depending on their nutritional requirements.
Also, if you are shopping for dog foods, cat food, and other pet essentials, keep in mind that Daraz Mart offers a range of pet food at the most affordable pet food price in Sri Lanka. Additionally, Daraz mart offers the fastest pet food delivery in Sri Lanka. If you place your order before 3 p.m, you are sure to get it on the same day.
Choosing The Right Pet Food Online
Pets are a valued part of any family. Their love you unconditionally and depend on you to look after them. Some of their needs are not complicated to figure out. Giving them plenty of playtime and exercise is one such instance. However, with so many alternatives on the market, determining the correct diet for your dog or cat has become more of a challenge.
Therefore, continue reading because we will discuss how to choose a healthy diet for your four-legged friends. So, continue reading if you are a pet parent.
Cats
There is no single diet that is ideal for all cats. However, it's best that your cat gets a diet rich in protein and low in carbohydrates. Furthermore, there are other factors you need to consider when you decide on a healthy diet for your cat. Let's take a look at some factors to consider before planning out meals for your beloved cat.
Cat's Age
Your cat's age is one of the most significant aspects to consider when purchasing cat food. For instance, your cat's activity levels vary depending on whether they are kittens or older cats. Kittens are extremely active and require extra nutrition to support their growth process. Furthermore, they require food rich in vitamins and amino acids, which benefit their immune system.
Average Adult Cat's Food Consumption
An adult cat requires a balanced diet complete with specific nutrients. They require a combination of nutrients, including vitamins, minerals, fats, and amino acids. It's best to give them a combination of wet food and dry food to keep up with their daily nutritional needs. Also, please note that cats are carnivores and require a meat-based diet.
The Cat's Life Stage
Your cat's nutritional requirements can vary depending on its stage of life. For instance, if it's a senior cat, they need soft food high in protein. Also, a mother cat nursing its kittens might require a high calory diet. Some cats may develop health conditions that may require a special diet to help them with the condition.
Cat Nutrition FAQs
What human foods should you not give your cats?
There's food that we consume that can be toxic to your cat. Some of these include Chocolate, Alcohol, Dairy Products, Grapes or raisins, Liver, Onions, Garlic, Uncooked meat, egg and fish.
Is it safe to give milk to kittens?
Not really. Despite the popular belief that milk is good for cats and kittens, most cats are lactose intolerant. Therefore, it can cause an upset stomach and diarrhoea.
When do I start giving my kitten adult food?
It's safe to start giving your kitten adult cat food after 12+ months.
Dogs
Domestic dogs do not have a say in what they eat. We choose what we believe is ideal for our canine companions' depending on their health, energy level, and happiness. However, choosing the best diet for your dogs can be challenging. Let's take a look at some factors that you can consider before deciding on your dog's nutritional needs.
Natural Ingredients
Feeding dogs a diet rich in natural food products like beef, chicken, lamb, peas, carrots, and spinach can improve their overall well-being. It promotes heart health, increases energy, and makes their coats shine and smell better. Furthermore, natural food ingredients can help improve eyesight and aid in better bowel movement.
Age Appropriate Food
One of the essential things you can do to help your puppy develop into a healthy and strong dog is to make sure he gets the proper nutrients. Puppies and adult dogs have varied nutritional requirements. Therefore, it's essential to feed him a nutrient-rich, balanced meal tailored to his life stage. The same goes for adult dogs. It's best to research their individual dietary requirements or seek your Vet's advice about your adult dog's nutritional needs.
Size Appropriate Nutrition
The dietary requirements of large and small dog breeds are vastly different. Therefore, when searching for the best dog food in Sri Lanka for your four-legged friend, it is vital to consider their size. For instance, if you feed a small dog the same amount of food you feed a larger breed, it might lead to obesity and other health issues. So, always pay attention to the size of the food and the amount you give your dog.
Dog Nutrition FAQs
How often should you feed your dog?
Puppies of age three months or less should be fed four times each day. Pups between the 3 and 5 months old should be fed three times a day. Adult dogs only need to be fed once or twice each day.
When should you change your puppy's diet to adult dog food?
When your puppy reaches 80 to 90 percent of his adult weight, you should start transitioning him to an adult diet. Most dogs reach this weight requirement around the age of nine months. However, it varies depending on the breed. Therefore, it's best to check with your Vet before transitioning your pup to adult dog food.
What foods should you NOT feed your dog?
Some of the following food can be toxic for your dog. These foods include chocolate, grapes or raisins, macadamia nuts, onions, garlic, and blue cheese.
We hope this guide was helpful for you in sorting out the healthiest diet for your four-legged friend. If you are looking for pet treats, check out our blog on Spoil Your Four-Legged Family Members with Pet Treats from Daraz Mart.