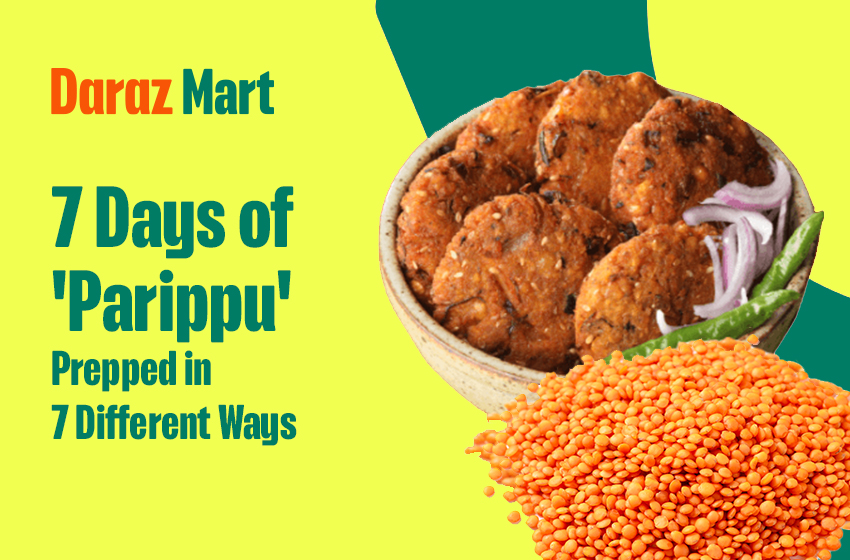 7 Days of 'Parippu' Recipes Prepped in 7 Different Ways
Dhal recipes are a popular choice among many of us Sri Lankans. Plus, if you are planning to prep vegetarian dishes, you will love this blog.
Are you searching for recipes which can incorporate dhal in new and exciting ways? Read on to discover fun ways to get creative with your favourite pulse.
Why Are Dhal Recipes Popular
Lentils, popularly known as Dhal in South Asia, are high in protein, fibre, and iron. As a result, eating this pulse on a daily basis could positively complement your health.
If you love your dhal dishes, get on your Daraz App and head to Daraz Mart. Furthermore, you can be certain to find all the ingredients you require to fix your favourite meals at Daraz Mart. Whether you are shopping for grains, pulses, canned food, or any other type of grocery item, you are sure to find it at the lowest price online on Daraz Mart.
So, without further ado, let's take a look at some fun and delightful recipes you can prepare with Dhal as an ingredient.
Dhal Soup
Ingredients
150 g Mysoor dal
2L Homemade Vegetable Broth
2 Big Onions, chopped
1 Carrot, Chopped into bite-size pieces
4 Medium Potatoes, Chopped into cubes
2 Garlic Cloves, crushed
½ Tsp Fresh Ginger, chopped
1 ½ Tsp Tumeric Powder
1 ½ Tsp Cumin
1 ½ Tsp coriander powder
½ Tsp Chilli Powder
3 Curry Leaves
2 Tsp Vegetable Oil
Method
Add vegetable oil, onion, garlic, ginger, chilli, and other spices into a large saucepan. Saute in medium heat for about 2-3 minutes.
Then, Combine potatoes and carrots.
Wash Mysoor Dhal and combine with other ingredients in the saucepan, followed by vegetable stock.
Then, add the curry leaves and allow to simmer for around 25 minutes until dhal is soft.
Afterwards, remove the curry leaves and blend the ingredients until they reach the desired thickness and consistency.
Serve with toasted bread.
Dhal Wade
Ingredients
½ cup Thoor or Gram Dhal
1-2 Dried Red Chilies, Sliced
1-2 Green Chilies, Sliced
1 Big Onion, Sliced
5 Curry Leaves
1 Tsp. Red Chili Powder
Pinch of Salt
Vegetable Oil for deep frying
Method
Soak the Dhal in water for a couple of hours until soft, and then wash and drain well.
Keep aside 3 tablespoons of Thoor dhal and grind the rest in a food processor.
Combine all the other ingredients with the ground dhal mixture and incorporate the 3 tablespoons of unground Dhal into this mixture
Take small portions into the palm of your hand and roll them into balls. Flatten them to take the shape of Dhal Wade.
Deep fry until brown.
Dhal Breakfast Omelette
Ingredients
60 g Mysoor Dhal
2 ½ Tbs Tapioca Flour
Pinch of Salt and pepper
½ tsp Garlic Powder
¼ tsp Cumin
Pinch of turmeric
150 mL Water
½ a big onion, chopped
1 Small pepper, chopped
1/3 cup mushrooms, chopped
Oil to fry
Method
Add a dash of oil, and Saute onion, pepper and mushrooms
Turn off the heat when vegetables are softened
Grind the Mysoor Dhal into flour using a grinder
Combine all dry ingredients (tapioca flour, garlic powder, cumin, turmeric, salt and pepper) along with the ground dhal.
Add the water and whisk together all ingredients until they are all mixed well. Add the sauteed veggies to the mixture.
Allow the batter to sit for 5-10 mins
Heat a skillet and pour some oil over it.
Add the mixture to the pan and spread evenly with a spoon.
Allow to stand for about 4 minutes and flip it over to cook the other side.
Dhal Pakora
Ingredients
1 cup approx 165g mysoor dhal washed and soaked in water for 2 hours in water
1 Tsp ginger grated
garlic clove grated
1-2 green chillies, finely chopped
1 1/4 tsp salt
tsp coriander powder
1 tsp chilli flakes
½ cup fresh coriander leaves, finely chopped
1 red onion, diced
Oil for deep frying
Method
Add lentils to a blender with about 20 mL of water and blend together. Scrape down the sides of the blender and add 20 mL more water and blend again until it takes the consistency of hummus.
Heat oil in a small wok.
Add lentil paste into a mixing bowl and add ginger, dry spices, chillies, salt, and coriander powder, and mix with hand.
Combine onions with this mixture
When the oil is hot, add a tablespoon of the mixture to the hot oil and allow to deep fry. Cook the pakoras in small batches until golden colour.
Remove from the oil and allow the oil to drain off fully. Place on a paper serviette to absorb any excess oil.
Enjoy with your favorite dip.
Dhal Bolognese
Ingredients
1 cup Mysoor Dhal
1 ½ tbs olive oil
1 large onion, diced
4 garlic cloves, minced
1 ½ teaspoon dried oregano
1 ½ tsp salt
½ tsp black pepper
150g tomato paste
3 cups vegetable broth
400g of crushed tomatoes or whole peeled tomatoes, crushed by hand
450g of Tagliatelle or Fettucine Pasta
1 tbs balsamic vinegar
Method
Soak the Mysoor Dhal in water for about 30 mins
Add olive oil into a deep pan and add. Onions. Cook till light brown.
Add a pinch of salt.
Add the garlic, oregano, 1 1/2 teaspoons salt, and pepper. Stir frequently and cook for 60 seconds.
Combine the vegetable broth, stirring and combining any bits on the bottom of the pot.
Stir the broth into the tomato paste to combine.
Stir in lentils and heat until the mixture comes to a boil, then reduce the heat to medium-low to simmer for about 20 minutes, stirring occasionally.
Combine crushed tomatoes and simmer for 15 mins.
Stir occasionally to prevent the mixture from sticking to the pan
You might have to add a little water to prevent it from burning.
Cook for 20 mins
Add the balsamic vinegar in the end.
Meanwhile, bring a large pot to a boil and cook the pasta
Add the cooked pasta to the bolognese and toss until the pasta is well coated with the sauce.
Dhal Cutlet
Ingredients
1 Cup mysoor dhal
2 big onions, chopped
¼ Cup coriander finely chopped
1 tsp ginger and garlic paste
2 green chillies finely chopped
1 tsp cumin seeds
1 tsp red chilli powder
1 teaspoon garam masala powder
Cooking oil
Salt to taste
Method
Soak the dhal for 15 – 20 minutes in water.
Drain the soaked dhal, and make fine paste of the dhal using a grinder and 1/4th cup of water.
Heat 2 tablespoons oil in a pan. Add cumin seeds. Roast for a couple of seconds till seeds change color.
Add half of the chopped onion and fry till it turns golden brown in color.
Add the mysoor dhal paste to the pan, roast over low heat, stirring continuously till it turns light brown in colour.
Transfer to a bowl. Let the dal mixture cool down.
Combine remaining chopped onion, garlic paste, green chili, coriander, spices and salt with the Dhal.
Grease a baking tray with oil.
Evenly spread the dal mixture in the tray with ¼ inch thickness.
Let the mixture set in the tray at room temperature to set
Once the mixture is set, cut into equal shapes.
Heat oil in a frying pan and shallow fry the dhal cutlets until golden brown.
Dhal Mixed Rice
Ingredients
3 ½ cups water
2 Medium red onions, diced
2 garlic cloves, minced
1 tbs olive oil
1 cup green lentil
1 cup Basmathi grain rice
1 tsp salt
1 tsp cumin
½ teaspoon cinnamon
1 bay leaf
Method
Add 1 tablespoon of olive oil to a pan and sauté the diced red onion and minced garlic for about 5 minutes.
Add the water, lentils, and salt to a large pot. Bring to a boil. Cover with lid and simmer for 10 minutes.
To make the caramelized onions, heat a tablespoon of olive oil over low heat and add the onion slices. Stir often to prevent it from burning and until completely soft and caramelized. The onions should become very dark and tacky when finished.
Add the rice, cumin, cinnamon, and bay leaf to the lentils. Stir.
Cook covered for about 20 minutes
Serve lentils and rice topped with the caramelized onions.
We hope you enjoyed these recipes. Stay tuned for more interesting food recipes that you can create with basic pulses and other easily available food items. If you are looking for breakfast recipes, check out our blog 5 Quick & Easy Vegetarian Breakfast Recipes with dMart.