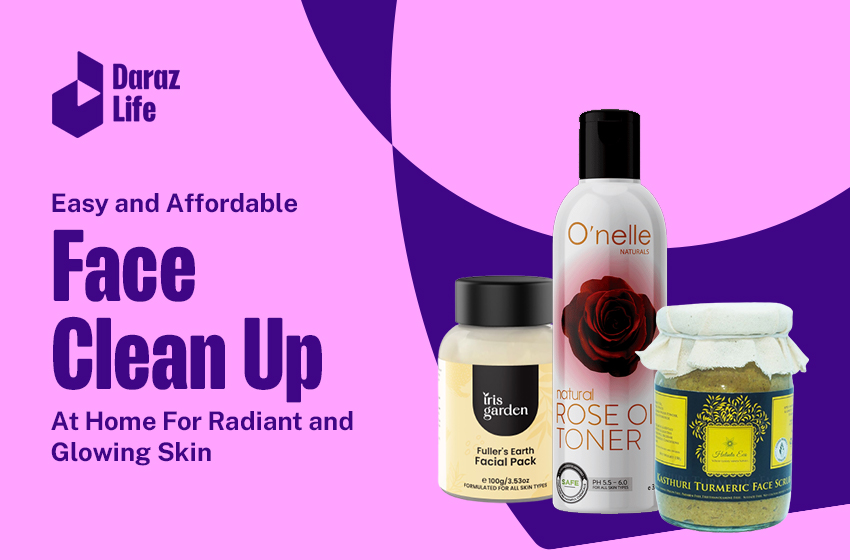 Get Glowing Skin With Best Products For Face Cleanup
Using the best products for face cleanup can make your skin radiant and glowing. Therefore, continue reading to find out how to do a face cleanup at home with the right products.
Are you in search of the best products for face cleanup? In that case, you're in the right place. We are going to discuss how you can do a face cleanup in Sri Lanka with quality products.
Face Clean-up Benefits
your face is exposed to the sun, dust, and pollutants constantly. Therefore, it is recommended that you have a facial clean-up at least every other week. Here's a list of advantages of staying consistent with your face cleanups.
It can cleanse your skin of dirt, dead skin cells, make-up, and excess oil.
It can help you maintain healthy skin and renew the outer layer of your facial skin
Aids in loosening pores, eliminating blackheads, and preventing the pores from clogging.
Deep cleansing can moisturize your skin, keeping it smooth and healthy.
Exposure to the sun can cause skin darkening and pigmentation. A clean up will remove the sunburns and erase the pigmentation spots on your face.
DIY With Best Products For Face Cleanup
If you have the right products at home, you can enjoy all the above benefits of a clean up whilst saving up on time and money. Furthermore, you don't even have to step out to get these products when you can shop for everything you need for a cleanup from Daraz Mall on your Daraz App.
If you are looking for the best products for face cleanup from reputed brands, always watch the 'Daraz Mall" tag on the product image. You can rest easy knowing that you are purchasing the original products for your skincare routines. Furthermore, you don't have to waste time shop-hopping when you can find everything you need in one place. The best part is that you can shop for everything you need with a tap of a finger, and they will be at your doorstep in no time.
So, without further ado, let's look at the step-by-step process of doing a face clean-up from the comfort of your home.
Cleansing
The first step of any facial ritual is to cleanse the face. Wash your face with lukewarm water and apply face wash or cleanser. Then, gently massage in a circular motion. Afterwards, use a gentle cloth to dry it. If you just got back home after outdoor exposure, it is highly likely that your pores may be blocked. Therefore, a single round of cleansing may not be enough. So, take some cleaning milk and dab it on your skin with a cotton pad.
Ponds face wash is a reputed brand in the market, and they craft cleansers for different skin types. Furthermore, many recommend Ponds as a trustworthy brand that helps to tackle their skin issues. Also, if you are struggling with pimples and dark spots, you can use the specific ponds cleanser to tackle those issues. In addition, it's ideal for everyday use because of the mild formulation.
Steaming
The second step is to loosen the pores so that you can get out all of the dirt trapped within. So, use a steamer to steam your face for about 5 to 8 minutes or for as long as your skin can tolerate the steam. If you don't have a steamer, heat some water in a container and expose your face to it. Allow the steam to absorb onto your face. Cover yourself with a cloth for more effective results. After steaming, use a blackhead remover to remove any blackheads and pat dry with a soft tissue or towel to wipe away the vapour droplets.
Scrubbing
Scrub your face using a face scrub product to remove any dead skin cells on the surface. Scrub your face for about 5 minutes and let the product stay on for a few minutes before washing it off with lukewarm water.
There are so many scrubs available in the market, but some of them could cause an allergic reaction. Therefore, before using the scrub on your face, test a small sample on the back of your hand. Leave it on for about 15 minutes and wash away to ensure it will not trigger an allergic reaction.
The key to selecting a good scrub is to choose an organic scrub with natural ingredients. The HelintaEco natural Kasturi Turmeric scrub consists of 100% all-natural herbal ingredients. Additionally, it contains ingredients such as Kasthuri Turmeric, White Sandalwood, and Calumba Wood (Venival) which can naturally whiten your skin tone. Additionally, it contains Lime Essential Oil, Natural Bee's Honey, and Pure Coconut Oil, which will keep your facial skin moist and supple.
Applying Face Pack
Face packs soften and bring out the radiance in your skin. Apply a moisturizing face pack, particularly one made from natural ingredients such as turmeric and besan, aloe vera and honey, or Fuller Earth face packs. If you like ready-made items, go for a fruity pack like a banana or papaya. Leave it on until it begins to dry for approximately 20 – 30 mins, then rinse away with water.
The recommended face pack featured here can absorb the excess oil from your skin and help to make the pore sizes smaller. Additionally, it's great to remove acne, scars and pigmented skin.
Apply Toner
After drying your skin after washing off the face pack, add a toner to help in preserving the pH balance. Instead of store-bought toners, try aloe vera, cucumber, or rose water. However, if you cannot find any of these ingredients in your household, we recommend you try the Onelle Naturals Natural Rose Oil Toner. It contains Aloe Vera gel and Rose Oil, which not only balance your skin's pH but can also provide a cooling effect.
Moisturize
The final step is to moisturize your face. Applying a moisturizer helps to hydrate and nourish your face. If you do this ritual at night, make sure you use a night cream. Otherwise, you can use a face moisturizer to help with your skin type.
We hope this blog post will come in handy if you choose to do a face cleanup at home. If you are looking for skincare products, check out our Top 10 Glow-Boosting Skincare Products.