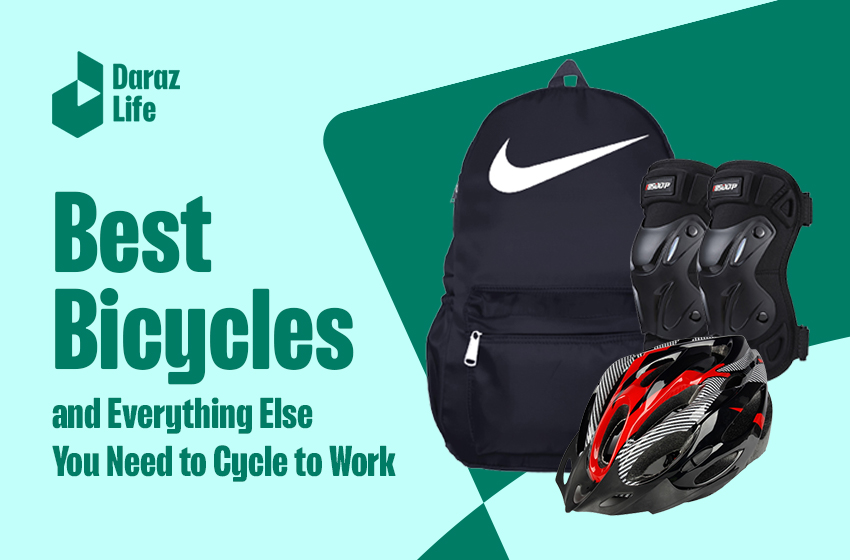 Best Bicycle Price in Sri Lanka and Other Cycling Essentials
The bicycle price in Sri Lanka has increased since the fuel shortage. However, we are here to tell you how to shop smart and get the best Sri Lanka bicycle price.
Are you looking for the best bicycle price in Sri Lanka? Ahead, we have listed bicycles and bicycle gear you need to cycle to work.
As a solution to the current fuel crisis, the authorities in Sri Lanka are encouraging more people to ride bicycles to travel short distances. Furthermore, with the major shortage in fuel supplies, more and more people are travelling to work on bikes. However, the prices of bicycles have hiked up, and they may seem unaffordable to many during an economic crisis.
If you think the bicycle price in Sri Lanka does not fit your budget at the moment, you can always shop on the Daraz app. You get the best prices in the market, and you can always opt to pay in instalments with 0% interest. Additionally, you can always shop on the day when your bank card is offering 10% off on your purchase, therefore, giving you numerous options to secure a bicycle that may seem too expensive at this time.
Mountain Bicycle
A mountain bike is a great option to commute to work. Furthermore, it provides comfort when you cycle on roads with bumps and potholes. After all, mountain bicycles are designed to ride in tough off-road terrain. Even if the weather conditions are not favourable and it's raining, you can rest easy knowing that the mountain bike will steadily transport you to your destination.
Bicycle Helmet
Safety comes first, no matter which mode of transportation you choose. Bicyclists can lower their risk of brain injury by up to 85% by wearing a helmet. Additionally, wearing the proper helmet size protects both your head and brain, preventing both external and internal injury. Therefore, a bicycle helmet should be a mandatory part of your bicycle gear. So, if you are planning on commuting on a bicycle, always make sure you wear a helmet of the right size for your head.
Bicycle Bag
If you use a bicycle often it would be helpful to carry a bicycle bag to hold all of your small accessories. For instance, a waterproof bicycle bag featured here will protect your phone and other accessories while you commute. It's the perfect storage for your phone with an outlet with touch screen material enabling you to operate your phone while travelling. So whether you want to check directions on Google maps or not miss an important news update, this bicycle bag is the perfect spot to carry your phone.
Backpack
When you commute to work on a bicycle, you definitely need to carry several things which you cannot just throw in your pocket. Therefore you require a backpack to carry your belongings. It's ideal if you can get a backpack with several pockets to organize your belongings as you ride to work on a bicycle.
Rain Cover for Backpack
The weather is never predictable. Rainy weather is not a cyclist's best friend. Therefore it's always safe to go prepared when you travel on a bicycle. You might be carrying electronics such as laptops, tablets, headsets and charging plugs with you. These devices and accessories might malfunction when they come into contact with water during a rain shower. Hence, it's advisable to carry a rain cover in your backpack just in case it starts to rain.
Bicycle Headlight
If you are commuting to work on a bicycle and you know it might get dark by the time you reach home, always carry a bicycle headlight. It will provide much-needed visibility when you travel in minimal light conditions. Additionally, it allows cars and pedestrians to see you from a distance.
Knee Braces and Elbow Guards
Wearing elbow and knee pads provides excellent protection for your arms and knees. Sometimes no matter your level of expertise as a cyclist, there is a chance you might fall off. Furthermore, it's unpredictable what kind of material may lie on the road that can cause severe injuries. Also, it's wise to wear them if your cycling conditions are challenging. If you are encouraging your children to ride with you please ensure they always wear a helmet and elbow and knee pads to keep them safe.
Water Bottle Holder
If you are commuting a long distance, it's a good idea to carry a water bottle with you to prevent dehydration. Additionally, attaching a water bottle holder to your bicycle allows you to reach and grab your water bottle easily when you need it. Therefore, a water bottle holder is a worthy investment if you aim to ride your bike on a daily basis.
Safety Goggles
Dust, mud, pebbles, and other material can fly off the rear of moving vehicles. These can be dangerous to a cyclist's eyes. Hence, wearing c Cycling glasses helps to shield a cyclist's eyes from these hazards. Therefore do not hesitate to invest in safety goggles because your eyes are worth it.
Hope this blog post is helpful to prepare better for your future bicycle commutes to work and other places. If you are planning to line up in a fuel queue, don't forget to check out our blog post; How to Stay Productive and Comfy While You Line up in Fuel Queues.