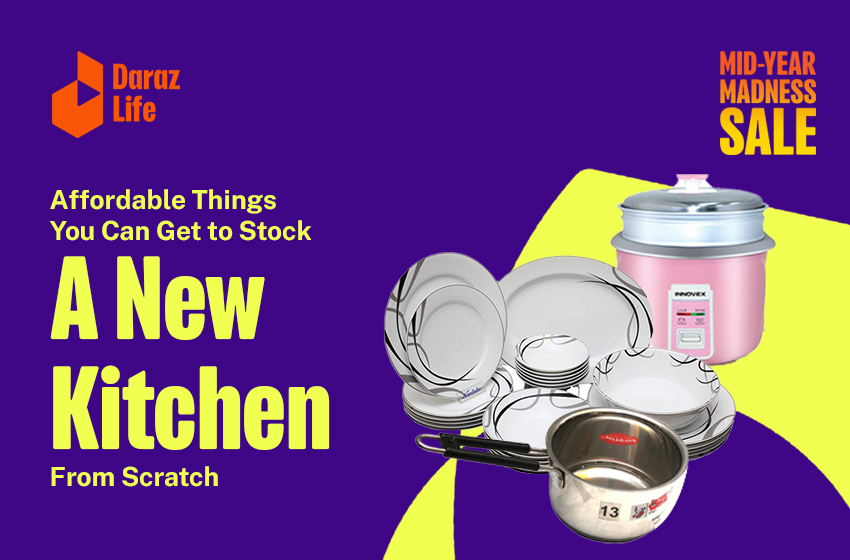 Affordable Kitchen Items to Stock A New Kitchen From Scratch
If you are shopping for kitchen items, you are at the right place. In this blog, we showcase a few essential kitchen tools you may require to stock a new kitchen (or an existing one).
Are you looking to purchase kitchen items online? Continue reading to learn how you can get kitchen equipment in Sri Lanka at affordable prices this July.
Daraz Mid-Year Madness: Up To 60% Off on Kitchen Items
Get ready to shop for all the kitchen items you need from the 26th of July with Daraz Mid-Year Madness. You can avail of discounts of up to 60% Off from online home goods stores Budry Scales, Dankotuwa Porcelain PLC, Homelux (Pvt) Ltd, Laksela Lifestyle, Lanka housewares, MMS Group (Pvt) Ltd, Noritake, Promolanka Marketing (Pvt) Ltd, and Royal Fernwood Porcelain LTD. Furthermore, you can get free shipping and valuable vouchers when you shop during the sale. So, what are you waiting for? Mark that date so you will not miss out on amazing bargains on kitchen equipment.
Without further ado, let's take a look at some of the essential kitchen items you require to stock a new kitchen, that will be available during the sale.
Dining Tables & Chairs
Every kitchen needs a dining table. Even if you do not dine in the kitchen, it will be a great hot spot to place your radio, help kids with the homework, or even get people to sit and give you company while you cook and clean.
Shop online during Mid-Year Madness to get a sturdy dining table along with chairs in a colour that will complement your kitchen.
Cooking Items
Cooking items are another major requirement for every kitchen. Furthermore, a kitchen would not be complete without the pots, pans, spoons and other utensils required to cook your food. Some of them are staples that belong in every kitchen, such as frying pans, steamers, and hopper makers. Additionally, you might want to have saucepans of varying sizes, and a few other kitchen accessories that aid in cooking your food.
Rice Cooker
Because rice is a staple food in Sri Lanka, the rice cooker is most likely the most used device in many of our households. And, thanks to rice cookers, we can make our main dish with minimal effort. They are so simple to use that even a teenager or young adult can figure out how to cook rice easily. All you have to do is press a button and your perfectly cooked rice dish will be ready in a matter of minutes.
Kitchen Utensils
Any basic kitchen requires a few mandatory utensils. Some of these are knives, spatulas, whisks, potato mashers, graters and wooden spoons. All these items are much needed to cut, chop, and prepare your food before consuming them. Keep an eye out for price drops on most of these essential items during the Mid-Year Madness sale. You may even feel like you're getting some of them for free.
Cake Decorating Items
If you love baking cakes, then your kitchen definitely needs cake decorating items. These are absolutely necessary to make your delicious cakes look good. Baking and decorating a cake requires organizing everything from your ingredients to thinking ahead as you proceed through the recipe's steps. A turntable, cake scraper, parchment paper, and icing tools are crucial for the cake decorating process. They make decorating a cake much simpler. So, watch out for price reductions on your favourite cake decorating items during the sale.
Dinner Sets
The quality of the tableware we use is one thing that can make a world of difference during food presentation. This is especially true if the entire family or people who visit your home like to sit down and enjoy meals together. The sight of outdated and unsightly crockery can easily make a person's appetite disappear. Furthermore, the appropriate dinnerware can help to establish the right tone for a proper meal time. Therefore if you want to win half the battle of delivering a great meal, ensure you present it right.
Tea Sets
In Sri Lanka, there are no distinct occasions or reasons for pouring a cup of tea. It's available almost anywhere there's a need for it. Whether it's your morning cup of tea or you are presenting the tea to a visitor, it's nice to pour it in style. Therefore, if you are looking for new tea sets, Mid-Year Madness is a great opportunity to buy one.
Hope this post help to shed some light on the basics you require when you are stocking up on equipment for a new kitchen. If you are shopping for furniture, check out our post; Best Rates on Furniture and Décor to Light Your House Up this August.