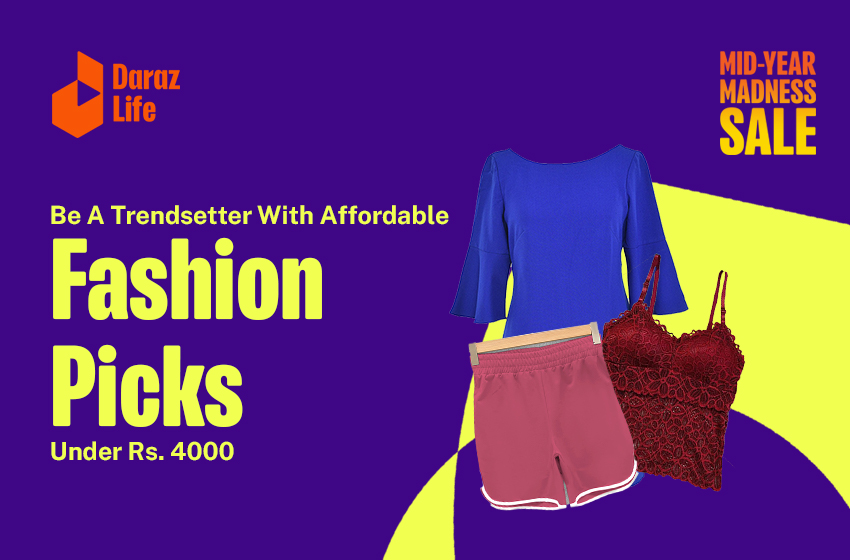 Set The Fashion Trends With Fashion Picks Under Rs. 4000
Fashion trends come and go very frequently, so you must continuously keep up with what's in trend and what's out of style. Continue reading to find out how to stay on top of trends this August with online fashion.
Are you someone who keeps up with fashion trends in the market? Check out a few outfits under Rs. 4000 available on Daraz Fashion.
Get The Seasonal Fashion Trends At Big Discounts With Daraz Mid-Year Madness
With the insane price hikes on food and other essentials, it's always wise to seek bargains when you shop for clothes. Here's your chance to upgrade your wardrobe in the middle of the year! Daraz Mid-Year Madness begins on the 26th of July, so you can grab all the trendy fashion outfits and accessories that you have been eyeing throughout the year.
Get up to 50% in discounts on your favourite fashion brands such as Spring and Summer, Privi Fashion, TRENDY Clothing, Laveena Sarees, Aadaraya, TOFO, Jumperjuser, and SMY Mall. Also, there will be valuable giveaways, vouchers, free shipping, and so much more. So, get ready to refresh your wardrobe this July and become a trendsetter.
Let's take a look at a few outfits that you can get under Rs. 4000.
Tank Top
Are you trying to beat the July heat? Get yourself a few tank tops. Tank tops are sleeveless and, therefore, very effective at keeping you cool. These tops also provide more flexibility and movement around your arms, making you feel at ease throughout the day.
Additionally, tank tops are amazing if you are layering your outfits. You can wear them under shirts, jackets or cardigans. Moreover, you can pair them with fashionable scarves or jewellery if you are looking to make a statement. Therefore, tank tops will always add much value to your wardrobe.
Biker Shorts
With bicycles becoming more and more popular there is no better time than now to own a pair of biker shorts. Additionally, they are fashionable and you can wear them as a casual attire. Biker shorts can be paired with your favourite T-shirt or a trendy shirt. Therefore get yourself a pair of biker shorts and be an inventor of new trends.
Casual Dresses
A casual dress is every woman's go-to outfit when they are in the mood to embrace their feminine side. Additionally, these dresses are always in trend and you can find them in so many different hues. So, if you are looking to embrace your feminine energy with an outfit that complements your style, check out the range of casual dresses available on Daraz Fashion.
Sarees
There is no doubt that a woman will always look graceful in a saree, and for South Asian ladies, this is an essential wardrobe element. There are several methods to drape a saree to complement your body type and personality. If you're a teacher, a working lady, or a student preparing to graduate, you may have events where sarees are required. So, here's a great chance to grab the sarees of your favourite colours and styles at discounted prices. Check out the offers available in the Laveena Sarees flagship store during the Mid-Year Madness Sale.
Skinny Jeans
Did you know skinny jeans are one of Google's top fashion searches of the year? Skinny jeans are a fashion trend that will always be around despite Gen Z's attempt to banish them. No wide-legged pair of jeans can hold up a candle to the beautiful fit of skinny jeans. Additionally, skinny jeans look great when they are paired with crop tops, baggy tops or even skinnies. Therefore, if you have been waiting to buy a pair of skinny jeans, make the most of the discounts available during Mid-Year Madness.
Formal Dress
A formal dress is a must-have in every woman's wardrobe. It can come in handy whether you feel like looking extra special at work or whether you are attending a formal event. You can always style it up with extra accessories and jewellery or style it down when the occasion calls for it.
Workout Clothes
There is no better occasion than the Mid-Year Madness to upgrade your workout wardrobe. You can grab sporty-looking yoga pants, sports pants, and fashionable athleisurewear at amazingly low prices.
Loungewear
When you wear it right, loungewear helps you feel relaxed while still looking elegant. Even if you're wearing pyjamas or sweat pants, there's a creative way to do it so that you may step outside of your house and still carry off your ensemble fashionably.
Undergarments
Who doesn't appreciate a good bargain on underwear? Stock up on underwear for the entire year. Whether you're shopping for bras, panties, thongs, or men's briefs, you can now get them all at affordable prices. The amazing part is that they will be at your doorstep with just a tap of a finger, saving you the trouble of having to rush to clothing stores to get something as basic as underwear.
Hope this guide will be helpful when you shop for your clothes online during Mid-Year Madness. If you are shopping for bedding during the sale, don't forget to check out 8 Quick and Easy Ways to Enliven Your Bedroom and Bath.