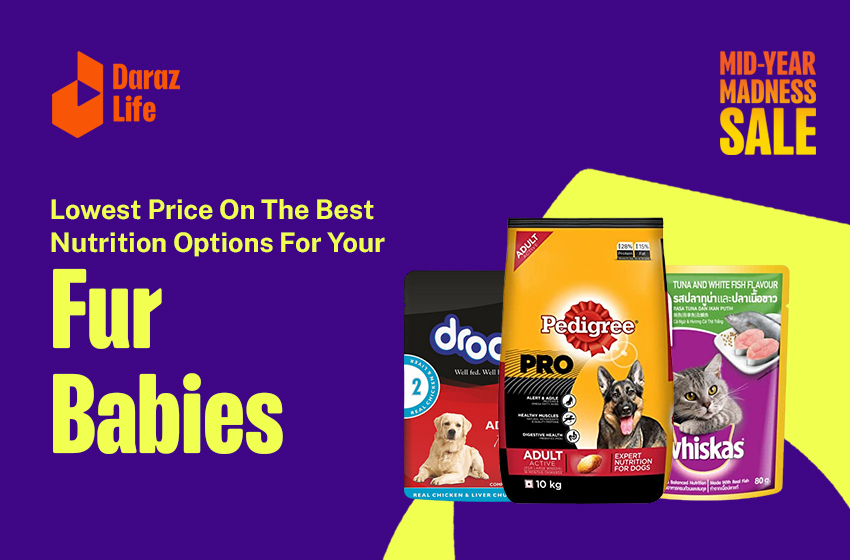 Lowest Prices On Pet Food Online Sri Lanka For Healthier Pets
Finding pet food online Sri Lanka is the easiest way to ensure your fur babies consume food with the right nutrient balance. Ahead, we look at a few pet food options you can get on Daraz at discounted prices.
Are you looking for pet food online Sri Lanka? Continue reading to find out how you can get the best deals on pet food when you shop during the Daraz Mid-Year Madness sale.
Discounts on Pet Food Online Sri Lanka: Daraz Mid-Year Madness Sale
Do you want to spoil your pet with the best pet food on the market? Whether you have a dog or cat, you can shop for nutritious pet food at discounted prices from the Daraz Mid-Year Madness Sale. Save up to 15% off on nutritious snacks for your furry friends. Additionally, avail of free shipping when you shop from brands such as Drools, Let's Bite, Eukanuba, Canine Plus, Royal Canin, Blackhawk, Pedigree, Whiskas, OceanFree, Me-O, and Kit Cat.
Without further ado, let's take a look at some of the pet food options available during the sale.
Adult Dog Food (Dry Food)
Food is just as vital for a dog's health as it is for ours. As a result, the food you feed your dog must give it the optimum nourishment it needs for its body to function efficiently. These adult dog dry food contain a vast array of nutrients that build up every tissue and keep every cellular activity running smoothly. Therefore, ensure your adult dog gets the proper balance of adult dog food can, which will give them the energy to chase toys and go out for their daily walks.
Adult Dog Food (Wet Food)
In general, wet food is preferable to dry food for dogs. Wet food has fewer carbs, which dogs find difficult to digest, and more water, which keeps dogs hydrated. Therefore, when you select the food for your precious pooch, make sure you mix up wet food and dry food. This will ensure that they get the best of both worlds, including the best nutrients and advantages from both types of food. The best food choices made with nutritious ingredients know the way to your pup's heart. So get some wet food that will get their tails wagging with glee.
Dog Food For Puppies
A puppy's general well-being can be improved by feeding them a diet rich in natural food items such as beef, chicken, lamb, peas, carrots, and spinach. It improves their heart health, gives them more energy, and helps their coats shine and smell better. Furthermore, natural dietary elements can assist in enhancing vision and bowel movement.
Also, the nutritional needs of an adult dog and a puppy can vary significantly. For instance, your dog's activity levels vary depending on whether they are pups or older dogs. Puppies are extremely active and require extra nutrition to support their growth process. Furthermore, they require food rich in vitamins and amino acids, which benefit their immune system. Therefore, treat your puppy to nutritious meals from a very young age so they grow up to be happy and healthy four-legged friends.
Cat Food (Wet)
There is no single diet that is ideal for all cats. However, it's best that your cat gets a diet rich in protein and low in carbohydrates. Furthermore, there are other factors you need to consider when you decide on a healthy diet for your cat, such as age, stage in life etc.
An adult cat needs a well-balanced diet rich in certain nutrients. They need a variety of nutrients, including vitamins, minerals, lipids, and amino acids. Most of these nutrients are present only in wet food. Therefore, to meet your cat's daily nutritional demands, it is preferable to feed him a combination of wet and dry food. Additionally, if your cat is ageing, then it is preferable you feed him wet food, which is easy to chew and swallow.
Cat Food (Dry)
The key advantages of dry food are its easiness, convenience, and low cost. Many cats worldwide are given dry food and enjoy long and healthy lives. Dry food allows for flexible feeding and may be stored for extended periods of time. When dry food is provided, some cats prefer to graze their food throughout the day rather than at regular mealtimes. Therefore, dry food is more convenient to utilize with food dispenser toys for environmental enrichment and brain stimulation.
We hope you were able to get more insight into your furry friend's nutritional requirements through this blog. If you are shopping for electronics such as laptops and computers during the Mid-Year Madness sale, check out Best Laptops in Sri Lanka, Computers and Other Accessories.