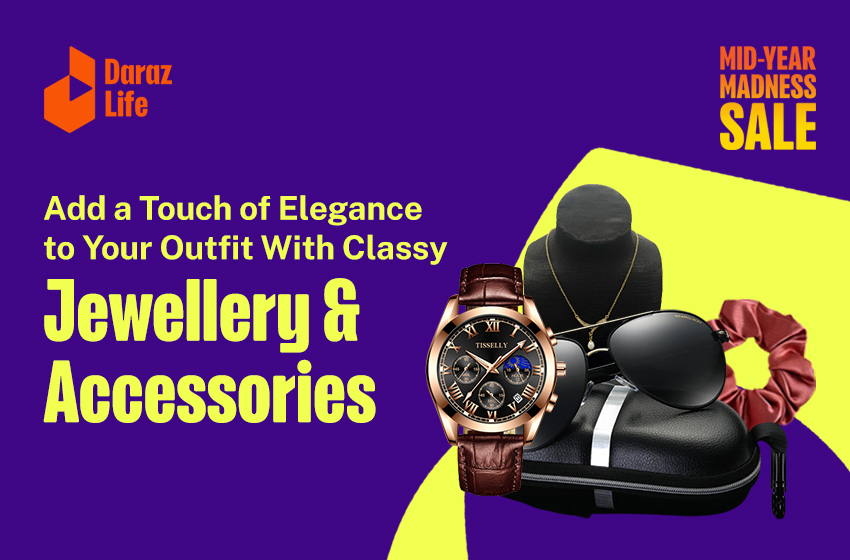 Lowest Prices on Classy Accessories and Fashion Jewellery Online
If you want to add elegance to your outfit with fashion jewellery online and other accessories, you're in the right place. Ahead we have listed stylish and exclusive jewellery and accessories you can get at discounted prices.
Are you shopping for fashion accessories and fashion jewellery online? Continue reading to learn how you can avail of the best discounts on watches, jewellery and accessories during Daraz Mid-Year Madness Sale.
Mid-Year Madness Sale: Luxury Watches, Sunglasses and Fashion Jewellery Online at Unbelievable Prices
Are you ready to shop till you go crazy? Daraz Mid-Year Madness is here with 50 Million in savings across 5 million products. Get ready to grab massive deals and discounts on your favourite brands. The choices are unlimited, and everything you desire is at your fingertips.

Mega Deals, Discount Vouchers, and Free Shipping!
Daraz online shopping hits the biggest discounts in the middle of the year during the Mid-Year Madness Sale. There are unbelievable offers, including Mega Deals! Discounts on products ranging from mobile phones, electronics, fashion, and household essentials. Get deals on sports goods and all other categories of products available on the Daraz App.
We have great news for you if you are looking for bargains on watches, jewellery, and sunglasses. You can get up to 10% in discounts when you shop on Louis will, Bodhimall, SKMEI, Stone and String, and Ruach. Furthermore, collect valuable vouchers, get free shipping, and keep an eye out for flash sales when you purchase accessories online during Daraz Mid-Year Madness.
So get ready to dress classy for less! Get luxury fashion jewellery online, watches, sunglasses, and other accessories at unbelievable prices.
Without further ado, let's look at some accessories online you can get during Mid-Year Madness.
Watches For Men
Combining a smart-looking timepiece with his suit undoubtedly boosts a gentleman's professional appearance. Wristwatches allow you to show off your personal style while still keeping you on track with your schedule. Wearing a wristwatch may also be a form of self-expression, conveying class, your sense of adventure, and sportiness, depending on the brand. Furthermore, a watch may convey a lot about the person wearing it. Therefore when you pick a watch, select a mens watch that complements both your personality and your attire.
Watches for Girls
Many girls have resorted to checking the time on their smartphones for the sake of convenience. However, wearing a nice watch portrays a sense of professionalism and gives a classy look. Furthermore, it might help to bring out the beauty of whatever you choose to wear. Moreover, assume you're at a meeting or conversing with someone. Disengaging from the meeting or conversation to find your phone and open your home screen may appear more disrespectful than simply glancing at your wrist.
If you are seeking attractive ladies' watches, we suggest that you browse the Daraz App for womens watches or watches for girls. There are different alternatives, and you will be able to pick the ideal style that meets your preferences. The best thing is that you can have it delivered door step.
Stylish Necklaces
This is by far the most enticing piece of jewellery a lady can wear. It's one item that can distinguish you apart from the crowd. Furthermore, it is the ideal piece of jewellery for glamming up for a dinner date, party, or any other fancy occasion. Also, it's a fantastic way to add a touch of feminity.
Wearing a necklace is an excellent way to grab attention to yourself. You may also experiment with various styles or make a statement just by matching your necklace to your outfit. Furthermore, necklaces may be worn for a multitude of purposes, including expressing oneself. So, get yourself a few classy necklaces for affordable prices during the Mid-Year Madness sale.
Hair Accessories
Online hair accessory trends gain more and more popularity each year. Many people are attempting to boost their social media presence. Therefore, staying on top of fashion and accessory trends is crucial for influencers. Additionally, if you are someone who likes to match your outfit and accessories every day, you might want to add some trending hair clips, scrunchies, hair bands, and other accessories to your fashion wardrobe.
Sunglasses For Men and Women
Sunglasses have evolved into more than a mere fashion accessory. Moreover, sunglasses not only complement your everyday outfit but also protect your eyes. It is well known that eyes are susceptible to damage from various elements in the environment and UV rays from the sun. As a result, keeping good eye health is crucial, and sunglasses can help. If you don't regularly use sunglasses when you go out, here is one good reason to begin using sunglasses.
Rings For Girls
Fashion rings are always in trend. Simple and elegant rings are absolutely stunning and, when worn right, can improve your good looks. Rings can be worn in a variety of ways. Stacking multiples in a finger is one distinct style. Make sure that they have a similar design. Also, if you prefer to stack them, make sure they are very thin and fit nicely together. Fashion rings come in a variety of designs. Choose a pattern that suits your personality and show off your lovely fingers in style.
We hope you will be able to grab some fantastic offers on jewellery, watches, and sunglasses to elevate the look of your outfits. If you are shopping for clothes, check out Set The Fashion Trends With Affordable Fashion Picks Under Rs. 4000.