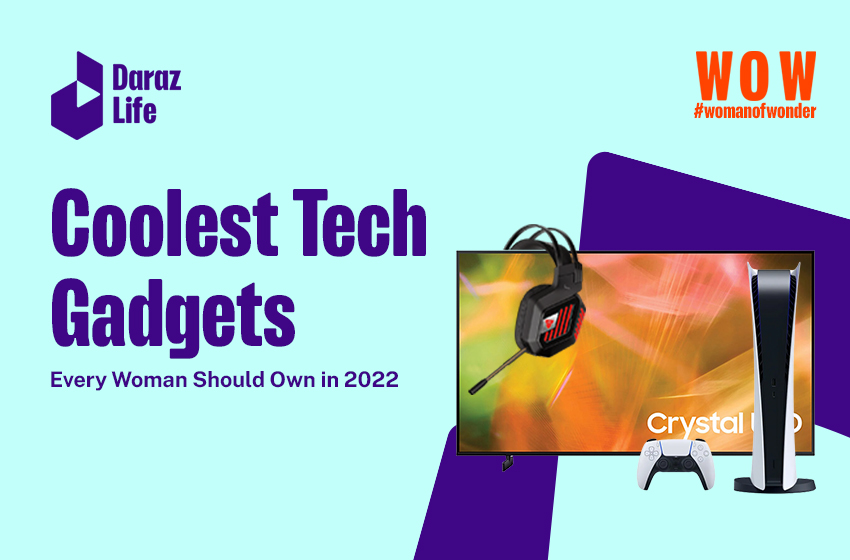 Coolest Tech Gadgets Every Woman Should Own in 2022
The super cool tech gadgets are one of the best things available to humanity in 2022. So continue reading to find out some of the coolest tech gadgets you can own as a woman living in this day and age.
Are you on the hunt for the coolest tech gadgets? Read on to discover some of the best electronic accessories you can get in the market to make your life more entertaining.
WOW Yourself With Discounts on TV, Video, and Gaming Accessories
Ladies, the time has come to celebrate you. Get on your Daraz App between the 26th and 1st of September and shop from the Daraz WOW week. Take your entertainment game to the next level by saving on cool gadgets and electronic accessories.
Get up to 70% OFF when you shop from brands such as NIKAI, Xiaomi, Samsung, Apple, JBL, Gearbong, ShopMe™, Lenovo, TWS Earbuds, Daraz, Haylou, Panasonic, iFlashDeal, Maxmo, BROWNS, OEM Carton Box, LG, OLiK, Puresounds, Wiresto, OREL, Microlab, SONY, and several other popular brands names.
Also, keep an eye out for Free Shipping, Valuable Vouchers, and Fantastic Giveaways. You can receive freebies on selected products.
Without further ado, Let's take a look at some of the coolest tech gadgets every woman should own in 2022.
Are you looking for original products? Get authentic products for the lowest prices when you shop at Daraz Mall. Furthermore, Daraz Mall has more than 450 brands on board. You can get 100% authentic products with Faster Delivery and a 14-day easy return policy.

Let's check out some of the coolest tech gadgets every woman should own in 2022.
Samsung Galaxy Tab A7
The Samsung Galaxy Tab is a great investment if you are the type of lady who is constantly on the go. If you enjoy binging your favorite shows on Netflix, listening to music, or like to check your mail on a larger screen than the one on your smartphone, the Galaxy Tab will be an awesome companion.
The best part is it's sleek enough to fit in your handbag or any other small carrier. It comes with an 8MP main camera which can take decent photos. This tablet has a Qualcomm Snapdragon 662 processor, which aids the device's seamless performance. Additionally, it has an amazing battery life of 7040mAh which lasts for days.
Smart Watch
A Smartwatch is a must-have tech gadget for the modern-day lady. Whether you're a corporate queen or a stay at home mom, you can benefit so much from a smart watch. Our recommendation is the Apple Watch series.
The Apple Smart Watch is undoubtedly one of the top 10 smartwatches in Sri Lanka. It has one of the largest displays you have seen on an Apple series smartwatch. Apple claims that it's the most durable Apple watch that is made to date. Additionally, it comes with an Apple S7 chipset that offers a smooth performance. The touch screen is swift, and it can also receive notifications that your phone has and also attend to calls, SMS, notifications, and emails. For fitness experts, the Apple Smart Watch Series 7 features the best monitor for your heart's rhythm, and the best part about this watch is that it can allow you to track your fitness goals where ever you go with a super accurate GPS! Currently, Apple Watch Series 7 is the latest and remains at the top among smartwatches.
JBL Tune
Are you an active lady who makes time to go for a run, hit the gym, or go on walks? In that case, the JBL tune is a must-have gadget that you should own. This Bluetooth headset comes with a neckband design and is ideal for taking with you on your adventures. Thanks to the design, you do not have to worry about the device falling off while you're running or doing any other activity.
It comes with a quality microphone, connectivity, and battery life. Therefore you can go without charging the device for days. If you enjoy listening to tracks with a bass boost, you will absolutely love this headset.
Gearbong Bluetooth Speaker Ultra Loud Stereo Speaker
Are you the type of lady who likes to listen to your music while you navigate through daily chores? If so, The Gearbong Bluetooth Speaker Ultra Loud Stereo Speaker will be the perfect addition to your collection of gadgets. Whether you are ticking off tasks, taking a shower, or going out on a picnic with your friends, you can carry this lightweight and easily portable device. It has amazing sound quality and fantastic battery life to last you through the day.
Gaming Headset
This super cool gaming headset is for ladies who are intensely into gaming. It comes with a noise-canceling microphone making it the perfect gadget that allows you to game for hours without any disturbances. Take on gaming with style with the alluring RGB lighting. Furthermore, the device has a volume wheel at the bottom, which allows you to easily control the volume. The best aspect of this device is its comfort. You almost would not feel like you're wearing a headset. So, if you are ready to game in style, this gadget is definitely a worthwhile investment.
Earbuds
Are you in search of an affordable pair of earbuds that offers a quality listening experience? Search no more because these TWS Sports Waterproof Bluetooth earbuds tick off all the boxes. It comes in a cute compact charging case with a display, so you can monitor the charge of the earbuds. Additionally, it has an automatic pairing function, allowing you to pop them in your ears and instantly listen to music.
Home Theater System
You should install a dynamic home theatre system if you have a significant space in your home that you hope to transform to give a theatrical experience whenever you watch a movie.
Panasonic has a marvelous home theatre system that you can set up in your home. Additionally, due to the new Covid variant spreading across the country going to the cinemas is risky. That is exactly why you should purchase this to curl yourself up on a couch and binge-watch your preferred TV show or movies. Also, did you know that you can get up to 70% on this product with an additional 12% discount on bank cards? Go, add this to your cart right away!
Play Station 5
Gaming is a unique type of entertainment. Contrary to the popular opinion that only guys like gaming, nowadays, a lot of girls have adapted gaming as a fun and entertaining activity. Video game consoles have advanced dramatically since their inception. The days of fixed, simplistic gaming are long gone. The gaming console industry today is diverse and in high demand. Play Station 5 is our game console of choice due to it's popularity. So, if you have been dreaming of getting yourself a gaming console like the PS5 check out the WOW sale for the best discounts in the market.
Smart TV
Last but not least, one of the coolest gadgets you could own is a UHD smart TV with a large screen. Our favorite selection is Samsung 4K Crystal UHD Smart TV. The vivid colour expression and the 4K resolution give the best picture quality that money can buy. In addition, if you are a gamer, this TV will be your best friend. You can immerse in a smooth gaming experience with no lag at all. Therefore with all these amazing features and more, we reign this Samsung smart TV as one of the best smart TVs you can purchase in 2022.
Hope you will be able to make the most of the deals and discounts available during the WOW week to get your favourite tech gadgets. If you are shopping for clothes, check out Women's Fashion For Every Type of Woman.