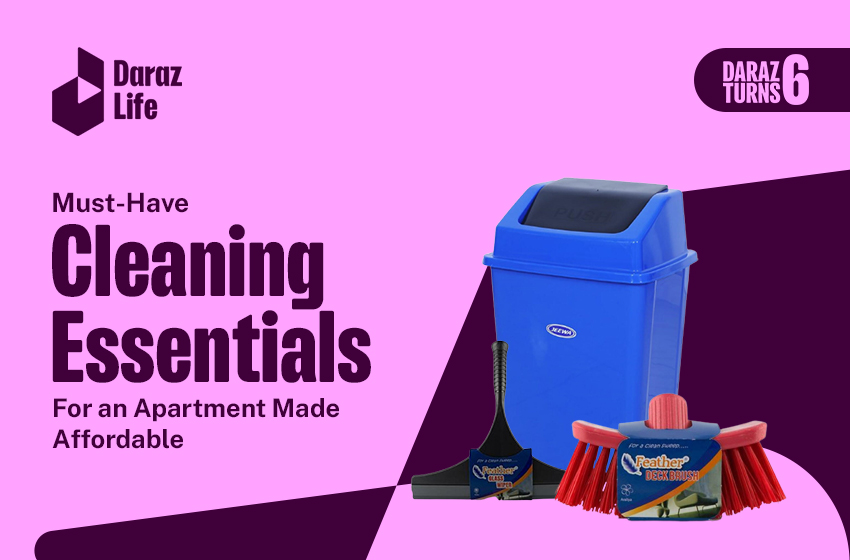 Must-Have Laundry and Cleaning Essentials For an Apartment
Laundry and cleaning are chores that you cannot avoid. Therefore, we have listed a few items that will make these tasks a lot easier.
Are you looking to buy items that will make cleaning and laundry easier? Continue reading how you can get some of the cleaning essentials at a low price.
Daraz Turns 6: Amazing Deals on Cleaning and Laundry Essentials
Get up to a massive 75% OFF as Daraz turns 6. Grab Mega Deals, Bank discounts, Instalment plans, and valuable giveaways from the 27th of September!
Don't forget to visit the discount voucher section as you browse your Daraz app for your favourite items. Collect vouchers to get additional discounts, so you can shop till you drop. Download the Daraz app now and Join the party.
Shop from our flagship brand stores on the Daraz platform, JEEWA PLASTIC PRODUCTS and Whiteline Industries Colombo Pvt ltd. and get up to 10% off laundry and cleaning products. Also, get free shipping when you order from these stores during Daraz Birthday sale. Let's take a look at some essential cleaning and laundry items you can get at discounted rates.
Brooms
Cleaning on a regular basis should be a priority since your surroundings have an influence on your mental health. It may appear to be a tedious activity, but it is one of the most important aspects of living a healthy lifestyle. Choosing a long-lasting broom that absorbs dirt and dust in order to keep a cleaner home at times can be a challenge. Sweeping is the most effective technique to clean your home, and it produces noticeable results after each sweeping session. Additionally, regular sweeping can help to prevent scratches and dust from contaminating the floor. The Daraz app provides you with a variety of brooms to pick from, ranging from various colors if you want to color coordinate with your décor.
Garbage Bins
We all know that recycling reduces pollution. Therefore, do your part in protecting the environment by disposing of household waste in an organized manner. Have a different bin for different types of thrash. For instance, you can have separate bins for paper, plastic and food waste. Whichever method of categorization you use to dispose of your trash, you are going to need garbage bins to dispose of them in an environmentally friendly manner.
Mops
A lot of bacteria may be found on the floor. So, in addition to sweeping, you should use a decent mop along with an antibacterial surface cleaner for a stainless and hygienic floor. I'm sure you know how it feels when the floor is shining clean after a mop. Stress-free and at peace. Having high-quality cleaning supplies makes life easier. Similarly, Whiteline Industries handles all of your floor sanitizing equipment. So maintain a clean and shiny floor with the right cleaning equipment.
Bathroom Cleaning Brushes
It's necessary to regularly clean and disinfect the bathroom for hygiene practices. You need to stock up on essential bathroom cleaning tools such as toilet brushes, disinfectant surface cleaners and bathroom floor brushes. What better time to stock up on all these items than when there is a sale, correct? So, make the most out of the Daraz birthday sale to save big on bathroom cleaning supplies.
Window Cleaner
A window cleaner can come in handy in nearly any home. If you are looking to give your mirrors and glass surfaces on the tables and windows a streak-free finish, it's essential to incorporate a window cleaner into your cleaning routine. Therefore, if you are out to purchase cleaning products, then make sure to add a window cleaner to your cart to go along with your glass cleaner spray.
We hope you will be able to buy all of your laundry and cleaning products during the Birthday and save up to buy more of your favourite things. If you are shopping for kitchen and dining items, check out Must-Have Dining and Kitchen Items to Complete Your Kitchen