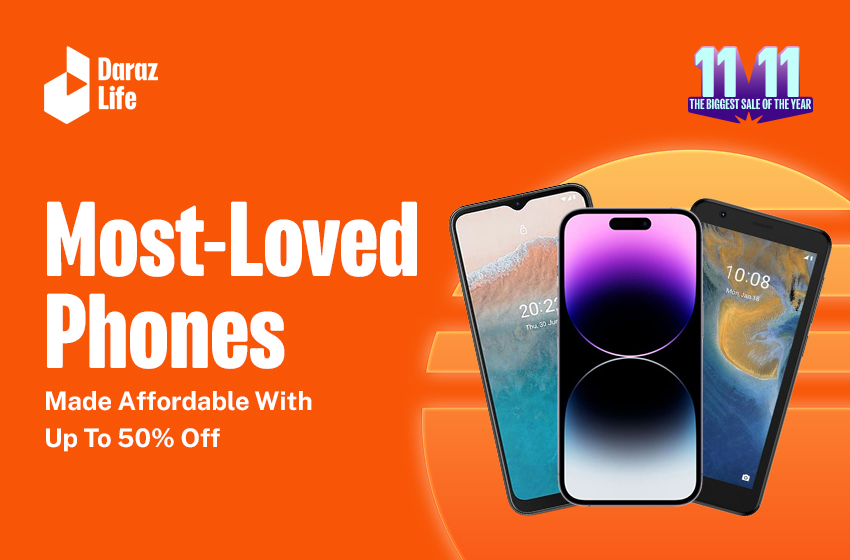 Mobile Phones in Sri Lanka Made Affordable With Up To 50% Off
If you are shopping for mobile phones in Sri Lanka, we have great news. Shop during 11.11 to get the best deals and discounts on mobile phones.
Are you searching to buy the best mobile phones in Sri Lanka?? Continue reading to find out how to save big time on mobile phones during 11.11.
Mobile Phones in Sri Lanka Up To 50% Off Only From Daraz 11.11
The biggest sale of the year is now LIVE with up to 85% Off. Grab an additional 12% off on bank cards and Instalment plans at 0% interest. Shop with your debit cards and get 25% Off. Save big time on everything you need at the lowest prices with unbelievable Mega Deals, Points discounts, Instalment plans, and Daraz club rewards. Also, don't forget to participate in games and win exciting giveaways. Download the Daraz App and join the wildest shopping fantasy of the year!
If you are shopping for mobile phones in Sri Lanka there is no better time than now. Get up to 50% OFF and free shipping when you shop for mobile phones during the sale. Get huge discounts when you shop for brands like Xiaomi, Samsung, Realme, Apple, Hontinga, Nokia, Biruiqu, Huawei, ZTE, Vivo, Xiaomi Redmi, LENUO, BASEUS, UGREEN, Lereach, lthmy, TCL, Dudao, vantime, ThinkWay, Nillkin, Jizetin, Xiaomi MI, HCAXY, ETOP, KOKKO, OUKITEL, Greentel, Yoobao, Casinglee, ASPOR, OPPO, ShopMe™, Leweisi, Relaxtoo, GKK, UCUC, TEC MOBILES, E-Tel, BLKNAIM, BlueWow, Haylou, Infinix, Google, MTB, Panasonic, TechMobile, Zigo, Yahya™, BestGO, IPAKY, SONY, Micromax, MI, Global Deals, Tecno, TrendyDigital, BlackView., AUTAN, DAMILE, 9H, Miga Plaza, Generic, Universal, joyroom, Gearbong, PROLiNK, ZIME, Mcdodo, SSM, CURREN, MUMU, Qualcomm, Zuzg, OST, Remax, Estima, Items store, DoomHot, Salesbug, iTel, Airtel, Sharp, OEM, iFlashDeal, DASI, and Anker. Also, keep an eye out for free gifts when you shop for these brands. In addition, collect valuable vouchers and opt for easy installment payments with 0% interest, so you can buy your favorite mobile phones and accessories.
Spin The Wheel of Fortune & Win A Trip to Dubai
A Holiday to Dubai
Weekend Getaway at Shangri La, Hambantota
Overnight Stay at Hikka Tranz
Fine Dining at Cinnamon Lakeside
Daraz Vouchers Worth up to LKR 850,000
Collect Vouchers & Double Your Savings
Bank Vouchers – Vouchers issued by specific banks that allow you to get a discount when you shop with one of their bank cards.
Store Vouchers – Offered by the stores on the Daraz platform to get discounts when you shop for products from a specific store.
When you collect all of these vouchers and stack them together, you are able to obtain the best discount at the checkout when you purchase your favorite products. So don't forget to collect vouchers before you head to the checkout when you make a purchase on Daraz.
Without further ado, let's take a look at some of the mobile phones in Sri Lanka that will be on discount.
iPhone Pro Max
Apple's latest release, iPhone Pro Max, is every iPhone fan's dream come true. It offers the best camera resolution with a 48MP main camera. Additionally, it comes with a super fast A16 Bionic Chip. Now you can own this phone easily with the discounts and deals available during Daraz 11.11.
Galaxy S22 Ultra
The S22 Ultra is Samsung's latest mobile beast. It comes with the best and the brightest display and additional camera upgrades. So, if you want to make this phone yours, get on your Daraz app and dig into the discounts.
Huawei P50 Pro
If you are looking for a gorgeous phone that sits perfectly in the palm of your hand, Huawei P50 Pro easily ticks off all the boxes. Get this sleek and beautiful Huawei phone at the lowest price from Daraz 11.11.
ZTE Blade A31
ZTE phones are a great choice if you are in search of a solid phone with great specs and affordability. Get the best price on ZTE Blade A31 when you buy it during Daraz 11.11. Also, get an extra 12% Off on your bank cards.
Xiaomi Redmi Note 11 pro
Xiaomi has introduced some of the most amazing smartphones with cool designs and top-of-the-line specs. Yet, they manage to offer their best phones at affordable prices. If the Xiaomi Redmi note 11 pro appeals to you, the best time to purchase it would be during Daraz 11.11.
Nokia C21 Plus
Nokia is one of the brands that have held an untarnished reputation in the mobile phone industry. If you are looking for a mid-range smartphone that ticks all the boxes in terms of what a smartphone can do, the Nokia C21 Plus is a fantastic option.
We hope you will be able to get your dream phone at the best price from Daraz 11.11. If you are shopping for laptops, don't forget to read 11 Massive Bargains on Laptops, Computers, and Accessories.