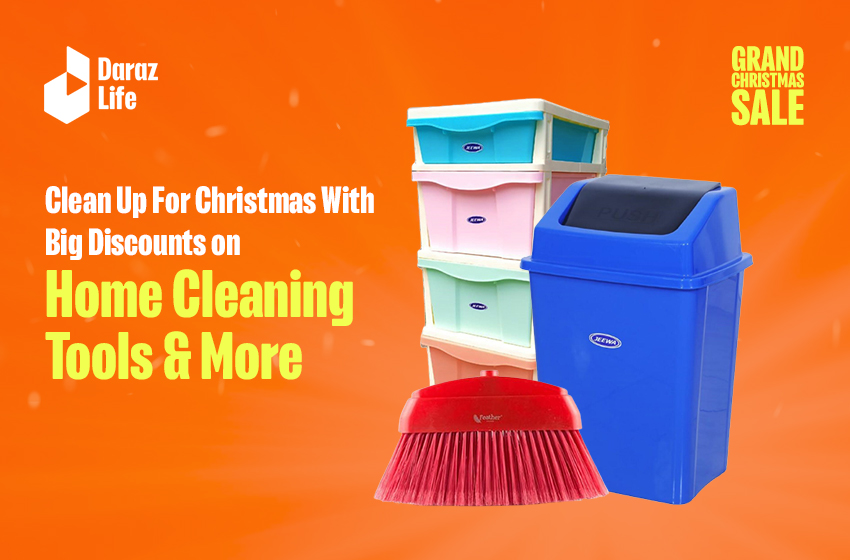 Clean Up For Christmas With Big Discounts on Cleaning Products
Cleaning products are essential to every household, with Christmas just around the corner. Read on to find out how you can grab big discounts on cleaning equipment.
Are you shopping for cleaning products to get your household in order? Daraz Grand Christmas sale is ready to bring all your cleaning needs to your doorstep at unbeatable prices.
Cleaning Products Up To 40% Off on Daraz Grand Christmas Sale
Daraz is ready to deliver the best Christmas deals to your doorstep with the Daraz Grand Christmas sale. Shop from the 12th of December, and get up to 80% off over 5 million products ranging from fashion, lifestyle goods, phones, computers, and electronic appliances.
Save more when you use your credit cards and debit cards. Get an extra 12% off on credit cards and easy monthly instalment plans for up to 60 months. Save an extra 25% Off when you shop with your debit card (T&C Apply). So get your bank cards ready to shop till you drop.
Shop on Whiteline Industries Colombo Pvt ltd and Jeewa Plastic Products to get discounts of up to 40% and Free Shipping. Furthermore, collect discount vouchers from these stores to save more!
Collect Vouchers & Double Your Savings
Do you know the best way to get savings on top of savings when you shop on Daraz? Collect Daraz vouchers to get big discounts when you checkout your favourite products. There are four different types of vouchers available on your Daraz App.
Daraz Vouchers – Discounts under specific item categories, such as fashion, lifestyle goods etc, that can be used sitewide.
Shipping Vouchers – Gives you discounts on shipping fees
Bank Vouchers – Vouchers issued by specific banks that allow you to get a discount when you shop with one of their bank cards.
Store Vouchers – Offered by the stores on the Daraz platform to get discounts when you shop for products from a specific store.
When you collect all of these vouchers and stack them together, you are able to obtain the best discount at the checkout when you purchase your favorite products. So don't forget to collect vouchers before you head to the checkout when you make a purchase on Daraz.
Cleaning takes precedence among the many things you need to take care of during the holiday season. Therefore, let's look at our cleaning tips below to prepare your home for Christmas.
Declutter & Organise
Before diving into cleaning, look around your entire household and determine what needs to stay and what needs to be put away. This will make the cleaning process a lot faster and easier. Check out some items that can help you with decluttering and organizing.
Storage Boxes
Clearing out things you do not need for immediate use can open up a lot of space in every room. This, in turn, makes the cleaning process more efficient. Additionally, you have more room to put up your Christmas decorations. A storage box is the next best option if you don't have an attic or space to put away unnecessary items. Gather up the clutter and place them in the storage box. You will be surprised at how refreshing it feels to free up space in your household.
Wall Hangers
A wall hanger can be especially helpful when you organize your laundry room and closet. It will keep your coats, raincoats, umbrellas and other important accessories in place, thus simplifying the cleaning process.
Plastic Drawers
If you cannot find space in your home for an extra wardrobe or closet, the best way to store your clothes, shoes, bedding and any other item would be to use a plastic drawer set. These large drawers have ample space, therefore, allowing for packing up plenty of items.
Dust Bin
When you initiate the holiday cleaning process, you will end up getting rid of more than just dirt and dust. During the holiday season, more trash tends to pile up because it's a time that involves gift wrapping, repairing the household and replacing the old with new. Therefore, it's essential you figure out how to dispose of the trash properly. So, if you already don't own a dustbin, we recommend you invest in one this season.
Clean Out Surfaces
Tis' the time of the year when every surface of your home require a good cleaning. Every surface, from wall surfaces and floor surfaces to countertops and glass surfaces. So, let's take a look at some tools that will help you accomplish the surface cleaning task.
Cobweb Brush
Before you begin any other surface cleaning, make sure you remove the cobwebs from every nook and cranny of your household. Not only are cobwebs an unpretty sight, but some of the guests visiting your house for Christmas might also be allergic to cobwebs. So, invest in a Cobweb brush and start ridding of those cobwebs before you decorate for the season.
Dust Cleaner Brush
Dust off all the tabletops, stove tops, oven tops and table surfaces in every room of your house. All these areas require a deep cleaning before the big day.
Window Cleaner
Start with clean windows if you want your house to truly glow this holiday season. Windows are frequently a prominent point of the home during the holidays because of all the lovely decorations we place on and around them on the inside and outside. So make sure you have the right cleaning tools to bring the sparkly clean back to your window surfaces.
Clean The Bathrooms
This season, more people will use your bathroom, so make sure to scrub the floor, clean the toilet, and clean up the shower area. Clean up any stains on the bathroom countertops and sink.
Toilet Brush
Make sure you use a good disinfectant and thoroughly brush the interior and exterior of your toilet.
Bathroom Brush
Choose an efficient bathroom brush and a floor-cleaning detergent to scrub away any marks or dirt on your bathroom floor surface.
Squeegee
Use a squeegee to dry out the excess moisture from the tile surfaces and the floor surface to avoid these surfaces retaining undesirable patches after cleaning.
We hope you can get all your cleaning products on your Daraz App at discounted prices this season. If you are shopping for other cleaning aides, check out our blog, Keep Your Space Clean with Essentials Under Rs. 500.