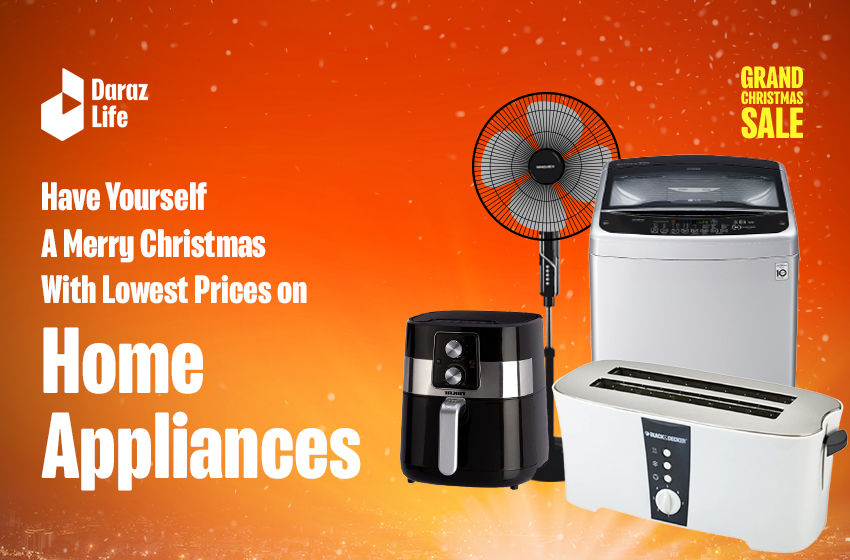 Lowest Prices on Home Appliances Sri Lanka For Christmas
Tis' the time of the year to save big on home appliances Sri Lanka. Continue reading to find out how you can get the best price on home appliances to have a Merry Christmas.
Do you have home appliances Sri Lanka on your Christmas list? Get ready to grab the best offers on home appliances during the Daraz Grand Christmas Sale.
Discounts of Up To 60% on Home Appliances Sri Lanka During the Daraz Grand Christmas Sale
Daraz is ready to deliver Christmas to your doorstep with the Daraz Grand Christmas sale. Starting from the 12th of December, get up to 80% off over 5 million products ranging from fashion, electronic appliances, phones, computers, and lifestyle goods. Also, get a further 12% off on credit cards, along with easy monthly instalment plans up to 60 months. Save an extra 25% Off when you shop with your debit card (T&C Apply). So get your bank cards ready to shop till you drop.
Shop from popular home appliance brands such as LG, Innovex, LG, Hisense, Abans, Geepas, Singer, ELBA, Unilever Pureit, Arpico, Sisil, NIKAI, Universal, Pigeon, AIRSONIC, Nippon, Prestige, Kawashi, National, Samsung, Xiaomi MI, Ariston, Midea, Earth Star, Den-b, Indesit, Surya, Krypton, Tecsonic, Sokany, Bowei, Panasonic, Bajaj, Taiko, Range, OLik, Black & Decker, Delmege, Richsonic, Sharp, and Hafele, Midea. Also, shop these brands to get free delivery and discount vouchers.
That's not all! Enjoy Mega Deals, Flash Sales, Fun Games, Free Shipping, amazing Prizes and many more surprises. Get on your Daraz app and add to cart now.
Sing Along With The Daraz Carol Bus
Daraz Carol bus is launching the Christmas spirit across the nation starting on the 2nd of December. Meet the Daraz Santa and receive special Christmas gifts, chocolates and candy. Join in on the fun as the Caroling bus kick start the merriment at the YES FM head office and jingle all the way to Slave Island, Galle Face, Union Place, Town Hall, Wellawatte, Dehiwela, and Moratuwa. Don't miss the special live performance at the One Galleface Mall. Join and unleash your Christmas Spirit with the Daraz Caroling bus.
So, let's take a look at some home appliances Sri Lanka that will be available at discounted prices.
Washing Machines
Every home needs a washing machine. Most of us wash many loads of clothes each week. As a result, purchasing this vital household appliance can save time and energy. The two most popular types of washers are front-load and top-load models. On Daraz, a variety of brands provide washing machines for exceptionally low prices.
We guarantee there will be something to meet every type of budget, whether you're searching for a fully automatic or a semi-automatic washing machine. Make sure you collect discount vouchers and get additional discounts with your bank cards.
Fans
It is quite challenging to survive in Sri Lanka's hot, tropical climate without some sort of cooling. However, the price of electricity showed a major hike this year. Therefore I t is far better to choose fans instead of air conditioners if you want to reduce your electricity costs. When compared to the power needed for an air conditioner to function, fans often utilize a tiny fraction of it. Additionally, if you choose a pedestal fan or table fan, you'll have the benefit of being able to move it to any room in the house. If you don't already own a pedestal fan, the Daraz Grand Christmas sale is a fantastic time to get one.
Mini Ovens
Are you planning to buy a mini oven? These ovens allow multiple functions such as pre-heating, baking and even toasting. So if you are a foodie who loves to experiment with cooking and baking, you can totally benefit from a mini oven. The Daraz Christmas sale has some amazing offers on ovens and other kitchen appliances.
Air Fryers
Are you someone who craves snacks very often? Are you also someone who wants to use less oil to improve your health? An air fryer can be your best buddy if any of these apply to you. With little to no oil, an air fryer can crisp up veggies, wings, fries, and other food. They function by quickly circulating hot air using a concentrated heat source, which is often located on top. These appliances are ideal for reheating leftovers as well. Shop for air fryers during the Christmas sale and get the lowest price.
Food Processor
If you prefer using fresh, natural ingredients free of chemicals in your recipes, you need a food processor in your life. Freshly cooked foods have a greater flavour and retain more of their nutritional value. A food processor allows for converting many store-bought staples into amazing recipes. You can also use the food processor to develop new recipes at home. So, if you have been waiting to get a food processor, make use of the discount offers on Daraz.
Small Microwaves
Small Microwave ovens consume 80% less electricity than ovens. Additionally, a microwave allows cooking food much faster than an oven. This means they consume less power in comparison to conventional ovens. Furthermore, it produces less heat in your kitchen, in addition to conserving electricity. However, the only drawback of microwaves is they can't cook all food types. But, it's a great appliance if you want to reheat small portions of food, defrost or cook small quantities of food.
Air Conditioners
As one of the countries lying close to the equator, Sri Lanka has more regions with scorching hot temperatures than nice cool weather. Therefore an  A/C can bring much-needed relief on the hottest and most humid days. Therefore if you are looking to buy an air conditioner, it is essential to have good knowledge about the A/C components as well as their usage. A few aspects to consider when buying an air conditioner are controls, energy efficiency and BTU output. Most importantly, it should fit your budget. However, if an air conditioner doesn't fit your current budget, fear not. You can opt to pay in instalments of up to 24 months with 0% interest. So, get on your Daraz app and add this air conditioner to your cart.
We hope you will be able to find all the home appliances on Daraz to check off your Christmas home appliance list. If you are shopping for fashionable clothes, check out Hottest TikTok Fashion Trends You Need to Know.