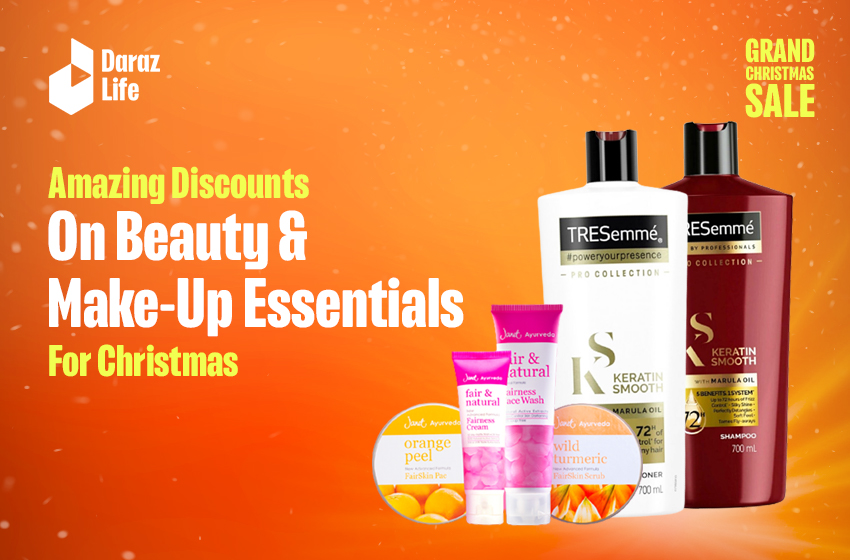 Amazing Discounts on Cosmetics Items For Christmas
When it comes to cosmetics items, It is always the best time of the year to grab discounts. So, continue reading to find out how you can save up when you buy cosmetics and personal care products this season.
Are you planning to gift cosmetics items this Christmas? Read on to see some of the best deals on cosmetics and personal care products on Daraz.
Great Deals on Cosmetics Items During The Daraz Grand Christmas Sale
Daraz is ready to deliver the best Christmas deals to your doorstep with the Daraz Grand Christmas sale. Shop from the 12th of December, and get up to 80% off over 5 million products ranging from fashion, lifestyle goods, phones, computers, and electronic appliances.
Save more when you use your credit cards and debit cards. Get an extra 12% off on credit cards and easy monthly instalment plans for up to 60 months. Save an extra 20% Off when you shop with your debit card (T&C Apply). So get your bank cards ready to shop till you drop.
Shop brands like Ponds, Vaseline, Vivya, Kumarika, Sunsilk, Dove, Ancient Nutra, Nature's Secret, Janet, Luvessence, Jovees, Viana Cosmetics, Vitawell, Prevense, Dandex, Clogard, Signal, Veet, Velvet. Tresemme, Black Knight, and Eva to get discounts of up to 35% and Free Shipping. Furthermore, collect discount vouchers from these stores to save more!
Collect Vouchers & Double Your Savings
Do you know the best way to get savings on top of savings when you shop on Daraz? Collect Daraz vouchers to get big discounts when you checkout your favourite products. There are four different types of vouchers available on your Daraz App.
Daraz Vouchers – Discounts under specific item categories, such as fashion, lifestyle goods etc, that can be used sitewide.
Shipping Vouchers – Gives you discounts on shipping fees
Bank Vouchers – Vouchers issued by specific banks that allow you to get a discount when you shop with one of their bank cards.
Store Vouchers – Offered by the stores on the Daraz platform to get discounts when you shop for products from a specific store.
When you collect all of these vouchers and stack them together, you are able to obtain the best discount at the checkout when you purchase your favorite products. So don't forget to collect vouchers before you head to the checkout when you make a purchase on Daraz.
Win Fabulous Prizes With 1 Rupee Game
How would you like to win an Apple MacBook Air, a Galaxy M10, or a valuable Casio Watch for just 1 Rupee? You read that right! Get on your Daraz App, play the 1 Rupee Game before and during the Daraz Grand Christmas sale and win amazing prizes. Check out the 1 Rupee Game home page to see the products you can win.
All you have to do is get on your Daraz App, choose the product you want to win on the 1 Rupee Game Home Page, add it to your cart, and checkout using 1 Daraz Point. Please note that you must activate your Daraz Points to participate in this game. So, get on your Daraz App and activate Daraz Points now.
Let's take a look at some cosmetics items that might interest you this season.
Skincare Gift Sets
Do you know a skincare obsessive? Someone who is devoted to the art of a step-by-step skincare routine on a daily? Wrap up the Water Lily Gift Set, tie a bow around it and leave it under the Christmas tree. This gift set comes complete with a gift box containing a Water Lily- Bath & Shower Gel, a Water Lily- Body Scrub, an Only Orange Lip Balm, a Water Lily- Body Butter and a Gentle face and eye makeup remover. This gift will blow their mind.
Fairness Skincare Bundle
We all know that one person who eternally uses fairness products to become lighter. The Glow Essentials Bundle is just the thing they need in their lives. Get an additional 20% Off when you buy it on Daraz.
Mens Perfume
If you still can't figure out what to gift a man in your life, let us help you. This Black Knight perfume from the Black Knight Luxe collection makes an ideal gift for any man. It contains a powerful fragrance that lasts all day and makes one's presence felt everywhere one goes.
Haircare Bundle
Haircare is never secondary to skincare. Beautiful hair is as important as beautiful skin. So, if you know someone who loves their Tresemme haircare products, we have the perfect gift for them.
Eye Shadow Palette
This is a gift for the cosmoholics in your life. They are people who absolutely love the latest selections of makeup available from the top brands in the market. So, you can be certain that they will appreciate this Nude eye shadow palette.
We hope you can get the best discounts on skincare, haircare and cosmetics during the Daraz Grand Christmas Sale. If you are shopping for fashionable clothes check out our blog 2022 Christmas Party Outfit Ideas.