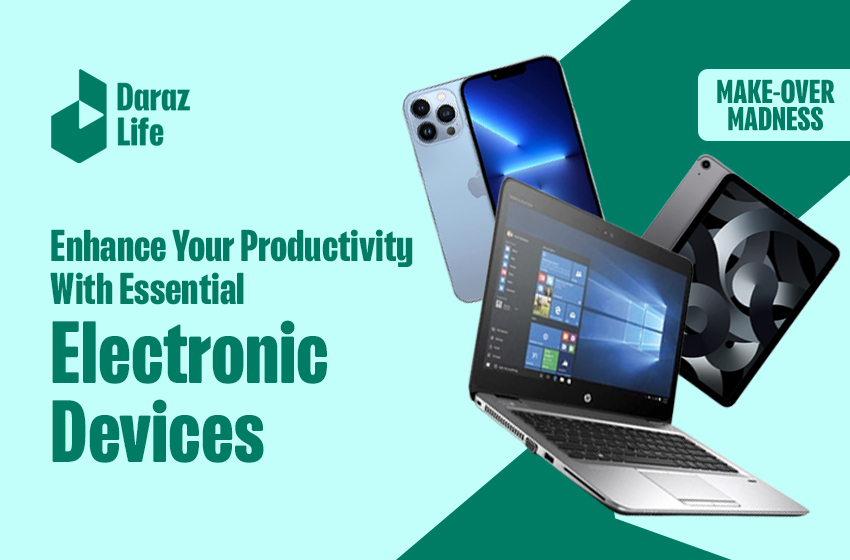 Essential Electronic Devices to Enhance Productivity
In the fast-paced world we live to own the right electronic devices that can enhance our productivity is one key to success. Read on if you are shopping for phones, the best tablets for students or laptops.
At present, it's almost impossible to live without a smart device. Our lifestyles are so intertwined with technology. Some use electronic devices for their work. Students need tablets and laptops to navigate through educational tasks. Gamers are looking for the best gaming laptops and phones that allow them to seamlessly enjoy what they love to do. Therefore, let's explore some devices available in the market that can enhance your productivity, whether it's work, education, gaming, or creative pursuits.
Big Discounts on Electronic Devices From Daraz Makeover Madness
If you are ready to upgrade your life this year, Daraz Makeover madness is still LIVE and is offering the best discounts in town. Collect discount vouchers and enjoy big savings. Grab shipping vouchers to get your orders delivered to your doorstep free of charge. Don't forget the discounts on your bank cards. Save 12% when you shop with your Mastercard and 10% when you shop with Visa.
Phones
You can do everything on a phone these days, including your job or working remotely. But what phones are the ones that have actually proven to get stuff done?
Whether you are seeking a smartphone for productivity or pleasure, you can get up to 60% OFF on phones and accessories when you shop during Makeover Madness.
Also grab Free shipping and discount vouchers when you shop the following brands: Xiaomi, Samsung, Realme, Apple, Hontinga, Nokia, Biruiqu, Huawei, ZTE, Vivo, Xiaomi Redmi, LENUO, BASEUS, UGREEN, Lereach, lthmy, TCL, Dudao, vantime, ThinkWay, Nillkin, Jizetin, Xiaomi MI, HCAXY, ETOP, OUKITEL, Greentel, Yoobao, Casinglee, ASPOR, OPPO, Leweisi, Relaxtoo, GKK, UCUC, E-Tel, BLKNAIM, BlueWow, Haylou, Infinix, Google, MTB, Zigo, BestGO, IPAKY, SONY, Micromax, MI, Tecno, BlackView., AUTAN, DAMILE, 9H, Generic, Universal, joyroom, Gearbong, PROLiNK, ZIME, Mcdodo, SSM, CURREN, MUMU, Qualcomm, and Zuzg OST, Remax, Estima, DoomHot, iTel, Airtel, Sharp, OEM, DASI, Anker, Dialog, Hutch, Mobitel, Blackview, ITEL, TECNO, Airtel
Without further ado, let's take a look at a couple of amazing phones that can enhance your productivity in 2023.
Samsung Galaxy Z Fold
The second generation of Samsung's giant folding phone is noticeably more attractive than the first Galaxy Fold. The hinge in this device is substantially more sturdy, and the little front screen is larger.
With a width of 7.6 inches, the huge fold-out screen is ideal for productive tasks like working on documents. Swiping from the right side will reveal a menu of suggested apps, making multitasking super simple. The two applications may then be used side by side or you can stack two apps on one side of the screen and a third program on the other. So, if you are looking to work on the go, this phone is your best bet.
iPhone 13 Pro Max
As much as it may be convenient to work with a two-screen phone, you can achieve similar progress with one large screen too.
The biggest screen ever installed in an iPhone is found in the 6.7-inch iPhone 12 Pro Max. Apple decided to continue with the same screen size for the iPhone 13 Pro Max. It simplifies the process of typing emails and reading and modifying documents. Also, getting on Facetime or video calling on this iPhone with a massive screen is more entertaining than having to scrutinize your eyes to look at the other person on a phone with a smaller screen. Its fantastic camera technology is an additional perk. So, if you are someone who spends most of your time on the phone, iPhone 13 Pro Max is a great option.
Tablets
Samsung Galaxy Tab S6 Lite
If you are looking for a device with a solid screen and an S pen that can make your life more seamless and productive, Samsung Galaxy Tab S6 Lite is a worthwhile investment. If you are looking for a mid-range tablet which ticks off all the boxes you need to ensure a productive lifestyle, you should get yourself a Samsung Galaxy Tab S6 Lite.
iPad Air
This is a fantastic device for people who work with multimedia. The device offers a 10. 9-inch screen and terrific graphics, and video editing at the next level. You can pair the iPad Air with Apple pencil to take notes or do illustrations.
Laptops
Apple MacBook Air
MacBook Air is the perfect device for regular users. It's a comparatively affordable Apple device with amazing specs. This Apple device might be sufficient for you if you are a business professional. Also, if you're just looking for a great laptop for every day productive tasks, this is a great choice. Do you frequently work on your laptop and don't want power outages to interfere with your workday? The new MacBook Air gives about everything you might want in an Apple notebook thanks to its M1 CPU, which promises record-breaking performance and battery life. It also has one of the longest battery lives of any laptop, lasting roughly 14 hours and 41 minutes.
HP Elitebook 840 G3
If you are looking for a productive business laptop, take a look at the specifications for the HP Elitebook. It's simple, super light and easily portable. This device is a great option for someone who is always on the go.
We hope this post helps you get the best electronic devices you need to increase your productivity in 2023. Also, check out the following blogs for more inspo;
Best Laptops in Sri Lanka, Computers and Other Accessories
Grab The Best Mobile Phones Price in Sri Lanka During Avurdu Waasi