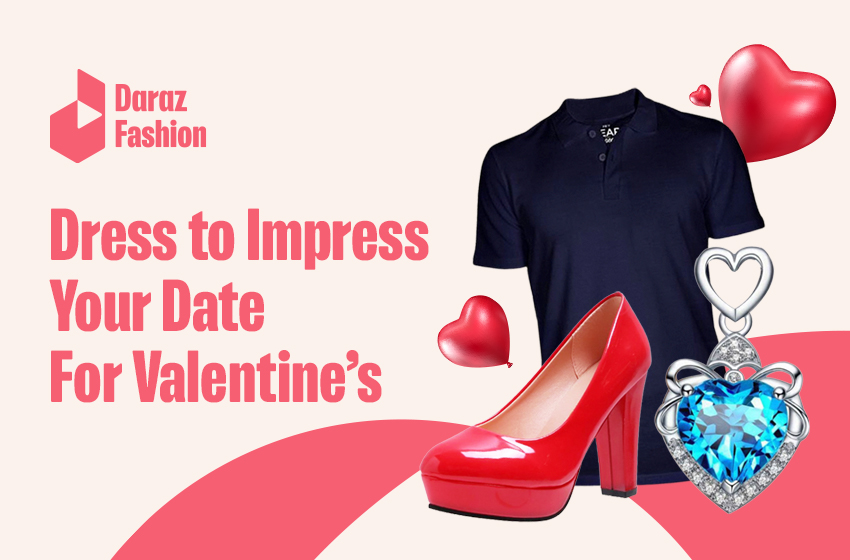 Dress to Impress With These Valentines Collection Clothing
It's the perfect time of the year to check out Valentines collection clothing because February 14th is around the corner. The special date night is approaching, and most certainly, you want to get your dress code right for the special date night.
Are you browsing through Valentines collection clothing to get some fashion inspiration for your Valentine's date night? Read on to see the types of date night dresses and accessories you can find online.
Valentines Collection Clothing To Impress Your Valentine
You finally have a date for Valentine's! It may be a fancy dinner at a high-end restaurant with your significant other or a girl's night out with your girlfriends. Whoever you are going out with, you want to look your absolute best. On the other hand, you could be shopping for valentines gifts for her, and you're looking at the option of getting a fashionable dress, shoes or accessories.
However, you might be tied up in a super busy schedule in the next couple of days and might not have the time to step out and buy date night dresses. In this case, you can easily get your clothes online. Check out our buying guide below to assist you with Valentine's online clothes shopping.
FOR HER
Cute Short Dress
Whether you plan to go out on a romantic movie and date night with your boo or simply go out for cocktails with your girls, you can never go wrong with a cute short dress. It doesn't necessarily have to be mushy red hearts and sentimental hues. As long as the design and the colour have a romantic vibe, you're sure to look gorgeous.
Glam Maxi Dress
If your significant other takes you out on a formal dinner, jeans and a casual shirt might not cut it. You need to go with an outfit that has the "wow" factor. It has to contain the right doze of glamour and elegance. It doesn't necessarily have to be sparkly. Choosing an elegant hue such as red, navy blue, deep purple, or burgundy can also set the right tone for the night.
Lovable Crop Top
Not everyone has fancy dinner plans. If you are someone who's making plans to go out for a movie with friends or a stroll on the beach or park with your boyfriend, embracing something casual is the smartest idea. You can pair a sexy crop top with a pair of jeans, and you are good to go and make memories. The best part is you can use a crop top for more than just Valentine's day. Pair it with the right skirt, and you are ready to be a part of a fancy function.
Playful Ruffle Skirt
If red and pink are not on your list of favourite colours and you want to be a little edgy, you can wear a black skirt. As long as you wear something with ruffles or cute bows and pair it with pretty heels, you'd still look hot and kick-ass.
Neutral Coloured Heels
With the entire city being soaked in red's, pinks and other mushy colours during Valentine's, you might want to make an exception by wearing neutral-coloured shoes. The best part is they are elegant enough to accompany you to a fancy occasion, likewise simple enough to just slip on and go out for a stroll in the park with your significant other.
Flashy Pumps
If you identify as a confident queen of hearts and want to bring meaning to your Valentine's outfit, fiery red pumps might just be your choice. It's the perfect shade and design for a flirty and romantic fun night out. If you are looking for a bold contrast, make sure to pair it with a black dress or navy blue outfit.
Romantic Accessories
Are you looking for a Valentine gift for girlfriend? Whether you plan to wear a pretty necklace or gift one, Valentine's season is a great time to invest in heart-shaped jewellery.
For Him
Dress Shirt
You might not be as hyped up as your girl, but you still want to appear ready to celebrate the day. So, if you are taking her out on a date to a fancy romantic dinner, you might want to make an effort to dress the part. In such an instance, a dress shirt can come in super handy. You can pair it with slim-fit trousers or jeans but still look well-dressed.
Printed Shirt
If you are out on a pub date or movie date with your girl, wearing a shirt with a twist can really fit you into the occasion. This doesn't mean you should wear a shirt with hearts all over it. It's best not to wear any motif that identifies with Valentine's day on Valentine's day. Go with a print you are comfortable with and pair it with Chino pants, and you'd be all ready for date night.
Polo Shirt
A Polo Shirt is every man's go-to outfit for a nice occasion. Valentine's day is no exception. If you are taking your girlfriend out to a fancier place, simply pick a tailored pair of trousers. And, if it's something like a casual movie night and dinner, pair your Polo with jeans.
Slim Fit Trousers
So, you decide to take her to some place super fancy but you're not sure what to wear. If you are taking your significant other to dinner on a yacht kind of date or her favourite broadway show, you might want to dress up a bit with a pair of formal trousers. The hassle is worth it, because it will leave your date looking at you in a new light.
Chino Pants
Are you looking for something more formal than denim jeans but more casual than a designer-tailored pair of trousers? In that case, Chino pants are the perfect pick. You can pair it with a Polo shirt, a dress shirt, and even a T-shirt, and you'd still turn up put together for the occasion.
The Right Shoes
No matter how well-dressed you are, the wrong pair of shoes can result in a disaster. Some formal restaurants might even refuse to let you in if you wear sandals or flip-flops. Therefore, make sure you choose the right shoes depending on the place you are planning to go on your Valentine's day.
We hope our Valentines Collection Clothing buying guide will help you steal hearts on Valentine's day. For more fashion inspo check out our blog, Spruce Up With Seasonal Online Fashion Sri Lanka.