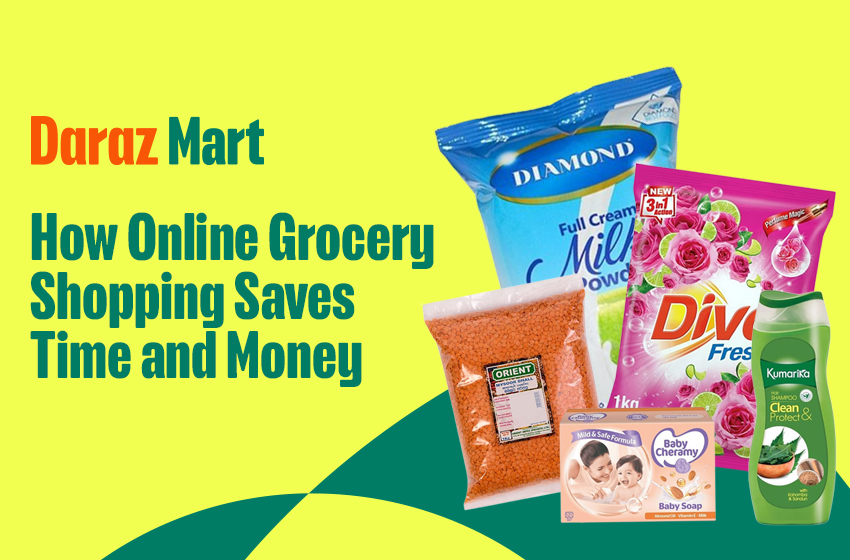 How Online Grocery Shopping Saves Time and Money
Online grocery shopping has made getting the groceries you need much easier and more cost-effective without sacrificing hours of your day. In today's fast-paced world, time is a precious commodity. Between work, family responsibilities, and social commitments, finding time for mundane tasks like grocery shopping can be challenging.
Is online grocery shopping a real game changer? Of course, it is. Not only is it a convenient option, but it can also be an excellent way to save money in the long run. In this blog post, we will explore how online grocery shopping can help you save time and money while still providing the same quality and variety of products as traditional in-store shopping.
Online Grocery Shopping: The Best Way To Save Time And Money
Reduces Travel Time & Cost
Online grocery shopping is becoming increasingly popular for its convenience more than anything else. Most people wait for the weekend to drive to the store and get groceries. If you spend 20 minutes driving back and forth to the grocery store and you do this once every weekend, you spend 1040 minutes just travelling to the grocery shop every year.
Shopping for groceries online eliminates the need to drive to the store. Even if the grocery store is a few blocks from your home, you need a vehicle to carry back an entire week's grocery items. However, when you shop online, you can completely eradicate travel time and cost.
No Waiting in Lines
Some days it feels like you have to stand in the checkout line forever every time you go to the grocery shop. This is almost always the case if you go to popular grocery stores. It can be frustrating to wait in lines for long periods when you have so many other things you can do with that time. Thanks to online grocery stores, you no longer have to stand in long lines. Checking out your weekly groceries is just a matter of a click or a tap.
Time Saved from Searching for Items in Store
Online grocery shopping saves time from searching for items in the store by allowing customers to search for items quickly and easily. Customers can use keywords to search for the items they need, making it much faster than walking up and down aisles and searching for products.
Previous Weekly Grocery List Saved On App
Online grocery apps like Daraz Mart often offer additional convenience features, such as the ability to save items to a list for quick reference and ordering. Therefore if you always know what you order on a weekly basis, you can simply go to the history of your previous purchase and re-order the same products within a matter of minutes.
Shop On The Go From Anywhere
Shopping for groceries online allows you to shop from any location or time. You can browse and buy groceries from your laptop, tablet, or smartphone. This means you can shop on the go and never worry about making a trip to the store. You can shop from home, work, or on vacation. Even more, with online grocery shopping, you can take your time, shop from the comfort of your own home, and get all the groceries you need without ever leaving the house.
Grocery Delivered to Doorstep
Tired of carrying bags from the grocery to your home? It feels a lot worse if you have to carry them on public transport. When you order your groceries online, you can forget about the time and hassle it takes to carry the items to your home.
Special Online Discounts & Offers
The best part is that shopping for groceries online allows for saving money with special discounts and offers. Customers can take advantage of lower prices, bulk buying discounts, and special online promotions. Shop on Daraz Pola on Daraz Mart and save up to 60% on ten essential groceries. It is also possible to compare prices across different sellers so that shoppers can get the best bang for their buck.
Additionally, many stores offer free shipping or delivery for orders above a certain amount, allowing customers to save even more. Shop on Daraz Mart and take advantage of loyalty programs and rewards, and save more.
Eliminate Impulse Buying
Online food shopping allows customers to pre-plan and budget their grocery shopping. Customers can shop from home and add items to their cart only when they need them, rather than being tempted by items they don't need while they are in the store.
All in One Place: Access to A Bigger Variety
When you shop for groceries on Daraz Mart, you have over 5000 products. Additionally, since it's on the Daraz platform, if you are in the mood to shop for something else, like a fashion accessory or an electronic item, you have access to all of that online on a single platform.
Are you planning to move away from traditional in-store shopping and shift to shopping for daily essentials online? We hope the information on this blog helps to affirm that decision. Shop on Daraz Mart and grab the lowest prices in the market. Enjoy additional discounts available on the Daraz platform, like bank card discounts, easy monthly instalment offers, and three-part payments courtesy of KOKO. If you are ready to elevate your skincare game, don't forget to check out Natural Homemade Scrub for Glowing Skin.