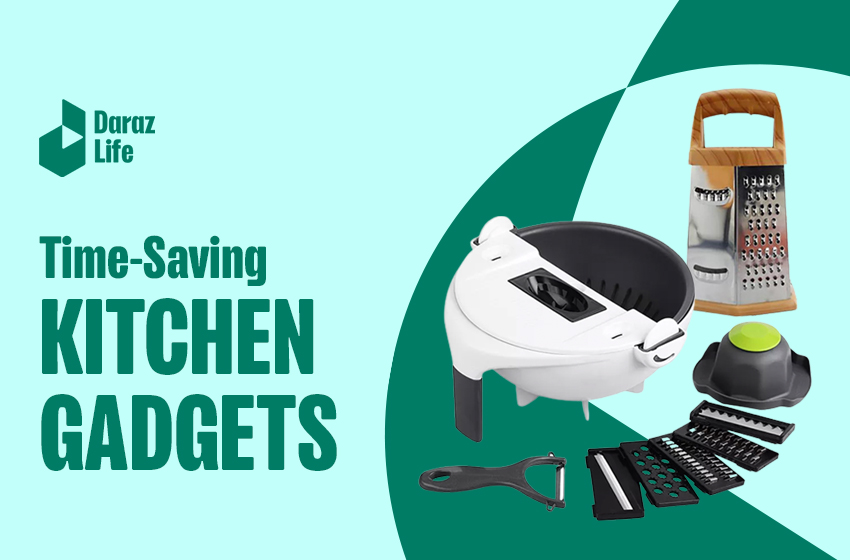 Time-Saving Kitchen Gadgets Online
Kitchen gadgets online can easily lessen the time you spend in the kitchen. It's only a matter of finding the right kitchen tools and gadgets. Therefore we have listed a few gadgets you can use in the kitchen to make your life simple and meal prep faster.
Kitchen Gadgets Online
Whether you're looking for a way to save time when preparing meals or just want to make the process of cleaning up a little bit easier, you can find the perfect kitchen gadget for your needs. There are various kitchen gadgets, from food slicers to graters and juicers and more. They can help you save time and energy while still creating delicious meals. In this blog, we will explore some of the best time-saving kitchen gadgets online and some tips and tricks for making the most of them.
Multi-Functional Vegetable Cutter
This Multi-Functional Vegetable Cutter is perfect for the busy cook who wants to get the job done quickly and easily. With seven interchangeable blades, you can slice, grate, and shred in seconds. The stainless steel blades are ultra-sharp and guaranteed not to rust or corrode.
The ergonomic design ensures a comfortable grip while you chop and shred vegetables of leafy greens. Plus, the non-slip base keeps the cutter in place as you work. With this handy kitchen tool, you can shred leafy greens in seconds and put together a coleslaw in minutes. Grate carrots or slice Gerkin in a matter of minutes.
Grater & Slicer
This 6 in 1 all-purpose box grater is the perfect kitchen tool for grating, shredding, zesting, and slicing. It can cut and chop nearly any food with ease. The comfortable and ergonomic handle allows for an easy and soft grip while you use the gadget.
The sharp and high-quality stainless steel blades on all 6 sides of the grater help you to get the job done quickly and easily. Additionally, the grater attaches to a detachable container with a removable lid, so ingredients can be easily caught and stored with precise measurements every time. This grater is made with the highest quality materials and is easy to clean. Therefore it is the perfect kitchen tool for any busy kitchen.
Chopper
Slap Chop is the perfect tool for busy home cooks. Its stainless steel blades quickly deskin garlic and onions in seconds, and the large cup container captures all foods that are chopped. The handle is designed for quick and effortless chopping, and the blades pop open like a butterfly for easy cleaning.
With just one slap, you can get big chunks of food, and the more you slap, the finer it gets. Slap Chop is a versatile kitchen tool that can mince and chop a variety of ingredients for easy meal preparation or final touches. Perfect for making salads, pizza toppings, tuna, breakfast on the go, nuts, cookies, ice cream toppings, and more.
Dicer
The Nicer Dicer Quick is a 5-in-1 multi-functional kitchen tool with five interchangeable blades for different food preparation tasks. It has five different blades for slicing, grating, chopping, and julienne cutting. This product is perfect for those who want to quickly prepare fresh fruits and vegetables for meals but don't have the time or experience. The blades can easily be switched out for different food items, making it easy to chop and dice various fruits and vegetables. This product allows for healthy eating with minimal effort, making it a great tool for busy individuals and families.
French Fry Cutter
The French Fry Cutter is the perfect kitchen tool for making delicious, homemade fries with almost any vegetable. With just three easy steps – place, push, and ready to fry – you can quickly and easily prepare a wide variety of fries. You can try vegetables like Sweet Potato, Zucchini, Butternut squash, and Onion fritters. Clean-up is a breeze since the Fry Cutter is dishwasher safe. So get creative in the kitchen and make your own tasty fries with the French Fry Cutter!
Stainless Steel Peeler
Removing the outer layer of vegetables such as carrots, potatoes, and pears can sometimes be a major hassle. Moreover, it can be time-consuming when you are in a hurry to finish your cooking chores. In those moments, this stainless steel peeler is an absolute heaven-sent.
Magic Bullet
The Magic Bullet is an amazing and revolutionary kitchen gadget that can do almost any task in your kitchen in 10 seconds or less! With its specially designed blade and unique bullet-shaped design, it can chop, mix, blend, whip, grind and more with incredible speed and efficiency. The Magic Bullet is so versatile and easy to use that you'll use it daily for all sorts of tasks. You can make mousse and sorbet, frozen cocktails and smoothies, ground coffee, party dips and more! With the Magic Bullet, you can make delicious meals and snacks quickly and easily with minimal effort so that you can spend less time in the kitchen and more time doing the things you love.
Lemon Presser
The Lemon Squeezer is the perfect tool for extracting the maximum amount of juice from citrus fruits quickly and easily. The ergonomic design ensures comfortable use. The bright yellow exterior finish adds a nice touch of colour to your kitchen. This jumbo-sized squeezer is 30% bigger than most other brands, making it the strongest and most efficient hand juicer. All you have to do is cut the fruit in half, place it cut-side down in the bottom bowl, and squeeze the handle for a mess-free and seed-free lemon or lime juice. With the Lemon Squeezer, you can enjoy freshly-squeezed juice with minimal effort.
Portable Juice Blender
This USB portable blender is the perfect appliance for people on the go. Its powerful motor and stainless steel blades allow you to blend anything from fruits, vegetables, and seeds to frozen fruits and ice. Its small size and lightweight make it perfect for travelling with you to work, games, or the gym. It can be powered by a power bank, laptop, computer or other USB devices, plus it's quieter than regular blenders. With just two to three seconds of pressing the power button, you can enjoy delicious smoothies, shakes, icy drinks, protein shakes, baby food supplements, and more.
We hope our Kitchen Gadgets Online will be helpful if you want to make cooking in your kitchen easier and more convenient. Also, don't forget to check out Household Products You Need For A Home Makeover.