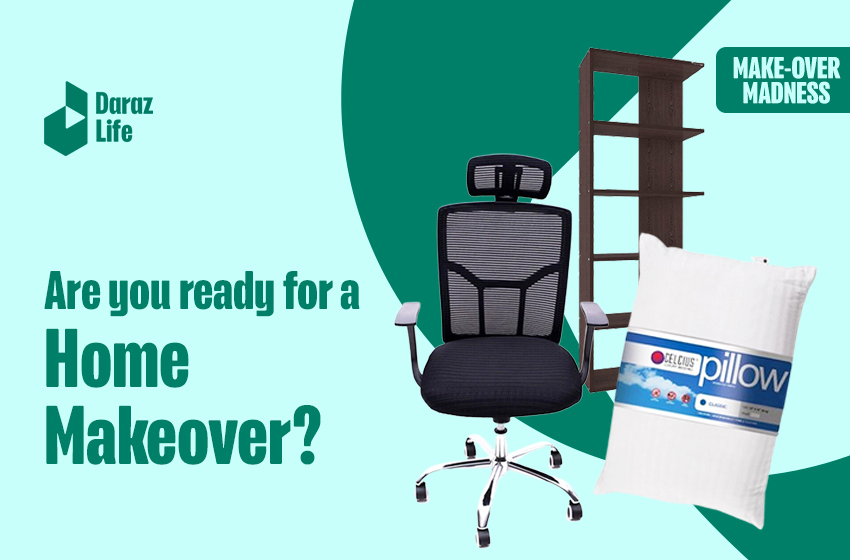 Household Products You Need For A Home Makeover
Every new year is a great time to get some new household products to enhance the look and feel of your home. So join Daraz Makeover Madness and get all the household items you require to refresh the look and feel of your home.
Affordable improvements are the best way to go if you are tired of the old look of your home. So, in this blog, we are going to take a look at some household items online that will help elevate the atmosphere of your home.
Household Products Made Affordable With Makeover Madness
Are you ready to say goodbye to your old lifestyle and say hello to a new one this year? Join Daraz Makeover Madness starting on the 27th of January. Shop from over 5 million products that can renew your home, your interests and your entire life.
Let's look at some household products you can buy at discounted rates from Daraz.
Home & Living Up To 50% Off
Furniture
The best way to give an upgrade to your home space is by adding new furniture. The furniture you choose to decorate your home is like the paint an artist uses on a canvas to create their new masterpiece.
An attractive piece of furniture can completely turn around the outlook of your living room. Also, the furniture within a house speaks volumes about the people, their culture and tastes. Therefore if you are planning a home makeover, the first thing you have to focus on would be the furniture.
Storage Organizers
The easiest and cheapest way to give your home a makeover is to clean and organize the rooms. When it comes to organizing, it's essential to have storage units which allow you to store away things that might seem excessive.
These storage units are also ideal for storing items like shoes, clothes and undergarments. Therefore if you want to store away the clutter lying around in your household, a storage cupboard or a drawer set is an excellent addition to your home.
Kitchen Organizers
Cooking can be a complicated task if you are in a messy kitchen. Therefore use a kitchen organizer to make sure you organize the spices, onions and all other cooking essentials in an orderly fashion. It can refresh your kitchen space and make cooking more convenient.
Office Furniture
Are you tired of sitting and working in uncomfortable chairs that eventually give you back pains? Perhaps it's time you make a new change in your life. If you have an office room at home or a space where you sit and work long hours that area could use a makeover. It could help to increase your focus and allow you to work better for longer hours.
Consider getting a more comfortable office chair, or a brand-new computer table. If you have a lot of books and files lying around in the area, it would be an excellent idea to buy a filing cabinet or a bookshelf.
Ornaments
Another easy way to enhance the attractiveness and appeal of your living space is by decorating the area with ornaments in a tasteful manner. It could be as simple as adding an antique candle holder, or a brass oil lamp.
If you like fine china made of porcelain, it would be a good idea to re-decorate your living room with a few porcelain ornaments of your choice. Another way to add some life to the walls of your home is to hang some wall art. So, if you are planning to get rid of the ornaments that have been around in your home for decades and replace them with modern ornaments, the makeover madness is a good opportunity to enjoy discounts on home décor.
Plastic Furniture
If you want to invest in some furniture that is more durable, light and transportable, plastic furniture would be an ideal addition to your household. It's ideal to place plastic furniture in the garden or an outdoor sitting area. Additionally, if you constantly have guests coming over to your home, you can get some affordable plastic furniture instead of investing in more expensive furniture.
Bedding & Bath Up To 60% Off
Pillows
Does your bedroom require an upgrade? Maybe a good place to begin would be the bed itself. When was the last time you changed your pillows? Perhaps it's time you upgraded your mattress to something more comfortable. If your bed frame is old and attractive, maybe it's time to get a new one. So, check out the Makeover Madness sale to grab some amazing deals and discounts to add a new makeover to your bedroom.
Bedding
The quickest and easiest way to give your bedroom a touch of elegance and attractiveness is to add some new bed linen. If your old bedsheets have lost their appeal after washing them over the years, a new bedsheet might just be the thing that adds some colour and allure to your bed space.
Mosquito Nets
Do you feel like mosquitoes bite you too often during the night? In that case, your old mosquito net might have probably run its course. Also, an attractive mosquito net can not only save you from mosquito bourne diseases like dengue and malaria, they also add to the overall appeal of the bedroom. Hence do not hesitate to invest in a new mosquito net if you feel like your old mosquito net is not in the best shape anymore.
Towels
When you think of a lifestyle makeover, towels might be the last thing on your mind. However, did you know that if you want to give a spa-inspired touch to your bathroom, towels are one of the easiest ways to achieve the look? Additionally, you can most certainly use the comfortable touch and feel of a new set of towels when you start a new year.
Hope you got some valuable insight into investing in household products to bring a new look and feel to your household. If you are shopping for kitchen and dining essentials check out Must-Have Dining and Kitchen Items to Complete Your Kitchen.