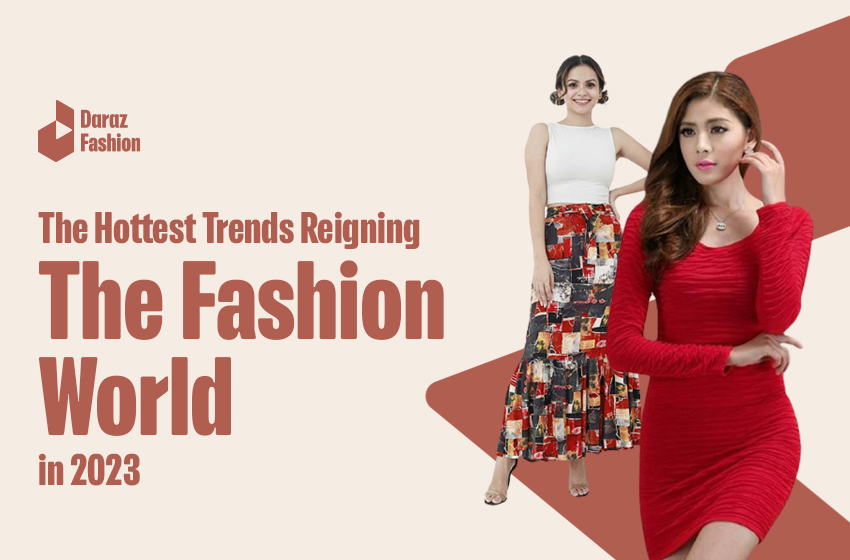 Hottest Fashion Trends You Should Know For 2023
It's no secret that fashion trends are constantly changing. It can be tough to keep up with the latest looks. However, If you want to ensure you're always on-trend, you should know what's in and out in the fashion world. 2023 is bringing out a range of new and exciting trends. So, if you want to stay ahead of the game, then you need to know the latest in women's clothing stores.
Are you searching for the hottest fashion trends for this year? Check out the top 7 womens fashion trends for 2023. From statement pieces to timeless classics, here are the hottest ladies fashion in the market.
Cargo Pants
Cargo pants are back in style as a must-have fashion style in 2023. This comfortable and practical trend has been seen on the runways and in streetwear. It's also a great way to add some versatility to any wardrobe. Cargo pants are a sustainable fashion staple that can be dressed up or down and provide plenty of pockets to store your items on the go. Whether you opt for a classic colour like khaki or go bold with a bright hue, these sexy pants are sure to make a statement.
Shades of Juicy Red
Juicy red is the hottest hue in new fashion right now. From bright and bold to subtle and sophisticated, this vibrant colour is making a statement on runways across the globe. Red is also becoming an increasingly popular street style and in everyday wear. So, don't hesitate to add a few red outfits and accessories to your cart when you go shopping next time. You can opt for a pair of red heels, a cherry-hued dress, or a classic red handbag. Also, any red accessory is an easy way to add a pop of colour and personality to any outfit.
Sheer and See Through Clothing
Sheer clothing has been a major among one of the leading fashion trends this year. This transparent trend is everywhere, from see-through tops to skirts, dresses, and even trousers. Sheer garments are incredibly versatile and can be dressed up or down depending on the occasion.
For instance, you can pair a sheer tank top and jeans for a casual vibe or with a blazer for a statement work outfit. The beauty of sheer clothing is that it can add a hint of sexiness to any look. Whether you wear a full head-to-toe sheer ensemble or just a single piece, this trend will surely make you stand out in style.
Denim Trend
Denim is still a wardrobe staple, with a wide array of styles and colours to choose from. Denim skirts, jeans, jackets, and overalls are all in style. Additionally, they come in a variety of fits and washes. Slim fits and mid-rise jeans are popular, as are relaxed fits, cropped jeans, and distressed jeans.
Shorts, skirts, and jackets crafted from denim are also trending. Denim is used to create fashion style outfits, from casual to dressy. Denim is also used to create statement pieces and accessories, such as bags, hats, and shoes. It's clear that denim is here to stay in 2023!
Shiny Fabric For Daytime
Wearing shiny fabric during the Daytime is the trendiest new look in fashion. It's seen everywhere, from workplaces to the club. Shiny fabrics come in various colours and textures, making finding something to suit any outfit easily. From satin fashion dresses to metallic skirts and sequin maxis to velvet crop tops, you can find a range of shiny outfits that will add a touch of glam to any occasion. Shiny fabrics can also be paired with bold colours, prints, and patterns, making shiny cloth items a sort-after fashion this season.
Maxi Skirts
Maxi skirts are having a huge moment in fashion right now. They are perfect for showing off your style while staying comfortable and chic. Maxi skirts can be dressed up or down and come in various colours, patterns, and fabrics. Whether you prefer a flowy, boho-inspired look or a more structured, tailored look, maxi skirts fit the bill. They pair well with everything from blouses and sandals to graphic tees and sneakers. With all the different styles, there's something for everyone when it comes to maxi skirts.
Cobalt Blue
Cobalt blue is a bold, eye-catching hue that is currently very popular in fashion. It is a deep, vibrant shade of blue that can add a pop of colour to any ensemble. It is often used to create a statement look but can also be used as an accent tone in more subtle outfits. Cobalt blue looks great when paired with neutrals like black, white, and grey and with brighter colours like yellow and pink. It is a versatile colour that can create a range of looks, from everyday casual to evening glam.
So, next time when you go shopping for clothes, don't forget to add the items above to your list of things to shop for. Check out Comfort wear ever. You Go if you are shopping for athleisure.