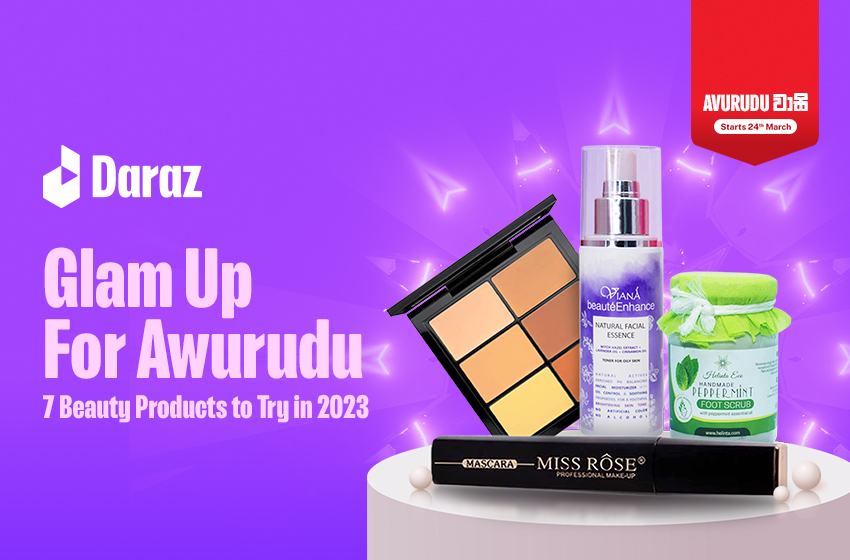 7 Make Up Products to Try in 2023
As we enter the Awurudu season, it's time to update the make up products with some fresh and exciting beauty products. With so many options in the beauty industry, deciding which products to try can be overwhelming.
Are you shopping for make up products to glam up for Awurudu? Read on to find out about 7 beauty products to add to your makeup bag this Awurudu.
Whether you're a makeup novice or an experienced beauty enthusiast, experimenting with new products is a fun and creative way to switch up your look. From lip balms to innovative skincare-makeup hybrids, here are seven makeup products to try in 2023 that will take your beauty game to the next level.
Curling Mascara
Curling mascara is a must-try makeup product for anyone looking to elevate their lash game when stepping out during Awurudu Holidays. The unique shape of the mascara brush is designed to lift and curl your lashes. It helps to give the lashes a dramatic and eye-catching look.
The mascara is specially formulated to hold the curl in place all day. That means you won't have to worry about your lashes falling flat as the day wears on. First, apply liquid eyeliner, and then follow up with the curling mascara for a more fabulous look.
Curling mascara comes in a variety of formulas, including waterproof and smudge-proof options, making it an ideal choice for everyday wear or special occasions. With just a few swipes of this mascara, your lashes will be transformed, leaving you feeling confident and ready to take on the Awurudu season. Shop during Daraz Awurudu Wasi to get the best mascara price.
Bronzer
If you want to add warmth and dimension to your complexion during Awurudu festival activities, bronzer is the perfect product to try. Bronzer is one of the makeup products designed to mimic the natural sun-kissed glow of a tan.
It comes in various shades and finishes, from matte to shimmery, to suit different skin tones and preferences. Applying bronzer to the high points of your face, such as your forehead, cheekbones, nose, and jawline, can help create a more defined and contoured look. Bronzer can also be used on the neck and chest to create a seamless transition between your face and body. Whether you prefer a subtle or bold effect, bronzer can give you that fresh, radiant look that's perfect for the dawn of the Awurudu season.
Glitter Eye Shadow
Glitter eye shadow is a must-try make up product when you go visit your friends and relatives for Awurudu. If you are someone who loves to add some sparkle and shine to your eyelids, grab this and throw it in your makeup pouch.
It is a versatile product that can be used for both daytime and nighttime events, adding that extra glam to your look. A glitter eye shadow kit comes in various shades and finishes, from a subtle shimmer to bold metallic hues. The pigmentation of glitter eye shadows has improved over the years, making them easy to blend and apply with minimal fallout.
Some brands have also introduced biodegradable glitter, which is a more eco-friendly option. Whether you're a makeup pro or a beginner, adding glitter eye shadow to your collection is a fun, and playful way to experiment with your Awurudu makeup looks.
Contour Palette
A contour palette is worth trying if you're looking for a versatile makeup product to add to your beauty routine this Awurudu season. A contour makeup palette typically includes several shades of powder or cream that can create depth and definition on the face. You can sculpt your cheekbones, slim down your nose, and create a chiselled jawline with a contour palette.
Many contour palettes also include highlighter shades to add a luminous glow to your complexion. Whether you're a makeup pro or a beginner, a contour palette is a great way to enhance your features and create a more polished look. With so many options available, you will find a contour palette that suits your skin tone and personal style.
Lip Balm
Lip balm is a must-have item for anyone who wants to keep their lips healthy and smooth all year round. Whether you're battling dry, chapped lips because of the air conditioner or dealing with sun damage, a good lip balm can provide essential moisture and protection to your delicate lip skin. There are so many amazing lip balm products to try containing various formulas. Look for ingredients like shea butter, beeswax, and coconut oil for the best lip balm for dry lips and SPF protection to guard against harmful UV rays. With so many options available, finding the perfect lip balm to suit your needs and preferences has never been easier!
Toner
Toner is an essential beauty product that you should consider adding to your skincare routine this year. Toner is designed to help balance the pH levels of your skin, remove any impurities, and prepare your skin to apply other skincare products.
Toner can help reduce the appearance of pores, prevent acne breakouts, and provide an extra layer of hydration to your skin. With so many different types of toners available on the market, you're sure to find one that meets your unique skin needs. Whether you have oily, dry, or combination skin, using a toner can help improve your skin's overall health and appearance, making it a must-try beauty product for 2023.
Foot Scrub
If you're looking for a beauty product that will leave your feet feeling smooth and refreshed, consider adding a foot scrub to your skincare routine. A foot scrub is a gentle exfoliating product designed specifically for the rough, calloused skin on your feet. By removing dead skin cells and promoting circulation, foot scrubs can help prevent dryness and cracking and leave your feet looking and feeling softer and smoother. With regular use, a foot scrub can help you achieve healthy, beautiful feet that you'll be proud to show off in sandals or barefoot during Awurudu season.
We hope you will be able to benefit from these 7 beauty and make up products this Awurdu season and the rest of the year. Grab up to 50% Off when you shop with the following cosmetic brands during Daraz Awurudu Wasi starting on the 24th of March; Janet, British Cosmetics, Bellose, The Ordinary, Dr Rashel, L'oreal, Garnier, Dandex, and Nivea.
Check out Avurudu Online Shopping Sri Lanka With Unbelievable Discounts to find other amazing deals available during Daraz Avurudu Wasi.