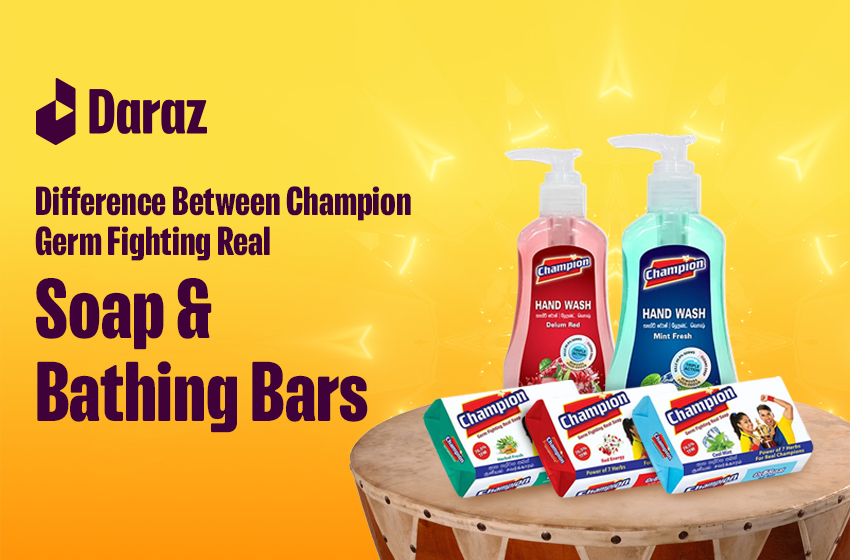 Advantages of Champion Germ Fighting Real Soap
Champion is the revolutionary brand that has changed the game with the launch of its adult germ-fighting toilet soap. In this blog, we like to emphasize the key advantages of toilet soap with germ-fighting action.
Are you wondering how Champion Germ Fighting Real Soap can make a difference in your skincare regimen? Read on to find out.
What is a Germ Fighting Soap?
Germ-fighting soap helps to wash off germs on your skin. It typically contains active ingredients that can help reduce the spread of diseases caused by germs. The ingredients can vary from product to product.
Why Use Champion Germ Fighting Real Soap?
There cannot be any compromises when it comes to taking care of your skin. The primary function of a skincare soap is to cleanse the skin by removing dirt, oil, sweat, germs and other impurities from the skin. It also helps to moisturize the skin
As a brand, Champion believes that its consumers deserve a clean, refreshing skincare experience on a daily basis. This gave birth to one of their most popular and fast-selling products, the Champion soap range.
It became an instant hit in the Sri Lankan personal care market due to its superior quality.
TFM is an acronym for Total Fatty Matter. TFM is one of the most important characteristics describing the quality of soap. It is essentially a measure of identifying the amount of fatty matter present in the soap. The soap with the higher TFM gives more lather, lasts longer and, more importantly, cleans one's skin better and more gently. When the TFM value is lowered, cleansing and foaming action is significantly reduced. Hence, to increase the cleansing and foaming, synthetic surfactants/detergents have to be added. Champion soap contains a high TFM of 76.5%, making it one of the best soap brands in Sri Lanka.
Furthermore, their range of soaps is assorted with safe ingredients and infused with herbal freshness. All Champion Germ Fighting Real Soaps contain timely tested 7 natural herbal extracts. No added harsh chemicals like SDBS.
Let's understand the perks of Germ Fighting Real Soap over bathing bars.
Fight Against Harmful Germs
Germ-fighting soap contains active ingredients that are specifically designed to fight germs.
Reduces the Spread of Disease
Germ-fighting soap can help reduce the spread of illnesses since germs are removed during the cleansing process.
Cleans Deeply
Germ-fighting soap with a higher TFM gives more lather and cleans one's skin better and more gently.
Moisturises Skin
Champion soap range also contains moisturising agents to help keep the surface of your skin from becoming dry and irritated.
We hope this information helps you to choose the right soap to Champion throughout the day.
If you are searching for baby skincare products, read our blog, Pamper Your Little One With The Best Baby Care Products.