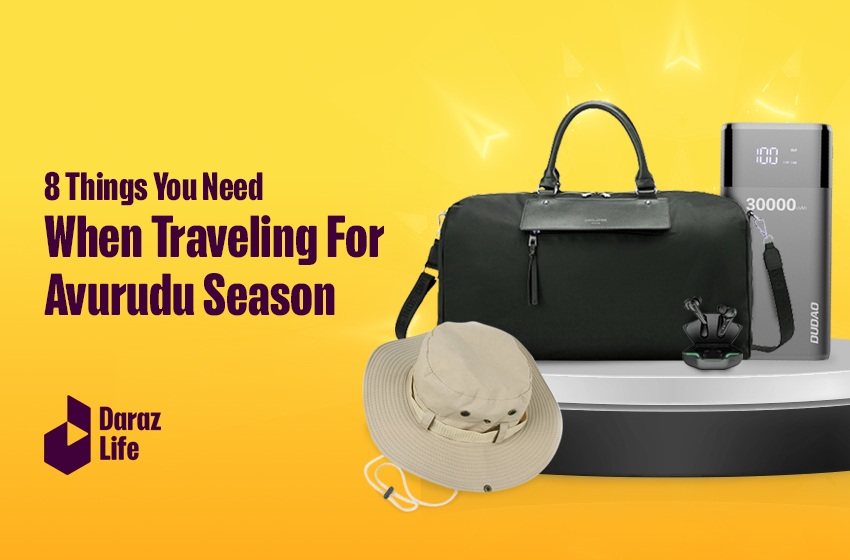 8 Things To Take With You On A One Day Trip
Are you planning on a one day trip during the Awurud Holidays? Continue reading to find eight essential things to carry when you travel.
Going on a one day trip can be a fun and exciting adventure. However, it's important to pack wisely, so you have everything you need without overburdening yourself. Whether you're heading to a nearby city, or a national park, there are a few essentials you should always carry. In this blog post, we'll go over eight things that you should consider taking with you on a trip. It will ensure that you're ready for anything that comes your way. So let's get started!
Power Bank
A power bank is an essential travel accessory that can be incredibly helpful, especially when you are on the go. It is a portable device that stores electrical energy. The device allows you to charge your electronic devices like smartphones, tablets, or laptops on the go.
When travelling, your gadgets are likely to run out of battery. Finding a charging point may not always be possible. Having a power bank in your bag ensures that you never run out of power. It helps you to stay connected to the digital world. Additionally, power banks come in various sizes and capacities, making them perfect for a one day trip and long journeys. Overall, a power bank can be a lifesaver when travelling. It makes sure that you can capture memories, stay entertained, and remain connected to loved ones no matter where you are.
Hawaiian Shirt
A Hawaiian shirt is the perfect outfit piece to wear during travel. First and foremost, it is incredibly comfortable and lightweight, making it perfect for warm and humid climates. The breathable fabric allows for air to circulate around your body, keeping you cool and comfortable. Additionally, the loose fit allows for plenty of movement and flexibility. Additionally, a Hawaiian shirt is a great way to blend in with the local culture. Whether you're exploring the beaches, markets, or restaurants, a Hawaiian shirt can help you perfectly fit in. Finally, it's worth noting that Hawaiian shirts are incredibly versatile. They can be dressed up or down depending on the occasion. Whether you're off to a casual beach party or a more formal event, a Hawaiian shirt can be the perfect addition to your travel wardrobe.
Sneakers
Sneakers and sportshoes are the perfect shoes to wear when travelling for several reasons. First, they provide excellent comfort and support, which is especially important when walking long distances. They also help when standing for extended periods. Second, they are versatile and you can wear them with many different types of outfits, from casual to slightly dressier looks. Third, they are easy to slip on and off. Hence making them perfect for quickly changing into more comfortable shoes during a one day trip. Fourth, sneakers often come in lightweight materials. They can be easily packed in a suitcase or backpack without adding too much weight. Overall, sneakers or running shoes are a practical and stylish choice for anyone who wants to be comfortable and prepared while travelling.
Duffle Bags
Duffle bags are an excellent choice of bags when travelling due to their versatility, durability, and practicality. They come in a wide range of sizes, shapes, and materials, allowing travellers to choose the best one to suit their needs. Duffel bags are often designed with multiple compartments, making it easy to organize and access items while on the move. They are also typically lightweight and easy to carry, with options for shoulder straps, handles, and even wheels for added convenience. Additionally, duffle bags are sturdy and able to withstand the wear and tear of travel. Their compact nature makes them ideal for a one day trip. Overall, duffle bags are an ideal travel bag option for anyone looking for a functional and reliable bag when travelling.
Shades
Shades, also known as sunglasses, are essential accessories for travellers. They not only enhance your style but also protect your eyes from harmful UV rays. When travelling, you may encounter different weather conditions, and shades can help shield your eyes from the glare of the sun or reflection from snow, water, or sand. They can also help reduce eye strain and fatigue caused by extended exposure to bright light. Additionally, they can be useful when exploring new destinations. Whether you're on a beach holiday, hiking in the mountains, or exploring a new city, shades are a must-have accessory for any traveller.
Sun Hats
A sun hat is one of the must-have travel accessories, especially in places where the sun can be harsh and unforgiving. These hats provide much-needed protection for your face, neck, and shoulders from the harmful rays of the sun. They help prevent sunburns, heatstroke, and other heat-related illnesses, making them an essential item for anyone planning to spend extended periods of time outdoors. In addition to their functional benefits, sun hats can also be fashionable, adding a touch of style to any outfit. With their wide brims and lightweight materials, they are easy to pack and carry around, making them a convenient addition to your travel gear. Overall, investing in a good quality sun hat is an excellent decision for any traveller looking to stay safe and comfortable under the sun.
Charging Cables
A phone charging cable is an essential item to carry when travelling. It has become an indispensable item in today's world, where smartphones have become a part of our lives. Whether you're travelling for business or pleasure, you'll likely be using your phone to make calls, send messages, navigate unfamiliar places, and take pictures.
However, all of these activities drain the battery of your phone, and you'll eventually need to recharge it. This is where a phone charging cable comes in handy. It allows you to connect your phone to a power source, whether it's a wall outlet, a portable charger, or a USB port on a computer. Without a charging cable, you may find yourself running out of battery at a crucial moment, which could be inconvenient or even dangerous in some situations. Therefore, packing a phone charging cable is a must when travelling.
Ear Buds
Earbuds are a crucial accessory for travellers as they provide an escape from the hustle and bustle of airports, train stations, and other public spaces. They allow you to listen to music, podcasts, or audiobooks, providing a much-needed distraction during long journeys.
They also come in handy when you want to watch a movie or a TV show on your device without disturbing other passengers. In addition, earbuds are compact and easy to carry, making them a convenient travel companion. With noise-cancelling features, they can also help drown out the noise of engines and crowds, creating a more peaceful and enjoyable travel experience.
We hope this blog is helpful when you pack a list of things you need to travel. Shop during Daraz Awurudu Wasi to get up to 50% off on travel essentials. Check out Avurudu Online Shopping Sri Lanka With Unbelievable Discounts, to find out other amazing bargains. Happy Shopping.