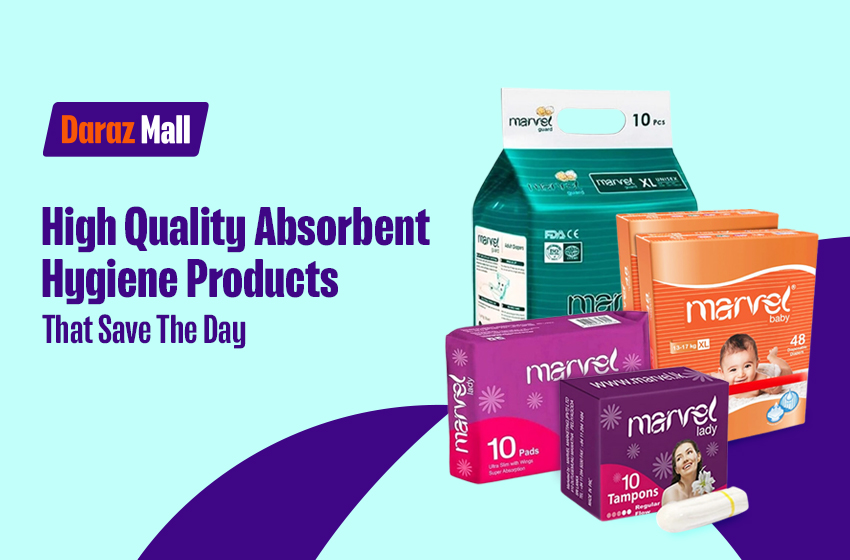 Marvel Diapers Sri Lanka and Other High-Quality Hygiene Products
Are you shopping for Marvel Diapers Sri Lanka and other high-quality hygiene products? Read on to find out how Marvel hygiene products will save your day!
Absorbent hygiene products, such as Marvel Diapers Sri Lanka, feminine care pads, and incontinence pads play a significantly important role in our daily lives. From infants to the elderly, these products offer comfort, and hygiene to people of all ages. However, not all absorbent hygiene products are created equal. That's where the quality of the products comes into play.
Superior quality hygiene products tick off all the boxes in terms of effectiveness, comfort, and overall satisfaction. In this blog, we will explore high-quality Marvel absorbent hygiene products that are designed to save the day.
Sanitary Pads
Marvel's new and improved sanitary pads are designed to meet all your feminine hygiene needs. These feminine hygiene pads are designed to provide the utmost comfort and convenience. Marvel pads for women boast maximum absorption ensuring you stay clean and dry throughout the day and night, even during heavy flows.
What sets Marvel period pads apart is their super slim design. They are invisible and provide you with the ultimate discretion, so you can go about your day with confidence. With ultra-slim winged technology, the menstrual pads stay securely in place, allowing you to move freely without any discomfort or leakage.
Our pads are also incredibly easy to carry, whether you're on the go or travelling. They come in a compact size, making them perfect for storing in your purse or handbag.
Don't compromise on your comfort and protection during your menstrual cycle. Choose Marvel sanitary pads to make your days of discomfort into relaxed and happier days.
Tampons
Are you searching for tampons in Sri Lanka? Marvel Tampons are the perfect solution for your period days. Marvel tampons Sri Lanka are designed to offer complete leak protection with their unique sideways expansion feature. This means that the tampon expands to the sides to prevent any leaks. So, try out Marvel tampons and go about your day without any worries.
Despite their superior protection, Marvel Tampons are incredibly small and discreet, making them easy to carry and use. They are also designed for superior comfort, with a smooth and soft applicator that glides in easily. With an added comfortable fit you will barely feel like you're wearing a tampon.
In addition to their comfort and leak protection, Marvel Tampons are also highly effective at preventing leakage. They are made from high-quality materials that absorb quickly and effectively, leaving you feeling dry and comfortable. Therefore, if you are getting into tampon use, grab the best tampons price in Sri Lanka on Daraz Mall.
Panty Liners
Panty Liners use is the ultimate solution for women's hygiene needs. Marvel panty liners are designed to provide maximum comfort and protection all day long.
With their extra-thin design, Marvel panty liners offer a barely-there feel, making them perfect for everyday use. They are gentle on the skin, so you can feel comfortable while wearing them.
What's more, these panty liners feature an improved leakage protection system with a side protection zone for extra peace of mind.
Whether you're at work, running errands, or hitting the gym, Marvel panty liners are perfect for any occasion. So why wait? Try Marvel panty liners today and experience the ultimate comfort.
Baby Diapers
Marvel Diapers Sri Lanka is the ultimate solution for parents seeking unbeatable leakage protection for their little ones. These diapers are equipped with an advanced acquisition layer that provides extra protection against leaks. Therefore these baby diapers are perfect for long outings or overnight use.
Our ultra-absorbent layers ensure that your baby stays dry and comfortable all day long. Meanwhile, the elastic waistband ensures a perfect fit for your baby's waistline. Additionally, the comfortable fit helps the baby stay happy all day long.
Diaper leaks are every parent's nightmare. The unique leg cuff design on Marvel diapers Sri Lanka prevents leaks from escaping the diaper. Therefore the parents can have ultimate peace of mind that the baby's clothes will remain clean and dry.
Additionally, Marvel Baby Diapers are made with premium quality materials. This makes sure that the material is soft and gentle on your baby's delicate skin. Plus, with a variety of sizes to choose from, you can find the perfect fit for your little one at every stage of their development.
Say goodbye to leaks and hello to dryness with Marvel Baby Diapers. Shop at Daraz now to get the lowest Marvel Pampers price.
Marvel Guard Adult Diapers
Marvel Adult Diaper pants are the ultimate solution for senior citizens seeking comfort and protection. These adult diapers feature a soft, ventilative material that is gentle on the skin, Additionally, it helps to reduce moisture, ensuring comfort all day long.
The unique leg cuff design provides additional protection against leakage. Therefore, you can go about your day worry-free. The refastenable frontal tape allows for easy adjustments, ensuring a perfect fit every time.
In addition, Marvel Adult Diapers feature a high-speed channel that quickly and efficiently directs liquids away from the body. This helps to keep the one wearing it dry and comfortable.
So, if you're dealing with incontinence Marvel Adult Diapers are the perfect solution. With their combination of comfort and performance, you will feel the difference the instant you wear them.
Grab the Best Discounts on Marvel Hygiene Heroes Only at Daraz Mall
Shop from the 25th of April and get a minimum of 20% off with free shipping on a range of Marvel Products. So, get on your Daraz App and shop now.
If you are shopping for bathing bars and hand wash check out Advantages of Champion Germ Fighting Real Soap.