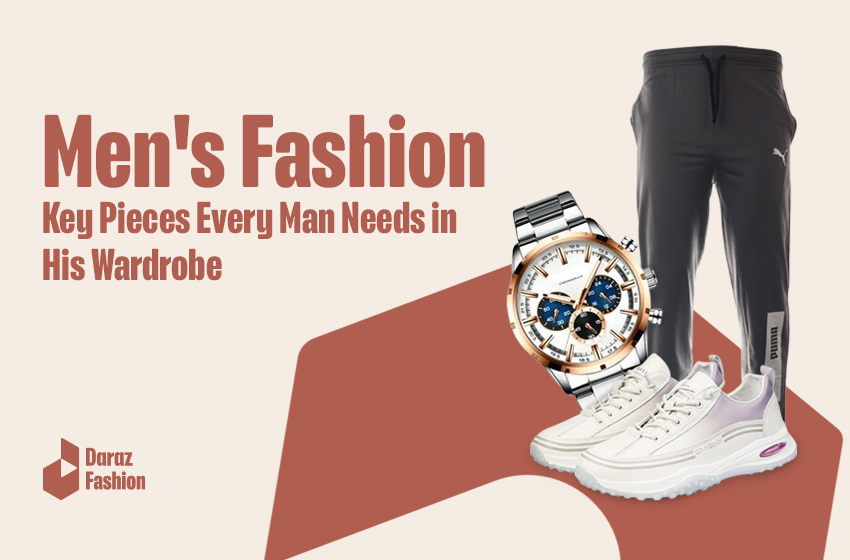 Men's Fashion: Basic Fashion Items For Every Man
Men's Fashion keeps changing every season. Yet, there are a few staple pieces that never go out of style and belong in every guy's wardrobe.
Want to know what never goes out of style in men's fashion? Read on to find out some basic items that belong in every man's closet.
At present, men have started to pay more attention to what's trending in men's fashion. There's also a massive surge in new fashion labels that are primarily dedicated to men. Therefore sometimes it can be slightly overwhelming to decide what pieces belong in your closet. Therefore, whether you are dressing up for a special occasion or just running errands, it's important to have a few basic fashion items in your wardrobe that can be mixed and matched to create different looks.
Therefore check out the below fashion staples that will not only make you look good but also help you feel put together. In this blog post, we'll take a closer look at the essential fashion items that every man should have in his wardrobe. From classic clothing essentials to trendy accessories, we've got you covered. So, let's dive in!
White Shirt For Men
The white Oxford shirt reigns over all other men's dress shirts. The classic white shirt is an essential item in every man's wardrobe. It is a versatile piece of clothing that can be dressed up or down. Thus it is an essential piece where mens shirts are concerned.
A white shirt is suitable for any occasion. Whether it's for a formal event or a casual day out, a white shirt for men can never go wrong. The simplicity of its design allows it to be paired with any color or pattern. Therefore it's a timeless fashion staple. Additionally, a white shirt also offers a clean and polished look. It gives the wearer a confident and professional appearance. From crisp and formal shirts for men to more relaxed, casual options, the white shirt is a must-have item.
Denim Jeans
Every wardrobe needs a pair of casual denim jeans. You can dress them up with a blazer or dress down with a casual tee and Converse All Star tennis shoes. Additionally, they are versatile, durable, and never go out of style. Also, since they are tailored to last long, it's wise to invest in an expensive pair of jeans. You can incorporate denim jeans in a few different colors like black, faded blue and dark blue.
Crew Neck T-Shirt
The crew neck t-shirt is a timeless classic. The versatility of the crew neck t-shirt makes it easy to pair with almost any outfit. You can go with jeans and sneakers for a casual look or chinos and dress shoes for a more formal occasion.
Mens Boots
Mens boots are a classic and versatile addition to every man's wardrobe. A typical Chelsea boot is not only comfortable, but it's also easy to slip on and off. Another classic option is the lace-up leather boot. You can use this footwear for dressing up or down making it perfect for a wide range of settings.
White Shoes
White sports shoes are becoming a popular trend in men's fashion. From basketball shoes to Nike sneakers for running, there are a wide variety of sports shoes available in the men's shoes category. Additionally, a pair of white sneakers can match an outfit of any color. When paired with jeans or khaki pants, white sneakers can create a stylish and laid-back vibe. Therefore, a pair of white sneakers make a great addition to any man's basic wardrobe.
Polo Shirt
Mens polo shirts are one clothing item that looks good on any type of guy. Its classic design features a collar, short sleeves, and a button-up placket. Therefore, if you are looking to add a touch of timeless sophistication to your wardrobe, make sure to add a few Polo t shirts in your favourite hues.
Khakis
When it comes to pants a man should have more than just a pair of denims in his wardrobe. That's where the Khakis come in. Khakis are versatile pieces of clothing that can be paired with the right type of shirt and shoes to suit any occasion. These pants come in a variety of colors and styles. They are suitable for casual wear, work, or even formal events. They are comfortable, durable, and easy to maintain, which makes them an essential item in any man's wardrobe.
Office Shoes For Men
Office shoes also known as dress shoes for men are a must-have in your shoes collection. Even if you do not work in a white-collar working environment, you never know when you'd have to attend a sophisticated occasion. Therefore it's always smart to add a pair of dress shoes to your closet.
Black Shirt
Every man who lives in the tropics should own a black linen shirt. Its classic color is both elegant and understated. Additionally black is easy to pair with a variety of pants, jackets, and accessories. A well-fitted black shirt can make a bold statement without being too flashy. Also, it is a great choice for those who want to add an edge to your look.
Casual Shirt
Casual shirts are perfect for a range of occasions. Whether you're headed to the office or a weekend brunch with friends, a casual shirt is always a great choice. They come in a variety of styles, from classic button-ups to more relaxed styles like henleys. These can be short or long sleeve shirts. They can be worn tucked in or untucked, and can easily be layered with a blazer or jacket for a more polished look.
Joggers
Joggers are a versatile and comfortable option for men's fashion. They are essentially sweatpants but with a tapered leg and elasticated ankle. This feature gives them a more stylish edge. Joggers come in a variety of colors and materials.
Sports T Shirt
These comfortable and practical shirts are perfect for a variety of occasions. They can be oversized t shirts or slim fit, whichever way they are perfect for hitting the gym to running errands around town. Not only are sports t-shirts functional, but they can also be stylish and trendy. There are countless options to choose from, with various designs, colors, and patterns available.
We hope this blog will be helpful when you are ready to revamp your wardrobe the next time. If you are shopping for your girlfriends or wives, check out Hottest Fashion Trends You Should Know For 2023