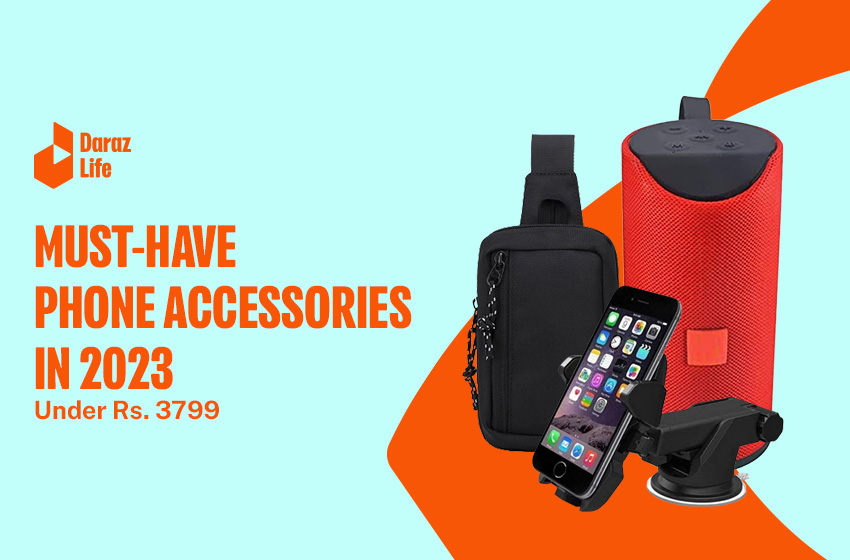 Must-Have Phone Accessories in 2023
Phone accessories have become almost essential elements that go hand in hand with the use of smartphones. So, read on if you are shopping for mobile accessories that give bang for your buck.
Are you shopping for basic phone accessories that are must-haves in 2023? Check out our list of high-quality and affordable mobile accessories.
Top Phone Accessories of 2023
As we head further into the digital age, it's no secret that our phones have become an integral part of our daily lives. From staying connected with loved ones to handling business on the go, our phones have become our go-to device for everything.
However, as we rely more and more on our phones, it's essential to have the right accessories that work alongside the phone. There are a few must-have phone accessories that every phone owner should consider investing in. These accessories can help you get the most out of your phone. Additionally, they can help increase its lifespan and make your life easier overall.
Bluetooth Earphones
Bluetooth earphones are an essential accessory for anyone who uses their phone for music, videos, or phone calls. Best ear buds provide freedom from tangled wires and the convenience of hands-free operation. There are a wide variety of handsfree Bluetooth earphones available. Furthermore, they come with different styles and features to suit any user's needs.
Whether you prefer in-ear like airpods, or over-ear bluetooth headphones or on-ear earphones, there are a variety of options available. Additionally, they offer excellent sound quality, long battery life, and comfortable fit.
Many Bluetooth headsets now include features such as noise cancellation, touch controls, and voice assistants for added convenience. Therefore, Bluetooth earphones are a must-have accessory for anyone who wants to enjoy their phone's features to the fullest.
Bluetooth Speaker
If you are a smartphone owner who appreciates the good sound quality of their music, you need a Bluetooth speaker in your life. They are highly portable, compact, and come with excellent sound quality. They are ideal for your on-the-go entertainment. You can easily find a Bluetooth jbl speaker that fits your budget and preferences. Therefore, it's a must-have accessory for any phone owner who enjoys music entertainment.
Phone Stand
Phone holders come in a variety of shapes and sizes. They come with options for both desk and car use. Whether you're using your phone for video calls, streaming content, or just want to keep it within reach, a phone holder can make your life easier. Plus, with laws in place restricting smartphone use while driving, a phone holder doubles up as a safety feature. Therefore, investing in a phone holder is a smart move. It's ideal for anyone who wants to get the most out of their device while keeping it safe and secure.
Tripod
With the continued rise of social media, more and more people are using their phones to create content. A tripod provides stability for your phone and allows you to take better-quality shots. It can easily eliminate the risk of blurry images. Plus, it opens up new possibilities for creativity, such as time-lapse videos and long exposure shots. Whether you're an aspiring influencer or just someone who enjoys taking photos, a tripod for your phone is an essential accessory. We guarantee that it will help elevate your content to the next level.
Mobile Phone Camera Lens
Are you an influencer or content creator? Or maybe you are a photography enthusiast? Mobile phone cameras have come a long way in the past few years. Additionally, with the advancements in technology, they have become the primary way people capture memories and moments. However, if you are ready to take your photography skills to the next level, investing in a high-quality mobile phone camera lens is totally worth it. These lenses are designed to enhance the capabilities of your phone's camera. In turn, it allows you to capture stunning shots with greater detail and clarity.
External Power Bank
If you rely on your phone a lot, you already figured that the battery tends to run out of juice in no time. An external power bank can provide a convenient and portable solution to this problem. Furthermore, it allows users to charge their phones on the go without the need for a power outlet. The latest models of external power banks offer fast charging, high capacity, and compatibility with multiple devices. Therefore, an external power bank is an essential accessory for anyone who wants to stay connected and productive while on the move.
Water Proof Phone Pouch
Are you an on-the-go adventurer? In that case, you can definitely benefit from a waterproof phone pouch. Whether you're lounging poolside, heading to the beach, or simply caught in a rainstorm, the pouch protects your device from water damage. These pouches are easy to use and allow you to access all of your phone's functions while it's safely encased in the pouch.
Multi-Functional Sling Bag
These bags offer a convenient and secure way to carry your phone and other essentials. The sling design allows for easy access to your phone. Additionally, it provides ample storage for other items such as keys, wallets, and even a small water bottle. Whether you're running errands, travelling, or just out for a walk, taking one of these bags is the perfect accessory to keep your phone and essentials close at hand.
We hope this post helped you find the types of phone accessories you would like to invest in 2023. If you are shopping for Mother's Day gifts, check out Heartwarming Mother's Day Gifts.