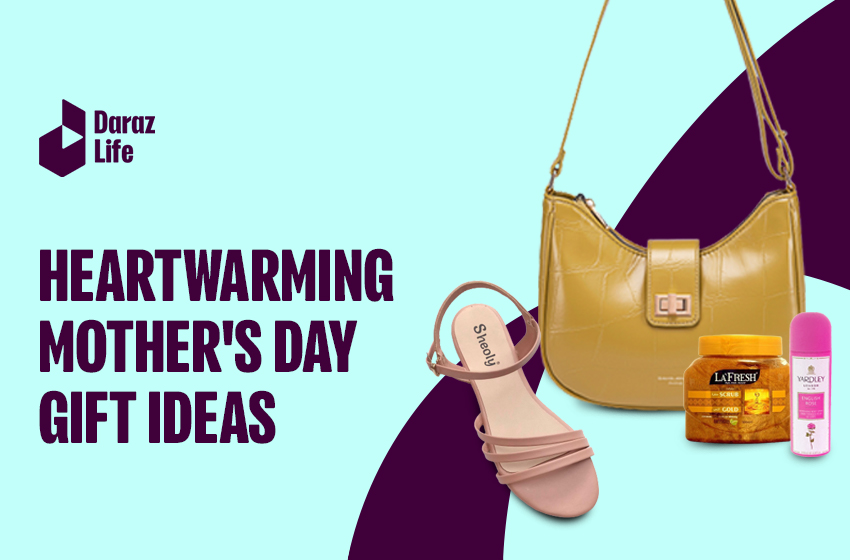 Heartwarming Mother's Day Gifts
Mother's Day gifts are meant to show appreciation towards that one person who loves you unconditionally. Therefore, with Mother's Day just around the corner, it's the perfect opportunity to show our appreciation with a heartfelt gift.
Are you hunting for heartwarming Mother's Day Gifts for the most important woman in your life? Check out the best gift ideas for mom on Daraz.
Mother's Day Gifts
Mother's Day is a special occasion to express our love and gratitude to the one and only pre-eminent woman in our lives. It's a time to celebrate the selflessness and unwavering support of mothers, and mother figures everywhere.
Finding the perfect gift can be a challenge, but fear not, as we've compiled a list of heartwarming Mother's Day gifts. These are proven gifts to make any mom feel extra special this year. From fashion accessories to pampering treats, there's something for every type of mom on this list.
Handbags
Handbags are a classic and timeless gift option for mothers on Mother's Day. They are not only practical but also stylish. Additionally, she can carry it as an accessory for any occasion. A good handbag can be a versatile addition to your mother's outfit. It can help her stay organized with all the essentials she needs to carry around. If your mom is someone simple, you can go for a sleek minimalist bag. In contrast, if your mother is the life of the party, go for a more colorful and playful choice. Whichever way, you can never go wrong with gifting a handbag on Mother's Day.
Shoes
Shoes are the best gift for mothers on Mother's Day for a variety of reasons. Firstly, they are practical and useful. Therefore, any mom can use a comfortable pair of shoes for daily wear. Secondly, shoes can also be a stylish accessory that can complement her style. Hence, it can make your mom feel good about herself.
Additionally, shoes come in a wide range of styles. If you want to encourage your mom to stay fit, get her a pair of sneakers. Also, if your mom is someone who is always on the go, a pair of sandals or heels make an ideal gift. Shoes are a gift she can use and enjoy every day.
Jewellery & Accessories
If your mother is someone who likes to look put together on a given day, gifting her jewellery or accessories is a fantastic idea. A beautiful necklace or a sparkling pair of earrings might be something that comes in handy when she dresses up.
Furthermore, Jewelry and accessories also have sentimental value. It's something your mom will cherish and hold as a keepsake, reminding her how much you adore her.
Perfumes & Body Mists
Perfumes and body mists are wonderful gift options for mothers on any day. Additionally, they are a classic and timeless gifts that can make any woman feel special and appreciated. Whether your mother loves fresh and floral scents or prefers something bolder and more sophisticated, a perfume or body mist is sure to bring a smile to her face. It's one of the best ways to show that she's loved.
Lotion & Body Care
If your mom is someone who likes to indulge in self-care, she would most certainly appreciate a body lotion or a scrub. There are a range of options you can select from whether you are looking for an individual product or a gift set.
Phone Accessories
Does your mom appreciate her tech gadgets? She will surely love a new phone case or a phone holder. Also, if you do not have a huge spending budget, phone accessories like these make thoughtful gift choices.
Outfits
Like any woman, your mom would surely appreciate a new addition to her wardrobe. The best part is there are so many options to choose from. For instance, if your mom is a traditional type of mother, you can gift her a colourful saree. If she's a working mom, you can select a beautiful blouse that she can wear for work.
We hope our gift guide will help you decide on unique gifts for mom on the upcoming Mother's Day. If you are too busy to go gift shopping order your Mother's Day gift on Daraz. Get it delivered to ty our doorstep and save the time and hassle of having to shop for gifts in stores. Also, you can benefit from the Daraz discounts and card discount offers that are available on the Daraz Platform. So, get on your Daraz App and shop for Mother's Day now.
If you are shopping for fashion-centered Mother's Day gift ideas check out Hottest Fashion Trends You Should Know For 2023.