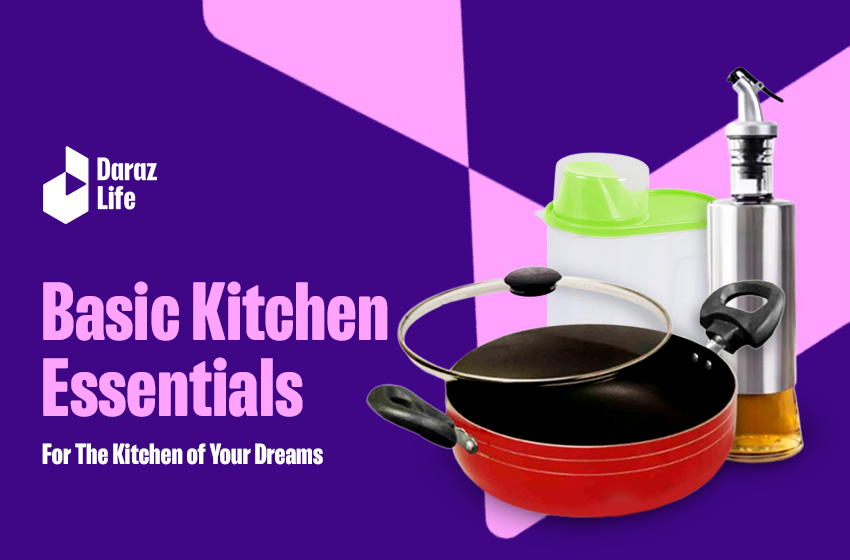 Essential Kitchen Items for New Home
Kitchen items are one of the first things you want to buy when you move to a new home. Check out our basic list of kitchen utensils that can help you keep an entire kitchen up and running.
Setting up a new home can be an exciting experience, especially when it comes to designing your dream kitchen. Whether you are a new homemaker, a homeowner, a newly married couple, or someone staying in a small rented space, having the right kitchen items is essential for a functional and efficient cooking experience. In this blog post, we will explore the must-have kitchen items that will transform your kitchen into a culinary haven.
Non-Stick Pan
A non-stick pan is a versatile kitchen essential that every home cook should have. From preparing delicious pancakes to sautéing vegetables, a non-stick pan makes cooking a breeze. Consider investing in the Taiko Non-Stick Tawa for its superior non-stick surface and durability.
Vegetable Rack
Keeping your kitchen organized is vital, especially if you have limited space. A multipurpose vegetable rack, like the Plastic Vegetable and Fruit Rack, provides ample storage for your fresh produce, helping you keep your countertops clutter-free and your vegetables within easy reach.
Food Container
Proper food storage is crucial for maintaining freshness and preventing wastage. Invest in high-quality food containers, such as the Plastic Clear Container with Pour Lid which offers airtight seals and convenient pouring lids. These containers are perfect for storing leftovers, dry ingredients, and snacks, keeping your pantry well-organized.
Knife Set
A good set of knives is a fundamental requirement for any kitchen. The Kiwi Knife Set offers a variety of knives suitable for different tasks, including chopping, slicing, and dicing. With sharp and durable blades, this set will assist you in achieving precise cuts and efficient meal preparation.
Oil Spray Bottle
For those who prefer a healthier cooking option, an oil spray bottle is a must-have. The Kitchen Baking Oil Cook Oil Spray Empty Bottle allows you to control the amount of oil used while ensuring even distribution. This handy tool is perfect for greasing pans, seasoning salads, or adding a light mist of oil to grilled dishes.
Kitchen Spoon Set
A set of reliable kitchen spoons is essential for everyday cooking. The Kitchen Tools 6 Pcs Kitchen Spoon Set offers a range of spoons, including slotted spoons, spatulas, and ladles. Made from non-stick and dishwasher-safe materials, this set ensures hassle-free cooking and easy cleanup.
Single Burner Gas Cooker
For those with limited kitchen space or as a backup option, a single-burner gas cooker is a practical choice. The Single Burner Gas Cooker offers portability and convenience, allowing you to cook your favorite meals anywhere with a gas connection.
Microwave
A microwave oven is a time-saving appliance that simplifies cooking and reheating tasks. The Panasonic 20L Solo Microwave Oven provides efficient heating and comes with user-friendly features, making it an ideal addition to any kitchen.
Cookware
Investing in quality cookware can enhance your cooking experience. Consider the Camy Casserole Grey Deep High-Quality Non-Stick Cookware Set for its non-stick surface and durability. This cookware set is perfect for various cooking needs, from simmering soups to preparing hearty stews.
Creating your dream kitchen begins with the right kitchen items. From non-stick pans and versatile cookware to smart storage solutions and convenient appliances, these items will help you build a functional and efficient cooking space. Explore the provided hyperlinks to find the perfect products for your kitchen, and get ready to transform your culinary experience.
Don't forget to check out Time-Saving Kitchen Gadgets Online to increase your efficiency in your kitchen.