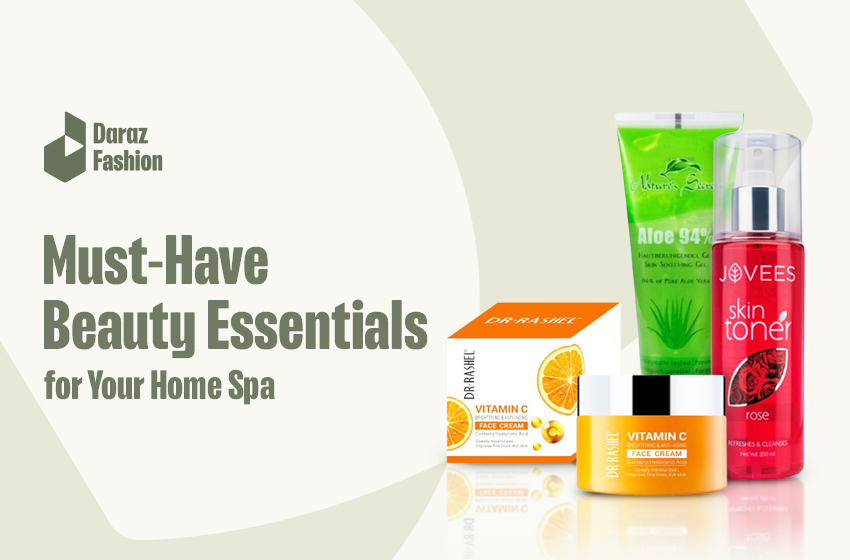 Must-Have Beauty Essentials for Your Home Spa
Beauty essentials are an integral part of your life if you like to indulge in self-care. Read on to find out some essential beauty products you must own.
Creating a serene and pampering atmosphere at home can be a wonderful way to indulge in self-care and relaxation. With the right beauty tips, you can build your own personal spa. In this blog post, we'll explore the must-have beauty essentials for your home spa, covering everything from skincare tips, and products to tools that enhance your spa experience. Get ready to unwind and rejuvenate in the comfort of your own home.
What do you need for a spa day at home?
When planning a spa day at home, there are a few key essentials to consider. First and foremost, create a calm ambience by dimming the lights and playing soothing music. Scented candles or essential oil diffusers can add a touch of tranquillity to the atmosphere. Soft, plush towels and a cozy robe are essential for that luxurious spa experience. And of course, don't forget your favourite herbal teas or infused water to stay hydrated throughout your spa day.
How do I prepare for a spa day at home?
Preparation is key to ensuring a seamless and enjoyable home spa day. Start by setting aside dedicated time when you won't be interrupted. Cleanse your space, decluttering any distractions to create a serene environment. Prepare a playlist of relaxing music or nature sounds to set the mood. Gather all your beauty essentials, including skincare products, tools, and any other items you'll need. Finally, inform those around you about your spa day plans to avoid any disturbances.
What should be in a home spa kit?
A well-stocked home spa kit is essential to have on hand for your regular self-care rituals. Here are some must-have items for your kit:
Face Cream
Invest in a high-quality face cream for daily use and your face will thank you in the long run by continuing to look its best. Choose the best cream for a face glow that can nourish and hydrate your skin. Look for ingredients like vitamin C and hyaluronic acid for added benefits.
Aloe Gel
A soothing and versatile product like soothing Aloe Gel can be used to calm irritated skin, as a moisturizer, or even as a hair mask.
Face Masks
Treat your skin to a pampering session with a face pack for clear skin like the Multani Mitti Powder Indian Clay Face Mask. Choose masks that cater to your specific skin concerns, whether it's hydrating, purifying, or rejuvenating.
Serums
Serums are concentrated formulations that target specific skincare concerns. Consider adding a nourishing and revitalizing serum to your home spa kit for a radiant complexion.
Toners
After using the best face wash for glowing skin, refresh and balance your skin with a gentle toner. Look for toners that are alcohol-free and infused with natural ingredients for a soothing effect.
Sunscreen
Even when indoors, it's important to protect your skin from harmful UV rays. Incorporate a broad-spectrum sunscreen into your skincare routine.
Eyebrow Razor
Achieve well-groomed eyebrows with the precision of an eyebrow razor. The 3pcs Tinkle Eyebrow Razor is a popular choice for shaping and defining your brows.
Waxing Sheets
For those opting for at-home hair removal, waxing sheets provide a convenient and effective solution.
Nose Strip
Deep cleanse your pores with nose strips like the Deep Cleansing Blackhead Remover Strips for Nose. They effectively remove blackheads and impurities for a clearer complexion.
How can I do a self-spa at home?
Creating a self-spa experience at home is simple and enjoyable. Start by cleansing your face and applying a nourishing face mask. While the mask works its magic, soak your feet in a warm foot bath with Epsom salt or essential oils. Follow up with exfoliation using a body scrub and a relaxing bath infused with bath salts. Afterwards, apply a hydrating body lotion to moisturize your skin. Finish off the spa session by giving yourself a gentle massage using a facial roller or a body massager.
Transforming your home into a tranquil sanctuary for self-care and relaxation is an excellent way to prioritize your well-being. By incorporating these must-have beauty essentials into your home spa experience, you can indulge in a rejuvenating and pampering routine whenever you desire. Remember, self-care is an essential part of maintaining balance and inner peace. Take the time to unwind, recharge, and treat yourself to a blissful home spa experience.
Don't forget to check out Luxury Perfume and Best Beauty Products in Sri Lanka