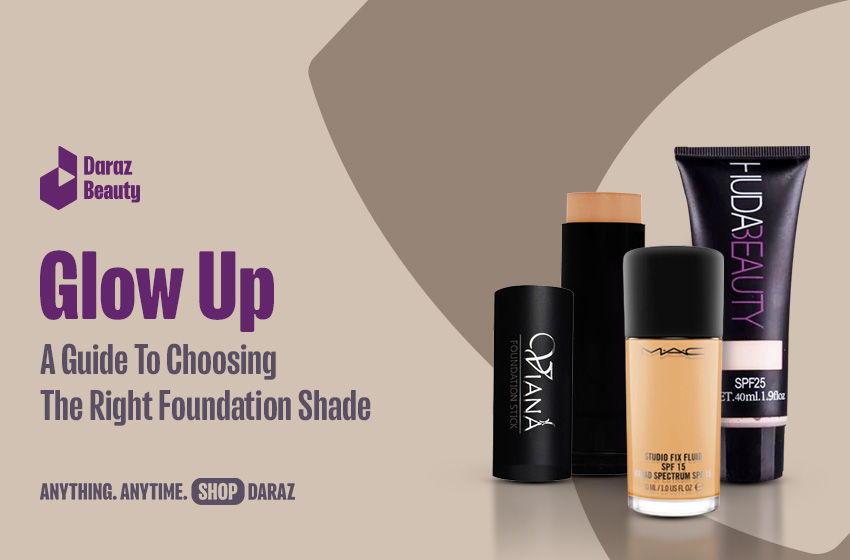 Best Foundation For Your Skin Tone
Finding the best foundation shade that matches your skin can be a game-changer for your overall look. Let's explore how to choose the right shade for your complexion.
With so many options available in the market, it can feel overwhelming to navigate through the vast range of shades and formulas. But worry not! In this ultimate guide, we'll walk you through the essential factors to consider when choosing the right foundation cream. From understanding your skin tone to identifying the best products in Sri Lanka, we've got you covered.
What is foundation cream used for?
Makeup foundation is a cosmetic product designed to even out the skin tone and create a smooth canvas for other makeup products. It helps to conceal imperfections, such as blemishes, redness, and discolouration while providing a natural-looking base for your makeup. Best foundations come in various forms, including liquid, cream, powder, and stick, catering to different skin types and coverage preferences.
Which foundation is best for a natural look?
If you prefer a natural look, opt for lightweight and sheer to medium coverage foundations. These formulations allow your skin's natural beauty to shine through while providing a subtle enhancement. One popular option is the MAC Foundation, which offers a wide shade range to suit various skin tones and provides a natural, flawless finish. This is one of the best foundations known for its long-lasting wear and ability to control oil, making it ideal for those with combination or oily skin.
Which foundation shade is best for a normal skin tone?
For those with a normal skin tone, consider shades that closely match your natural complexion. Look for foundations labelled as "neutral" or "medium" undertones. These shades will blend seamlessly with your skin, providing a balanced and harmonious appearance. Huda Beauty offers an extensive range of the best foundation shades that cater to different skin tones, including their Overachiever Concealer (40ml SPF 25) and Skin Miracle BB Cream. These products not only provide a natural finish but also contain skin-loving ingredients that nourish and protect your skin.
Should the foundation be lighter or darker?
Finding the right shade for your foundation is crucial. It should neither be too light nor too dark but rather match your skin tone as closely as possible. Testing the best foundation shade on your jawline or the back of your hand in natural light will help ensure a seamless blend with your face and neck. Remember, the goal is to achieve a natural, undetectable finish. If you're uncertain about the exact shade, consider visiting a makeup counter or store where beauty experts can assist you in finding your perfect match.
What is the best foundation cream in Sri Lanka?
In Sri Lanka, there are several reputable brands offering high-quality best foundation creams. One popular choice is the Lakme Perfecting Liquid Foundation in the shade Pearl. This foundation provides excellent coverage while imparting a radiant and natural glow to the skin. It is lightweight and blends effortlessly, creating a smooth and even complexion. Lakme has been a trusted brand in the beauty industry, catering to diverse skin tones and offering products suitable for different skin concerns.
Exploring More Options
If you're looking for a budget-friendly option without compromising on quality, Maybelline offers a range of foundation products that are worth considering. The Maybelline fit me foundation is one such product. It not only provides great coverage but also improves skin texture and gives a youthful appearance. Maybelline foundations are known for their affordability, accessibility, and innovative formulations that cater to a wide range of skin tones.
While exploring foundation options, don't overlook Viana and Miss Rose. Viana offers a convenient and easy-to-use format with their Foundation Stick. This product provides buildable coverage and a smooth finish. On the other hand, Missrose Foundation offers a brightening and long-lasting formula. It provides full coverage while maintaining a lightweight feel, making it suitable for those looking for a flawless complexion.
Choosing the right foundation shade is an essential step in achieving a flawless makeup look. By understanding your skin tone, considering the level of coverage you desire, and exploring reputable brands like MAC, Huda Beauty, Lakme, Maybelline, Viana, and Miss Rose, you can confidently find the perfect foundation shade that enhances your natural beauty. Remember, a well-matched liquid foundation shade will help you create a seamless base for your makeup and boost your confidence throughout the day.
Don't forget to check out Essential List of Makeup Items To Include In Your Makeup Bag, for more makeup inspo.