5 Quick & Easy Vegetarian Breakfast Recipes with dMart!
You probably love a good egg dish just as much as the next person, but just because you're vegetarian doesn't mean you're limited to scrambled eggs every morning. From hearty waffles to breakfast pizzas, we've got all the wholesome recipes to keep you just as full and fueled as other meaty options. Whether you're keeping things light or in the mood to indulge, these meatless breakfasts are both delicious, satisfying and super easy to make. Let's take a look at these 5 Vegetarian Breakfast Recipes with dMart to get your mornings started the right way.
Breakfast Potatoes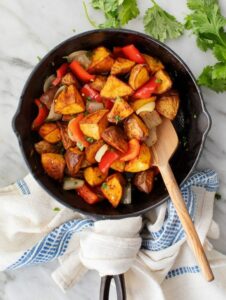 What's not to love about breakfast potatoes? They're crispy on the outside, creamy in the middle, and seasoned to perfection with smoky, savory spices. They're SO simple to make, and they taste great with just about any breakfast food.
Ingredients
1 pound small potatoes, cut into ½-inch pieces
Extra-virgin olive oil, for drizzling
½ teaspoon smoked paprika
Pinch of red pepper flakes
Sea salt and freshly ground black pepper
Optional sautéed onions & peppers
½ teaspoon extra-virgin olive oil
½ yellow onion, chopped into ½-inch pieces
1 red pepper, chopped into ½-inch pieces
2 garlic cloves, chopped
⅓ cup cilantro, for serving
Sea salt and freshly ground black pepper
Method
Preheat the oven to 425°F and line a baking sheet with parchment paper. Place the potatoes onto the sheet, drizzle with olive oil, and sprinkle generously with salt and pepper, the smoked paprika, and pinches of red pepper flakes.
Toss to coat, spread evenly on the pan, and bake for 30 minutes or until golden brown and crisp around the edges. Stop here and serve as-is or mix with sautéed onions and peppers.
Make the onions & peppers: Heat the oil in a medium skillet over medium heat. Thereafter, add the onions, peppers, and garlic and sauté until soft and lightly browned, 5 to 8 minutes. Finally, Remove from the heat, stir in the potatoes and sprinkle with cilantro. Season to taste with salt and pepper and serve hot.
Kale Smoothie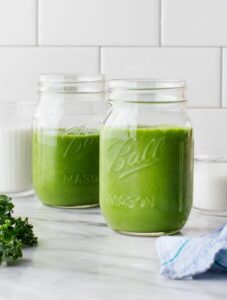 I know what you're thinking but trust me, this smoothie is the perfect blend of nutrition and flavor that you need to kickstart your mornings. With a swift blend of peaches, banana and some fresh ginger, this energizing formula is about to become your favorite quick and easy breakfast idea.
Ingredients
1 cup almond milk ( or any milk of choice )
1 medium frozen banana
2 kale leaves, stems removed
2 to 3 small ripe peaches, frozen, or 1/2 to 1 cup diced mango, frozen
1/2 teaspoon grated ginger
1/2 teaspoon matcha, (optional )
Handful of ice
Method
Firstly, In a high-speed blender, combine the almond milk, banana, kale, peaches, ginger, and matcha, if using.
Blend until creamy. Lastly, Add a handful of ice and blend again
Tip: freeze the kale ahead of time for a frostier smoothie.
Read More : 5 Very Berry Smoothie Recipes With dMart!
Banana Bread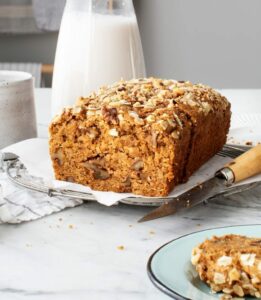 One of our trusty favorite among the Recipes with dMart collection is this delicious Banana Bread. If you have ripe bananas on your counter, you have to try this healthy banana bread recipe. It's easy, it's delicious, and it just so happens to be good for you. I think you're going to love it!
Ingredients
2 very ripe bananas, mashed (1 cup)
½ cup coconut sugar, or regular sugar
¾ cup almond milk, or any milk
⅓ cup extra-virgin olive oil, more for brushing
1 teaspoon vanilla extract
1 teaspoon apple cider vinegar
1½ cups whole wheat pastry flour*, see note
½ cup almond flour
2 teaspoons baking powder
¼ teaspoon baking soda
½ teaspoon sea salt
½ teaspoon cinnamon
¼ teaspoon nutmeg
½ cup chopped walnut
Method
First, Preheat the oven to 350°F and brush a 9×5-inch loaf pan with a bit of olive oil.
Thereafter, In a large bowl, combine the mashed bananas with the sugar, almond milk, olive oil, vanilla, and apple cider vinegar and whisk until combined.
In a medium bowl combine the flours, baking powder, baking soda, salt, cinnamon, and nutmeg.
Add the dry ingredients to the bowl with the wet ingredients and stir until just combined, then fold in the walnuts. Pour into the prepared pan and sprinkle with the chopped walnuts and oats.
Lastly, Bake for 42 to 50 minutes, or until a toothpick inserted in the middle comes out clean. ( it takes a wee bit longer but is SO good )
Light French Toast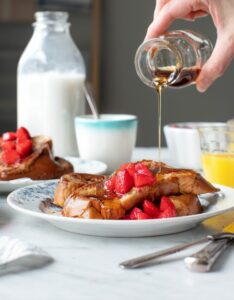 Nothing quite hits the spot like a sugary breakfast. And this French Toast Recipe is here to hit the right sweet spots. Lightly sweet and golden brown, this recipe is the perfect weekend brunch!
Ingredients
4 eggs
1 cup almond milk, or any milk
1 teaspoon cinnamon
¼ teaspoon cardamom
Pinch of sea salt
8 1-inch slices bread
Coconut oil, for brushing
Maple syrup, for serving
Method
In a large bowl, whisk together the eggs, milk, cinnamon, cardamom, and salt. Dip each slice of bread into the mixture and set the soaked bread aside on a large tray or plate.
Heat a non-stick skillet to medium heat and brush with coconut oil. Add the bread slices and cook until golden brown, about 2 minutes per side. Reduce the heat to low as needed to cook thoroughly without burning. Finally, Serve with maple syrup and fresh fruits for an added touch!
Apple Cinnamon Crunch Overnight Oats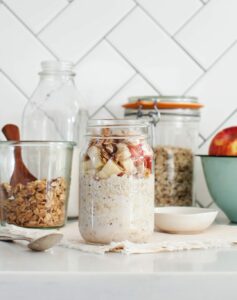 I don't know about you but I love a cold, sweet breakfast. And Recipes With dMart brings you the classic , sweet Apple and Cinnamon crunch overnight oats to kickstart your day the right way.
Ingredients
½ cup Quaker Old Fashioned Oats
½ cup almond milk
a small squeeze of lemon (to keep the apples fresh overnight)
½ cup diced apple
⅛ teaspoon cinnamon
1 tablespoon granola
1 teaspoon honey
Method
Combine the oats and almond milk in a jar. Toss the apple with a little bit of lemon juice and add it to the jar with a sprinkle of cinnamon. Chill overnight.
In the morning, top with granola and a drizzle of honey or maple syrup.
To prepare any of our special Recipes with dMart, shop for all your essentials on dMart now! You can now get all your groceries at the latest deals and have it delivered right to your doorstep! Start your healthy breakfast train now with your favorite online shopping partner. Download the Daraz app and get shopping