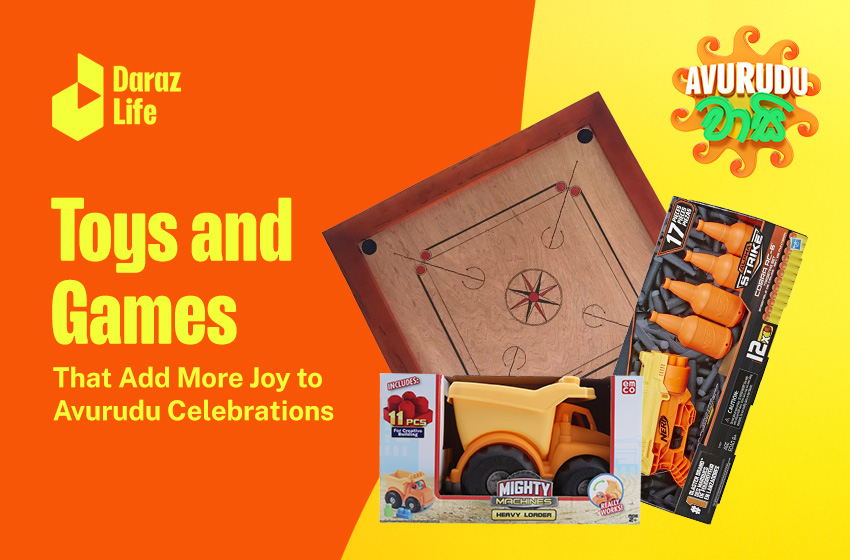 Best Toys Price in Sri Lanka during Avurudu Season
It's best to shop during a sale if you are looking for the best toys price in Sri Lanka. Whether you are in search of board games, dolls, dollhouses, remote control helicopters or a toy car for kids, you are sure to find it on the Daraz App.
Are you in search of the best toys price in Sri Lanka? Ahead, we have listed some of the toys and games that can bring more merriment to your get-togethers during the Avurudu season. The best part is you can get any of them delivered to your doorstep with just a tap of a finger.
Shop Your Way to Prosperity With Daraz Avurudu Waasi
Daraz Avurudu Wasi is back from the 25th of March, with up to 80% Off on over 5 million products! Also, grab an additional 12% off on bank cards and Instalment plans up to 60 months at 0% interest.
That's not all! Win an iPhone 13, 55″ inch Samsung tv, Innovex washing machine and an ASUS laptop simply by playing our one rupee game. Furthermore, Don't forget to watch Daraz live during the season and stand a chance to walk away with valuable giveaways.
If you are looking for the best toys price in Sri Lanka, this is one opportunity you do not want to miss. You can grab up to Up to 60% OFF, Free Shipping, Valuable Vouchers and Giveaways when you shop with our brand partners Hasbro, Mellisa & Doug, EMCO Toys, Beyond RC, Hot wheels, and Lego.
So, get ready to lower your Avurdu expenses and shop your way to prosperity! Download the Daraz app now and get ready for Daraz Avurudu Wasi.
Without further ado, let's look at toys and games that you can get to bring more merriment during Avurudu.
Carrom
Carrom is a widely played board game by children, teens, and even adults in Sri Lanka. Traditionally you see a Carrom board on any occasion where people gather together, such as a party or almsgiving. It is a two to four-player game that is played on a carrom board. There are four holes in the four corners of the board. A tiny net was sometimes connected to the bottom of these holes to collect the nineteen carrom pieces used in the game.
If you are hosting an event that brings visitors together, this Avurudu, make sure to get yourself a carrom board. It's a fun activity that anyone of any age group can enjoy.
Pictionary
Pictionary is a really basic game that just requires a pencil, paper, and the Pictionary set. The Pictionary set includes a gaming board, a timer, two dice, and a set of cards with words on them. Also, you can play pictionary with as few as four players or with two or more teams. Moreover, Pictionary is somewhat like a sketching version of charades.
Therefore it's an ideal game if your guests are over to stay for a few days and you are looking out for activities that are fun and entertaining to do.
Checkers
If you were born and raised in Sri Lanka, you have likely come across two people enjoying a game of checkers at some point. Also, it's a popular game enjoyed by teens as well as adults. The rules and strategy behind the game is quite simple. However, it takes a bit of thought and skill to defeat a seasoned opponent.
Checkers is a game you can play on a checkered board with squares of two different colours. Players advance diagonally across the board, attempting to reach the opposite side of the board, where their pieces can be "kinged," or doubled ( which means to increase their power). When a player jumps over the opponent's pieces, they are able to capture those pieces and eliminate them from the board. This lessens the chances of that player winning. Therefore, get yourself a checkers board before the Avurdu celebrations begin and experiment with the enthusiasm of the game.
Nerf Gun Games
There are a plethora of amazing nerf game ideas available to entertain everyone in the family, from the youngest to the oldest. Furthermore, they'll not only save you money, but they'll also give you a chance to use your creativity and become crafty at the same time. Therefore, get yourself some Nerf guns and start organizing some non-traditional nerf gun games to keep the fun going.
Puzzles for Kids
Are you looking for ways to keep your kids entertained while you catch up with all the other adults? Try giving them a puzzle. The right puzzle is sure to keep your kids busy for a while. In addition, if you know anyone who loves puzzles, these make excellent gift ideas as well.
Gifts for Boys
The options are numerous if you are looking for Avurdu gifts that you can give little boys. All you have to do is type in what you are looking for in the search bar of your Daraz app.
Gifts for Girls
Are there little girls in your family who cannot get enough dolls for their dolls collection? In that case, you know their Avurudu gift is already sorted. Get on your daraz app and try searching for any type of doll from Barbies, to LOL surprise dolls and Troll figurines. You are sure to get them at the best price available on the market.
Lego Toys
Lego makes great gifts. Furthermore, they are perfect for keeping your kids occupied for hours. Also, if you have two or more kids visiting your home for Avurdu, a Lego building set is sure to keep them entertained for a while.
Hope this article helped you find some fun toys and games that will make your Avurudu get-togethers a lot more interesting. After all, this is the best time of the year to shop for games, toys and everything else you had in your list of things you wanted to get. If you are keeping an eye out for exercise equipment, don't forget to check out Fit for Avurudu: Exercise Equipment to Stay in Shape During the Season.