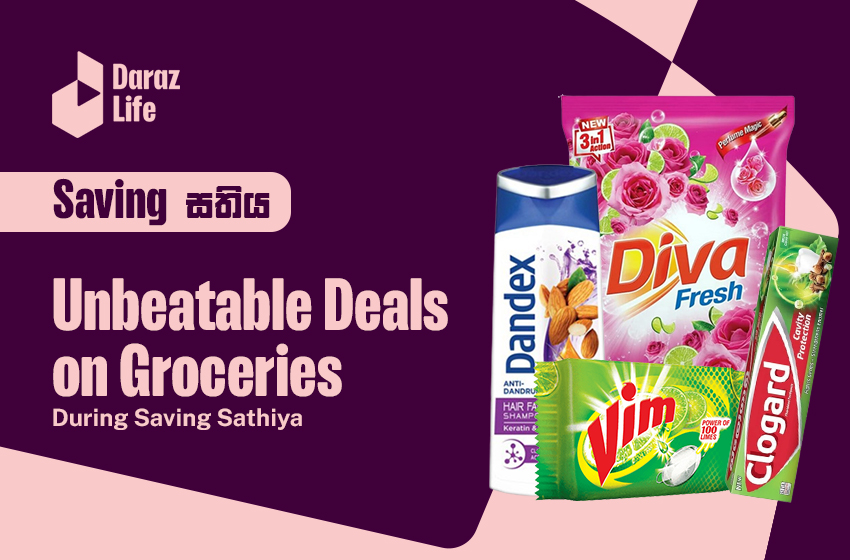 Unbeatable Deals When You Buy Groceries Online
Order your groceries online during the Savings Sathiya sale and save time and money. Continue reading to find out the special offers on groceries available this week.
Are you planning to order groceries online this week? Save big on online grocery shopping by checking out the offers available during Daraz Savings Sathiya.
Order Groceries Online During Savings Sathiya
Who doesn't like to save on their weekly grocery shopping? Enjoy big savings when you shop on Daraz During the Savings Sathiya.
Daraz Saving Sathiya is live, so get ready to shop until you drop and save up to 60% off on all your favorite brands. Join in to grab the best deals from the 25th of May to the 31st of May with Daraz online shopping. There are over 5 million products from various categories, including groceries, fashion, electronics and technology, and health and beauty.
We have on board some of the most popular grocery brands in Sri Lanka, including Sunlight, Lifebuoy, Vim, Comfort, Knorr, Clogard, Diva, Dandex, Shield, SilverMills, Njoy, and Signal. Save up to 20% Off when you shop these brands. Furthermore, enjoy Free Shipping and Discount Vouchers when you shop during this week. So, download the Daraz App now and get the best discounts during Savings Sathiya.
Without further ado, let's take a look at some grocery items where you can benefit from the discounts available during the sale.
Detergent
If you have a top load or front load washing machine, it's best that you use washing liquid instead of washing powder. If you think liquid laundry detergent is a bit over your weekly budget, make use of the discounts available on Savings Sathiya.
Fabric Conditioner
Ever enjoy wearing nice smelling clothes? In that case, you probably already know what magic fabric softener can do to your laundry. It not only leaves the clothes smelling fresh, but it also softens the fabric making them more comfortable when you wear them. In addition, it improves the quality of the fabric, allowing it to last for longer.
Washing Powder
If you are really focused on the cost per a load of laundry, it's best to go with washing powder. It's the most economical option used in many households in Sri Lanka. However, during Savings Sathiya, you can purchase washing powder for less than the market price.
Shampoo and Conditioner
If you are shopping for shampoo in Sri Lanka or conditioner, the best place to check first would be your Daraz App. You will be surprised by the availability of local and international brands of shampoo. Furthermore, you can get them at the best price in the market.
Dishwashing Soap
Dishwashing soap is a common household requirement. There is no need to rush to supermarkets and buy soap in bulk. You are always guaranteed the lowest prices on your Daraz App. Furthermore, you can use discount vouchers during your purchase to save more.
Seasoning
Add a touch of spice to your food with seasoning. Make the most of the discounts available on seasoning products such as curry powder, chili powder, garlic powder, and all the other condiments that you need to make your food extra delicious.
Cooking Essentials
Are you shopping for cooking essentials online? Everything you need to add great taste to your food is available on Daraz. Whether you are looking for ingredients for cooking or baking, it's all available for home delivery through your Daraz App.
Coconut Oil
Did you know that coconut oil has lauric acid, which acts as an antibacterial and antiviral agent to help enhance your immunity when broken down in your system? So get your coconut oil at the best prices on Daraz and get home delivery for free.
Toothpaste
Brushing your teeth twice a day can give you the proper oral hygiene you require to stay away from the dentist. If you have listed toothpaste on your grocery list for the week, don't forget Clogard and Signal have discount offers this week.
Hand Wash
Handwash has become a mandatory requirement in every household since the outbreak of COVID. As soon as you get home, you first wash your hands using an antibacterial handwash. Therefore, if you are shopping for handwash, make sure to check out the offers available during Savings Sathiya.
Hand Sanitizer
When we are on the topic of hygiene and sanitizing, we cannot avoid discussing hand sanitizer. It's always a good idea to carry a bottle of sanitizer in your pocket or bag. It allows you to keep your hands safe and germ-free no matter where you go.
Now you know where to shop in order to save the most on your grocery shopping online this week. Moreover, it saves time because of home delivery through Daraz. So get on your Daraz app and check out the offers available on groceries during Savings Sathiya. If you are shopping for mother and baby care products, check out our blog the Best Discounts on Online Baby Products in Sri Lanka