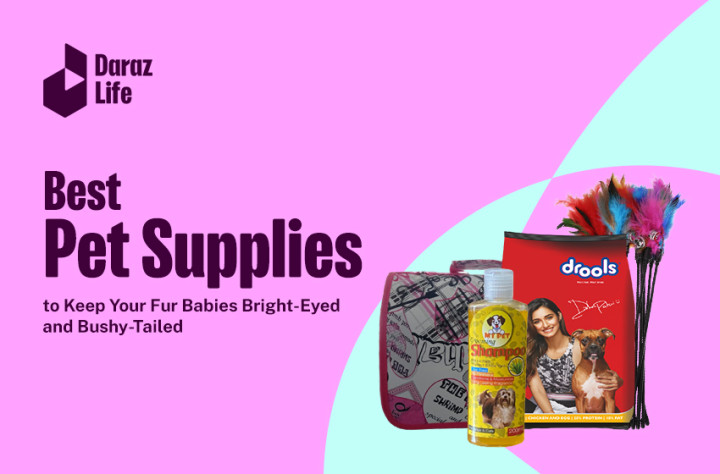 Keep Your Fur Babies Happy: Get Your Pet Supplies Online Daraz
Shopping for pet supplies online has become popular nowadays as it is the best way to access everything your fur babies need. Continue reading to find out what your four-legged friends need to stay bright-eyed and bushy-tailed.
Are you looking for pet supplies online? Get on your Daraz App and access some of the best online pet shops in Sri Lanka. Ahead we have listed a few pet products that you might want to get for your fur babies to show how much they are loved.
Pet Supplies Online You Can Get On Daraz
Nutritious Food
Feeding your pets a nutrient-rich diet is one way to show them how much you love and care for them. Just like us, our pets deserve to eat well. Therefore, checking out the nutrition info at the back of the pet food packs is important. The type of nutritional requirement can vary depending on the type of animal you own. For instance, the diet requirements for large breed dogs differ from those for small breed dogs. Likewise, the diet requirements are different for cats and dogs.
Dog Food
Dog food must have a minimum of 18% protein, 5% fat, and the maximum amounts of moisture and raw fiber. Additionally, they should include other nutrients such as calcium, phosphorus, salt, and linoleic acid, which are particularly crucial for bone formation in puppies. Therefore, it's best to give your dog a mixture of dry food and wet food to ensure they meet their daily nutritional requirement.
Cat Food
There are several factors to consider when you determine the proper nutritional needs of your cats. Some of these factors include your cat's age, weight, and any other health concerns. However, most vets recommend feeding your cat a diet rich in protein, high-quality grains, taurine, and arachidonic acid components.
Exercise
As much as you need to stay fit and healthy, your pets require a daily dose of exercise to stay healthy and strong. So, it's vital that they lead an active and adventurous lifestyle that includes a lot of walks and play. You can easily get the required accessories when you shop for your pet supplies online.
Let's take a look at some items you might need to keep your pets fit and entertained.
Dog Harness For Walks
For your dog's physical well-being and mental stimulation, exercise is crucial. But unlike people, there are no standards for how much activity they should get. There are different needs for various breeds. Some of the things you can do are bring your dog along with you when you go on a hike, walk or run. This is especially recommended if you have an energetic dog. Some dogs are trained to walk beside you freely, whereas others might require a harness so that you have more control over their movement. Check out the harnesses on your Daraz app and pick the right one that best fits your dog.
Cat Toys
Cats are creatures who require constant stimulation. Therefore it's important to keep your cat occupied with toys. Especially if your cat lives indoors, they must get their daily dose of exercise. Therefore, get your furball a bunch of different toys, so they grow up with strong bones and muscles.
Grooming
Regularly grooming your pets removes excess hair and dead skin from their coats while also dispersing natural oils. Clipping maintains a proper coat length which will be more comfortable for your pet in the warmer climate here in Sri Lanka. Additionally, it ensures your pet stays free of itchy skin.
Let's look at some grooming essentials available on online pet shops in Sri Lanka.
Grooming Glove
The grooming glove is an amazing product that allows you to easily get unwanted hair off your dogs, and cats. It comes with 255 silicon hair grooming tips so that your pet feels no discomfort when you're in the process of combing their hair. It's perfect for both long and short-haired cats and dogs. The best part is it's so easy to remove the hair off the glove and dispose of it.
Pet Shampoo
It's not advisable to apply human shampoo or soap on your pet's skin. The chemicals in the shampoos might not agree with the sensitive skin of your four-legged friend. Pet shampoo is designed with your pet's skin and coat in mind. Therefore, it contains the essential elements that are not too harsh on your fur baby's skin.
Scratching Board
A scratching board helps your cat get his claws in shape. Additionally, it gets them exercising and keeps them happy and content.
Health Check
Pet Supplements
Sometimes your pets cannot get all the nutrients they require through daily meals. Therefore, it's vital to give them vitamin supplements daily to make sure that they get all their nutritional requirements met. If you are looking for vitamin supplements for your pet, first check with your vet, and then get on your Daraz app and see if you can get the supplement for the lowest price on the market.
We hope this blog helped you locate a few pet supplies online that you would love to get for your fur baby. If you are shopping for pet food, check out our blog post; Get The Best Pet food Price in Sri Lanka From Daraz Mart.