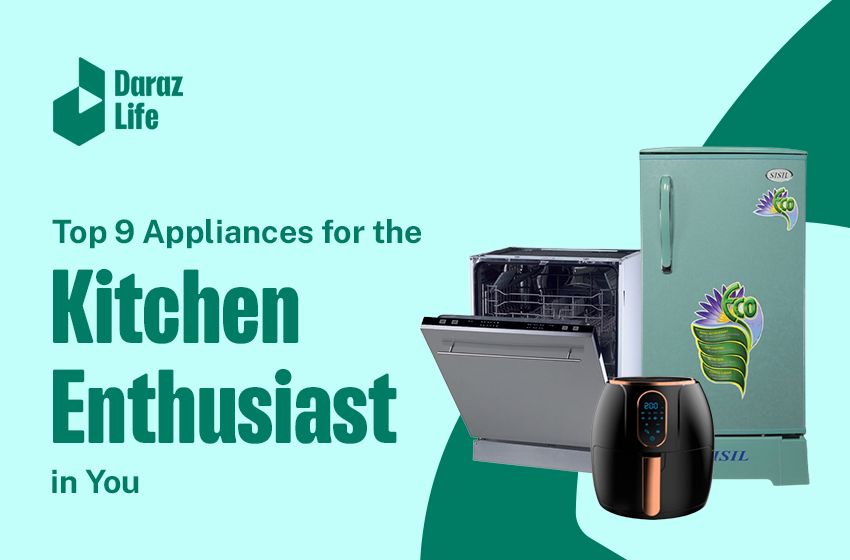 Top 9 Appliances for the Kitchen Enthusiast in You
Choosing the right kitchen appliances that go with both your style and budget is important. Kitchen appliances are available in a variety of styles.
Have you been wondering what kitchen appliances are right for your kitchen? As a modern-day woman you need to have appliances that make your life more convenient.
Appliances can be expensive, so it helps to first take a look at your kitchen layout and then draw up your budget. To add to that, we have some exciting news for you!

Get WOWed With Big Discounts on Home Appliances!
Daraz is Celebrating Her from the 23rd of August to the 1st of September, 2022. Get up to 60% OFF on kitchen and home appliances during the WOW Sale.
Grab appliances from top brand names such as LG, Innovex, LG, Hisense, Abans, Geepas, Singer, ELBA, Unilever, Pureit, Arpico, Sisil, NIKAI, Universal, Pigeon, AIRSONIC, Nippon, Prestige, Kawashi, National, Samsung, Xiaomi MI, BROWNS, Ariston, Midea, Earth Star, Den-b, Indesit, Surya, Krypton, Tecsonic, Sokany, Bowei, Panasonic, Bajaj, Taiko, Range, OLik, Black & Decker, Delmege, Richsonic, Sharp, and Hafele Midea.

Get genuine products for the lowest prices when you shop at Daraz Mall. Daraz Mall has more than 450 brands on board. Get 100% authentic products with Faster Delivery and a 14-day easy return policy.

Air Fryer
Are you a woman who constantly craves snacks? Or are you a woman with health goals, looking forward to minimizing her oil consumption? If any of these sounds like you, an air fryer can be your best friend. These are like miniature ovens that crisp up wings, fries, vegetables, and other air-fried dishes with little or no oil. They all work by circulating hot air swiftly utilizing a concentrated heat source, which is usually positioned on top. They're also perfect for warming leftovers. The Philips air fryer is one of our favorite air fryers.

Oven
Do you cook your meals early and require to heat them up before you have them later? Investing in a good oven is a great option. Ovens are important to heat up food that has been stored in the refrigerator for later use. Microwave and electric ovens, particularly fan-assisted ovens, tend to disperse heat more evenly. This permits hot air to travel around the oven, encircling the food and cooking it from various angles. You can also look for LG microwave ovens and small microwave ovens.

Refrigerators
A refrigerator can't be missed when making for yourself the kitchen that you love. But whether you want to get a mini-fridge, top freezer refrigerator, side-by-side refrigerator, or bottom freezer refrigerator is entirely up to you. When choosing a fridge, make sure you choose one that blends with the interior of your kitchen. The most popular finish is stainless steel refrigerators today. However, with regards to features and styles, make sure to pick the one that best suits your home.

Rice Cooker
You don't have to be a great cook to get some fluffy rice made for lunch. With rice being the staple food in Sri Lanka, the rice cooker is probably the topmost appliance used in our homes. And thanks to rice cookers, we can prepare our main dish with no skill. Moreover, they're easy to operate. With just a push of a button and about 30 minutes, we can soon get fully cooked rice for our meal.


RO Water Purifier
Water is an absolute necessity in life. However, it's also necessary to make sure the water we drink is clean so we can stay healthy. There are a variety of water purifiers that we can utilize to make sure the water we drink is free of germs. These purifiers help in removing germs, bacteria, lead, and other pollutants from the water. This also helps in balancing its pH level.

Dishwasher
If you don't enjoy washing dishes after every meal, we can relate to you. The struggle never ends. However, you don't have to always go through this. One of the most helpful appliances in a modern kitchen is the dishwasher. It's the ideal solution to better clean your dishes, pots, and pans. You can also look for an integrated dishwasher on Daraz, and free up time in your schedule for things more productive.

Juicer
All of us could use a cup of beverage while we're working hard. Something refreshing is always appreciated. Although fizzy drinks and packaged beverages may seem like an easy and good option, it's not a healthy choice. Drinking high-sugar soft drinks can lead to obesity, type 2 diabetes, and weight gain. Instead, consider getting yourself a juicer to prepare a quick glass of fresh juice. Although fruit juice is richer in nutrients, many nutrients degrade with time, so make sure to drink it while it's still fresh. You can also find the best juicer machine, smoothie maker, slow juicer, and cold press juicer all on Daraz.


Cooking Hood

Do you hate cooking your favourite curries solely because of the smoke and smell it leaves behind? A cooker hood might be just what you need. These range hoods improve air quality, and the cleanliness of your kitchen and removes excess heat. They also add style to your kitchen space. Click on the picture featured to own the product today.
We hope this article helped you with ideas on which kinds of home and kitchen appliances you'd like to save up with the WOW discounts. Whether you're looking for any of the mentioned appliances, or other ones like humidifiers, best food processor, multicookers, or LG washing machines – make sure to check Daraz out for the wide range of discounts available.
Furthermore, if you're looking to stack up on grocery and other essentials, stop by our blog: Stack Up on These Essentials with Daraz Mart – A Complete Checklist. Keep an eye out for more buying guides and similar content coming your way!