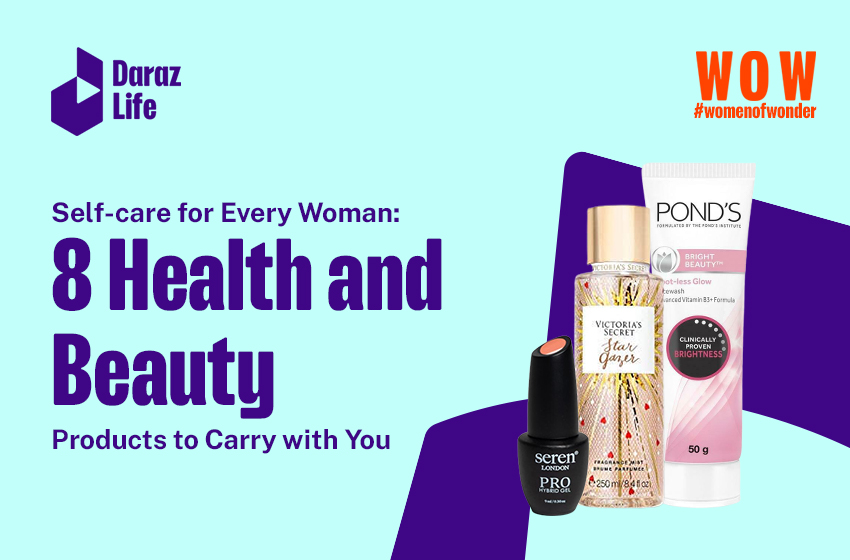 Self-care for Every Woman: Top 8 Health and Beauty Products
Health and beauty are two aspects that are prioritized by women. Using the right products can help you achieve your desired products. In the meantime, it also helps to carry some of them with you, so you can be at ease, feel fresh and look great regardless of where you are.
Are you looking for health and beauty products to look and feel great? We support women who prioritize themselves. Regardless of your skin colour, type, or your background- we've handpicked some of our favourite products that we think you should always have with you.


WOW Yourself with the Best Health and Beauty Products at the Best Rates
Are you looking forward to pampering yourself with love and care this Daraz Women's Week? Get on your Daraz App from 26th August to 1st September as Daraz celebrates women from all walks of life with WOW Women's Week 2022. Get discounts on your favourite health and beauty products with up to 50% OFF. Shop from popular brands like Vaseline, Ponds, Tresemme, Lakme, Nature's Secret, Kumarika, Velvet, CCUK, Prevense, Janet, Luvesence, and Revlon.
If you're looking for original products, make sure to visit Daraz Mall. Daraz Mall sells authentic products at the lowest prices, with more than 450 brands on board. Moreover, you are also eligible to a 14-day easy return policy when you shop on Daraz Mall.

Pond's Facial Wash
Whether or not you have a skincare routine, it's essential to wash your face at least twice a day. Washing our faces can also make us feel instantly better, fresh, and less tired. The contaminants, dirt, and bacteria that your face is exposed to daily can be removed by facial cleaning with products like Ponds facial wash, giving the skin a new and radiant appearance.
Best Eye Cream
Do you feel like your eyes give away signs of exhaustion and aging more than the rest of your body? This is because the skin around the eyes is more delicate and is prone to dryness. Fluids tend to gather under the eyes, causing puffiness and dark circles. However, these can be avoided with the right eye creams. On Daraz, you can find the best eye creams at discounted rates. Click on the featured image to purchase them today.
Ordinary Skin Care
If you haven't noticed already, Ordinary skincare products have a lot of hype surrounding them lately. This is one of the most popular skincare brands right now. Their skincare products have the most technical names possible, making it difficult to know where to begin. The best overall product however is considered to be The Ordinary Niacinamide 10% + Zinc 1%. This helps to prevent breakouts and improve skin texture. You might also want to check the Peeling Solution and The Ordinary Vitamin C Suspension 23% + HA Spheres 2.
CCUK Concealer
Do you feel like a few blemishes ruin your entire look? Don't let this affect your confidence. Concealer conceals dark circles, age spots, blemishes, and more by obstructing pigments and blending these flaws into the skin. Our personal favourite is the CCUK concealer.

Sanitizer
With another wave of covid hitting us, we need to stay on top of our hygiene. That being said, we can't miss the sanitizer. It's always a good idea to carry a bottle of sanitizer in your pocket or bag. While soap and water can remove germs from hands, sanitizer works by killing certain germs and viruses on the skin. One of our favorite sanitizers is the Lifebuoy hand sanitizer. You can also look for alcohol-based hand sanitizer, and spraying hand sanitizer.

Victoria's Secret Body Spray
Are you the kind of person who gets tends to feel tired frequently? Body sprays might be able to with that. Body sprays are a lot like perfumes. However, their main purpose is to make the body feel fresh and relaxed. They also contain scent extracts such as herbs, oils, and spices. As a result, they can make you smell amazing and provide you with a few hours of fresh fragrance.

Nail Polish
Are you in love with the feminine touch that nail polish gives you? It's time to grab nail polish of all your favourite nail colours! These don't only make your hands look prettier, but they can also complement greatly to your look if the colour matches your outfit. It's undeniable that nail polish has become a beauty staple for women in recent years.
Dettol Soap
Have you ever had to take a quick wash at a friend's place or accidentally stained your outfit when you're away from home? This is why we recommend carrying a soap with you. Remember that sharing your soap is not healthy, and can increase the transmission of germs. We recommend getting a Dettol soap or Lifebuoy soap if you're looking for a great soap for yourself.
We hope this article helped you with deciding how you'd like to make use of the WOW discounts to grab all your favourite health and beauty products. Regardless of which personal care products you'd like to get, make sure to check Daraz out. Furthermore, if you're looking for steps on how to do your makeup perfectly, take a look at our blog on How to Do Your Makeup Steps Right: A Comprehensive Guide.