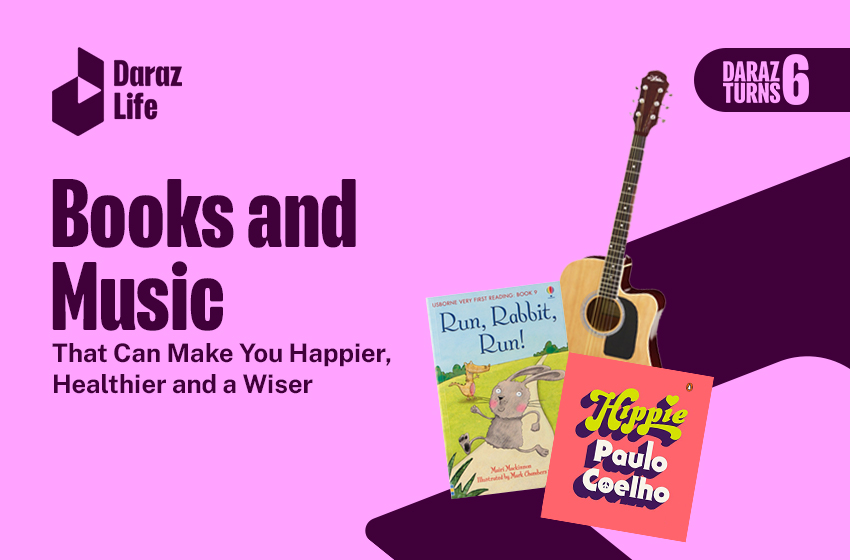 Reading and Music Can Make You Happier, Healthier and a Wiser
Reading and learning to play an instrument can positively impact brain development. Continue reading if you are someone who loves to collect books or looking at the option of learning to play a new instrument.
Do you love reading or playing musical instruments? Ahead, we have listed how you can save big when you purchase books or instruments.
Daraz is Turning 6! Get Huge Discounts on Books and Music Instruments
Join in the party as Daraz turn 6! Live, Play and Explore the Birthday Sale from the 27th of September and get up to 75% Off. Shop for Mega Deals, Get Bank discounts, Instalment plans, and massive giveaways! Download the Daraz app today and celebrate shopping.
Save up to 50% off when you shop for books, musical instruments and accessories from Daraz Mall flagship stores such as Yamaha, Mike Audio, Sky Music Center, EXPOGRAPHIC BOOKS, M.D.Gunasena and Company (Private) Limited, Samudra Book Shop, Jeya book center, and Casio. Furthermore, get Free Shipping and collectible discount vouchers when you shop from these brands.
Get genuine products for the lowest prices when you shop at Daraz Mall. Daraz Mall has more than 450 brands in various categories on board. You can get 100% authentic products with Faster Delivery and a 14-day easy return policy.
So, get on your Daraz App starting from the 27th of September and join the Daraz Birthday Celebrations. Let's take a look at some of the books, musical instruments and accessories available on the platform.
Electronics Keyboards
If you are interested in learning to play the Piano but not ready to make a big investment in the instrument, the next best choice to go for is an electronic keyboard. In terms of portability, a keyboard has a better advantage than a piano. They are lightweight and usually have 61 or 78 keys. Also, if you have a child who is keen on learning to play the Piano, getting them a keyboard is a great idea. The keys are usually not as weighted as they are on a Piano keyboard. Therefore it makes for a good instrument for kids with small hands.
Guitars
Did you know that learning to play an instrument can help to enhance self-awareness? Any kind of creative task is a form of self-expression. Likewise, learning to play the guitar is an outlet to release previously untapped energy.
There are three main types of guitars. The classical, electric and acoustic. Out of the three, the electric guitar is usually heavier and is a great option if you are a seasoned guitar player. However, if you are just learning to play the guitar, it's best if you can start off with a classical guitar. They are not only inexpensive compared to the other two, but they are also easier to handle. If you are ready to take up playing the guitar, keep an eye out for the lowest guitar price available during the Daraz Birthday Sale.
Accessories For Instruments
The perception that accessories for musical instruments as secondary in significance are a mistake made by many. Instrument accessories are equally vital as the instrument itself. For instance, imagine you own a guitar. If you break a string on your guitar, it would be wiser and more cost-effective to replace the string with a new one instead of buying a new guitar.
Also, a guitar needs to be tuned often. If you are a beginner at learning to play the guitar, your ears might not be able to recognize the correct frequency. Therefore, if you are serious about learning to play the instrument, it's worth it to invest in an electronic tuner. Likewise, there are several accessories available depending on the type of instrument you own. So, if you are looking to buy accessories for your instruments, check out your Daraz app on the 27th of September for special deals and discounts.
Children Story Books
If you are a fan of online books shopping, we have great news for you. Is your little one a big fan of Harry Potter books series? Or would you like to introduce them to the fantasy world of The Chronicles of Narnia? If that's the case, you do not want to miss out on the amazing discounts available for kids' books during the birthday sale. It's a fantastic opportunity to stock up on story books for children of all ages.
Self Help Books
Are you looking for solutions to overcome a specific issue in life? For instance, you can be overly stressed out and look for ways to manage stress. Or, you might be in the pursuit of overcoming an addiction. Whatever your issue might be, there are self-help books available for every type of problem life throws at you. So, if you want to learn from experts or someone else who has been through the same issue you are facing, get your hands on a few self-help books available at discounted prices.
Educational Books
Daraz's Birthday sale is an amazing opportunity for you to stack up all the educational books you require for yourself or your children. Generally, textbooks can be pricey. Therefore, make the most out of the bargains and discounts available during the sale. It's a fantastic opportunity to get all the educational books you need for the entire year.
Novels and Other Books
If you love to read novels and autobiographies, you can get up to 50% off on a range of books. So download the Daraz app and search for your favourite books starting from the 27th of September. Enjoy bargains like you've never seen before.
Hope you will be able to get all the books and musical instruments you need to become a healthier, happier and wiser version of yourself. If you are shopping for Bedroom Essentials, check out our blog Minimalist and Modern Bedding Essentials Up To 50% Off.