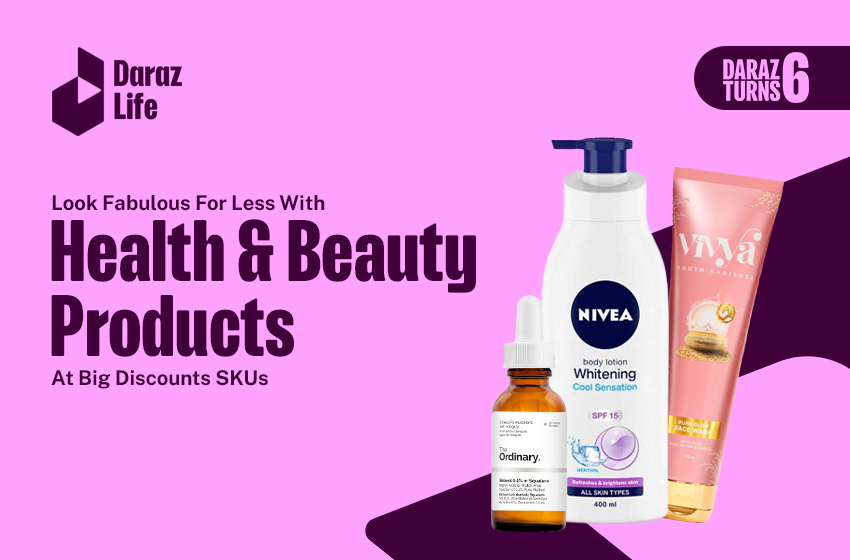 Big Discounts on Beauty Products in Sri Lanka
If you are shopping for beauty products in Sri Lanka, you're in the right place. Read on to find out how you can get the best discounts on Sri Lankan beauty products.
Are you looking to buy beauty products in Sri Lanka? Shop from the Daraz Birthday Sale and save up on beauty products online.
Discounts on Hair and Beauty Products in Sri Lanka During Birthday Sale
Party in style as Daraz turns 6. Join in on the celebrations and get up to a massive 75% OFF. Grab jaw-dropping Mega Deals. That's not all. You can save more with Bank card discounts and instalment plans. Shop with Daraz Points and get additional discounts sitewide. Get on your Daraz app starting from the 27th of September, and join the party.
Shop from our flagship brand stores on the Daraz platform DR.Rashel, Nivea, Gemei, Tresemme, herbline, Velvet, Nova, Hemas, Lifebouy, Axe, The Ordinary and get up to 30% off on beauty products in Sri Lanka. Also, get free shipping when you order from these stores during the Daraz Birthday sale. Collect valuable vouchers and save more.
Make Use of Discount Vouchers
Don't forget to visit the discount voucher section as you browse your Daraz app for your favourite items. Collect vouchers to get additional discounts, so you can shop till you drop. Download the Daraz app now and have fun shopping.
Most of your favourite brands are already on board to celebrate the Birthday with Daraz. Daraz Mall has Partnered with several brands from multiple categories to bring you the best prices in town. 100% authentic products, with Faster Delivery and a 14-day easy return policy. Look out for the Daraz Mall label at the bottom of the product to distinguish them from the rest.
Moisturizers
Moisturizers are useful to the skin in a variety of ways. However, if you don't know which moisturizer is best for your skin, the consequences might be terrible. An oily moisturizer, for example, might be quite damaging if you have acne-prone oily skin. Choosing the appropriate moisturizer for your skin is so critical. Whichever moisturizer you pick, we can assure you can obtain them at the best discounts during the Daraz Birthday Sale.
Hand and Body Lotions
Skin is the most sensitive area of your body and therefore, it needs special care and attention. Keeping your skin healthy and radiant should never get limited to the face. Every part of the skin should be treated equally with care so that you can have healthy skin in the years to come. So, stock up on hand and body lotion to make sure that your skin stays supple without drying up.
Facial Wash
When it comes to face wash, just like a moisturizer, there is no one size fits all approach. Every individual has different skin types and cosmetic needs. For instance, someone with oily skin would require a face wash that suits their skin type. Also, if you have an acne-prone skin type, you have to be extra careful with the products you incorporate into your skincare routine. Some people prefer to use organic or Ayurvedic products on their faces. The good news is no matter what type of skin you have, if you buy your face wash from the Daraz Birthday Sale, you are sure to get the lowest price on the market.
Best Eye Cream
Do you feel like your eyes give away signs of fatigue and ageing? This is because the skin around the eyes is more delicate and is prone to dryness. Fluids tend to gather under the eyes, causing puffiness and dark circles. However, these can be avoided with the right eye creams. On Daraz, you can find the best eye creams at discounted rates. Click on the featured image to purchase them today.
Shampoo and Conditioner
Whether you have dry hair, oily hair or frizzy hair, you can find all your hair care solutions on Daraz. Download the Daraz App today and shop for shampoo and conditioner that will leave your hair bouncy and shiny.
Hair Oil
Hair oil is essential for healthier hair structure and growth. Despite the fact that many individuals avoid using hair oil due to its stickiness, hair oil has a long-lasting influence on hair and the scalp by providing all of the needed nutrients for improved hair growth.
Body Wash
Stop compromising on your skincare routine. Your skin deserves to be soft and supple like a flower petal. So, grab the best bath and body products during the Birthday Sale at the lowest rates.
Hand Sanitizer
It took a pandemic for a lot of people to realise that it's vital to stay on top of our hygiene. So, make sure you carry a bottle of sanitizer in your bag at all times. The more you're vigilant about your hygiene, the less likely you will fall sick.
Body Sprays
You can look drop-dead gorgeous, but if you carry around bad odour, the chances are that people would not want to be around you or make rude remarks about your odour. So, to avoid that embarrassing situation, and get body sprays at a super low price during this sale.
Face Serum
Many of us have varying skin concerns. Some have blemishes others want to treat their premature wrinkles. The best option is to try a serum that helps with your skin concern. Ordinary has a range of serums that can alleviate different concerns of the skin. The better news is you can get them at discounted prices on Daraz when you shop during the Birthday Sale. So, if you haven't tried Ordinary, this is a great time to acquire their products.
We hope this article will help you to save big on all of your health and beauty purchases during the Birthday Sale. If you are shopping for exercise equipment, click here.