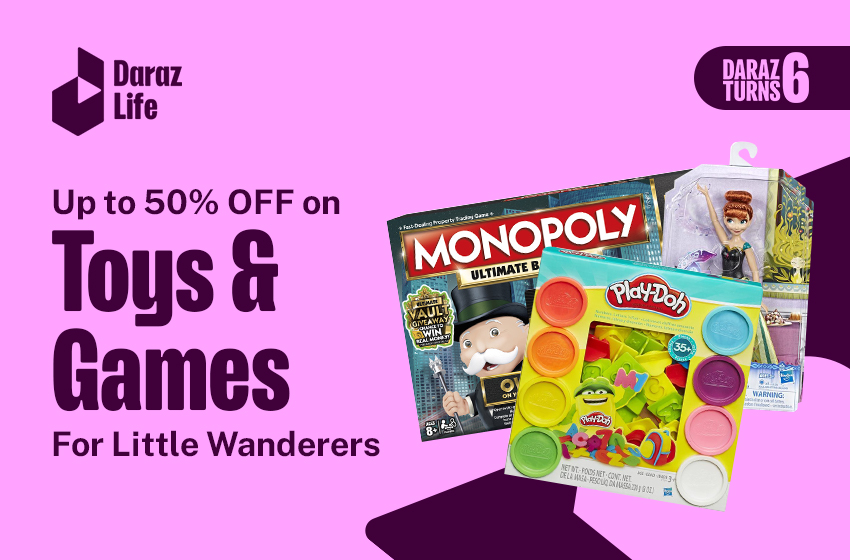 Up to 50% OFF on Games and Toys For Kids
If you are shopping for toys for kids, here is an ideal opportunity. Continue reading to find out how you can save up to 50% and more on toys when you shop during the birthday sale.
Are you looking to buy toys for kids? Read on to find out which online toy stores offer the best discounts.
Shop Up to 50% OFF on Games and Toys For Kids During Daraz Birthday Sale
Daraz Birthday Sale is LIVE with up to 75% off in savings, with an additional 12% discount on bank cards. Also, keep an eye out for Mega Deals, Bank Discounts, Instalment Plans, Giveaways on Daraz Live and lots of fun and surprises. Join the party now!
Shop from our flagship brand stores on the Daraz platform, Hasbro, Tikiri, Mellissa & Doug, DSL Toys, SriGift, Pink Hippo, and Tikiri Toys. Get up to 50% off on toys for kids, along with free shipping and gifts. Also, collect valuable vouchers and save more. Now that's an awesome deal you do not want to miss!
Make Use of Discount Vouchers
Don't forget to visit the discount voucher section as you browse your Daraz app for your favourite items. Collect vouchers to get additional discounts, so you can shop till you drop. Download the Daraz app now and have fun shopping.
Most of your favourite brands are already on board to celebrate the Birthday with Daraz. Daraz Mall has Partnered with several brands from multiple categories to bring you the best prices in town. 100% authentic products, with Faster Delivery and a 14-day easy return policy. Look out for the Daraz Mall label at the bottom of the product to distinguish them from the rest.
So, Let's take a look at the type of toys and board games that are available at discounted prices.
PlayDoh
Childhood is a magical period of imagination. So let them construct and mold things in their childlike imaginations. Playdough is an excellent medium for youngsters to express their creativity. It also aids in the development of fine motor skills. Additionally, it helps with hand and eye coordination. So, provide your kids with some Play DOH at a low cost to promote their creativity and imagination.
Rubber Toys
If you have toddlers, you probably noticed already that they like to put things in their mouths. Therefore it's ideal to consider rubber toys when you shop for toys for your little toddler. Save up when you buy rubber toys during the Daraz Birthday Sale.
Puzzles
Peg puzzles and puzzles are great toys for toddlers' brain development. They aid in the development of children's ability to distinguish the shapes of various things, whether they are basic shapes or animal drawings. Furthermore, as toddlers strive to fit them in the correct location, these puzzles teach children to coordinate their sight and sense of touch. Peg puzzles are also an excellent tool to teach kids new things, such as the alphabet, numbers, animals, and vehicles.
Soft Toys
Children like touching and experiencing different textures, and soft toys can provide the perfect balance for developing sensory abilities while also promoting social skills and emotional development. Soft toys are a fantastic way for children to learn about the many colors, sizes, and textures of the world around them from a young age.
If you have a baby, it totally makes sense to introduce a soft toy to him or her. Like adults, babies experience discomfort and worry. For them, the world is an ambiguous place, and one way to help them feel better is to show them their favorite snuggle toy. Soft toys can be soothing to babies. They can also help infants self-soothe. When they are going through an anxious time, having a teddy bear at their side might help them find comfort and provide the idea that they are with a loved one. So, make the most of the discounts during the Birthday sale and get your little kiddos their favourite soft toys.
Educational Toys
Let your child simultaneously explore while they play. Does your child have an inquisitive mind and thinks out of the box? You may wonder what to give them. Maybe they do not get a thrill from ordinary toys. That's why you should introduce them to educational toys. They help to promote cognitive learning, and the outcome of these toys nurtures children's innovative capabilities in the long run.
Dolls
Doll play, according to experts, offers real advantages. Giving your child an easy-to-hold attractive baby doll from an early age introduces them to a whole new world of pretend play, stimulates their creativity, and aids in the development of motor skills and social skills. It also helps to improve their development and emotional well-being. So, whether it's a Barbie doll or a lol surprise, get them a bunch of dolls to keep them company as they pretend to have tea parties and book clubs.
Board Games
Get your entire family together for some quality entertainment time. Board games are a great way to connect with each other within the family unit. Furthermore, they are an excellent way to find time to play with your children. So, invest in a few board games like Monopoly, UNO or Carrom and have fun with your family and friends.
We hope you can get the best deals on toys for kids this year as Daraz turns 6. If you are shopping for clothes, check out Best Deals and Steals on New Fashion During Birthday Sale.