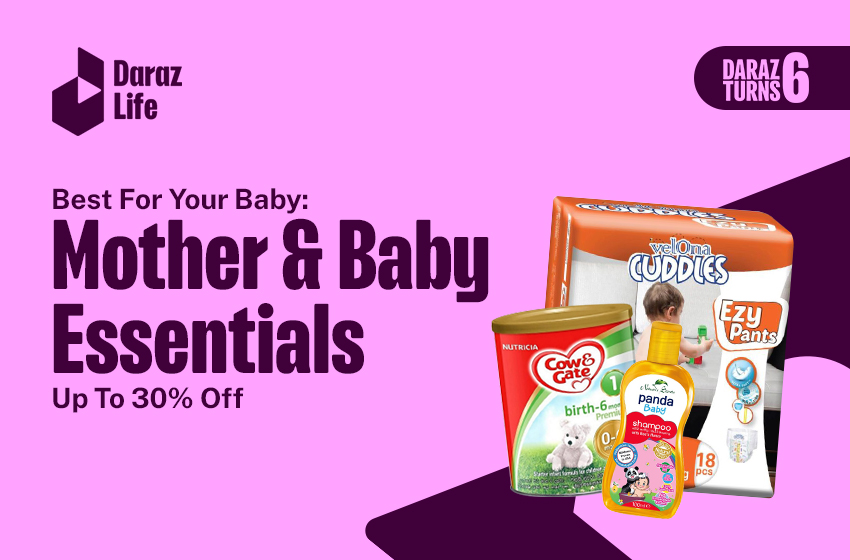 Mother and Baby Essentials Up To 30% Off
If you are shopping for mother and baby essentials, you are in luck. Continue reading to find out how you can avail of the lowest prices for mom and baby care products.
Are you shopping for mother and baby products? Ahead, we have listed some of the products that you can get at discounted prices during the Daraz Birthday Sale.
Mother and Baby Essentials Up To 30% Off During Daraz Birthday Sale
It's time to Party! Daraz is turning 6 years, and we like to celebrate it DARAZ style. Moreover, on our 6th birthday, we know our best GIFT IS YOU! So, we are giving you the chance to shop for all your favourite items with up to 75% OFF. Save more with Bank Card Discounts, Instalment Plans, Valuable Vouchers, and Free Shipping. Also, watch out for amazing giveaways! So, in case you haven't done it already, DOWNLOAD THE DARAZ APP AND JOIN THE BIRTHDAY CELEBRATIONS!
Shop from our mother and baby brand stores on the Daraz platform Marvel, Nan, Softlove, Cow & Gate, Farlin, Kids Joy, Pediapro, Avent, Velona Cuddles, Baby Cheramy, Panda Baby, and Pears. Get up to 30% off, along with free shipping. Also, collect valuable vouchers and save more. Now that's a super deal you do not want to miss!
Make Use of Discount Vouchers
Don't forget to visit the discount voucher section as you browse your Daraz app for your favourite items. Collect vouchers to get additional discounts, so you can shop till you drop. Download the Daraz app now and have fun shopping.
Most of your favourite brands are already on board to celebrate the Birthday with Daraz. Daraz Mall has Partnered with several brands from multiple categories to bring you the best prices in town. 100% authentic products, with Faster Delivery and a 14-day easy return policy. Look out for the Daraz Mall label at the bottom of the product to distinguish them from the rest.
Without further ado, let's look at some products that will be available at the lowest prices.
Wet Wipes
Wet wipes can come in handy in several situations. Besides cleaning your baby, you can use it to clean spills, make-up, or any other chore that requires cleaning. Additionally, they are great when you travel with your little one. However, over time the bills can add up and purchasing wipes may feel pricey and not cost-effective. But the good news is you can stock up on wet wipes bundles during sales like this and make the most bang for your buck.
Disposable Diapers
You already know that diapers are a lifesaver if you are a mom. Disposable diapers absorb the moisture when babies excrete, and therefore they don't become immediately fussy because it's damp. It's a real advantage when you travel with your baby or want them to sleep through the night. However, due to the current situation in the country, the prices of diapers have increased significantly. So, make the most of the Daraz Birthday Sale and stack up on diapers for the next couple of weeks or months.
Pull on Diaper Pants
As your little cherub grows older, they become more active, and some even start taking off their diapers easily. In these situations, the pull-up pants become really convenient. It's a useful alternative for both you and your baby.
Baby Formula
Whether you're a breastfeeder or formula feeder mommy, it's always good to keep a pack of formula on the side. You might have to use it in the most unexpected of times under unexpected circumstances. Furthermore, if you leave your baby for a little while with someone else, it's always good to have formula back up.
Toddler Milk
As your crawling baby becomes an energetic, walking and talking toddler, their nutritional requirements begin to change as well. Therefore, giving them the most suitable nutritional supplements is vital. That's the reason why you should give them milk aimed at their age category. These products contain all the vitamins, minerals and other nutrients that kids need during that age.
Feeding Bottles
During the infant stage, a breast feeder baby needs at least eight to twelve feeds a day. If you are opting to formula feed your infant, the baby requires at least six to ten daily feeds. Whether you opt to breastfeed exclusively or formula feed, it is always wise to have a bottle and accessories ready. So if you are shopping for feeding bottles, get them all at amazing discounts right now on your Daraz App.
Car Seats
Getting around with an infant or toddler is no easy task. For the first three months, you have to ensure that their heads are supported. Afterwards, you have to ensure the safety of your little bubs. However, these baby items can be a bit pricey. Therefore, make the most of the Birthday sale and save up when you buy baby gear like car seats and other travelling accessories.
Lotions and Creams
When your baby is young, it's important to protect their skin's moisture to prevent dry skin and peeling. Baby care products mostly use natural ingredients to make the mildest baby toiletries. Therefore, get your little one a few bottles of lotion to prevent dry skin.
Baby Shampoo
It's important to use baby shampoo when you wash your little one. These products are mild and paraben-free therefore making them perfect for your baby's skin and hair.
We hope you will be able to make the most of the deals and discounts available on mom and baby products during the Daraz Birthday Sale. If you are shopping for groceries, check out our blog, Save Big When You Order Groceries Online.