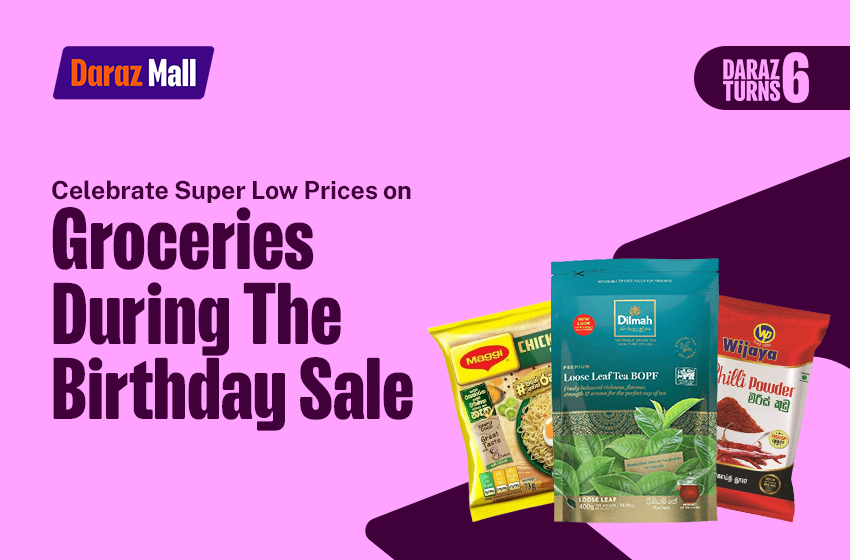 Save Big When You Order Groceries Online
If you order groceries online, we have exciting news. Continue reading to find out how you can save up, get the lowest prices, and get groceries delivered to your doorstep.
Do you order groceries online? We have listed some items you can get at super low prices from Daraz Mart. Additionally, you can save extra when you shop during the Birthday Sale.
Order Groceries Online During Daraz's 6th Birthday Sale
Join in the party as Daraz turn 6! Live, Play and Explore the Birthday Sale from the 27th of September and get up to 75% Off. Shop for Mega Deals, Get Bank discounts, Instalment plans, and massive giveaways! Download the Daraz app today and celebrate shopping.
Save up to 20% off when you shop for groceries and other daily essentials from Daraz Mart stores such as Araliya, KIST, Munchee, Maggi, VIVA, Nestomalt, Harischandra, MILO, Dilmah, Puredale, Lipton, Wijeya, Furthermore, get Free Shipping and collectible discount vouchers when you shop from these brands.
Save An Extra 12% OFF On Bank Cards
Daraz has Partnered with leading banks such as Commercial bank, Sampath bank, HSBC, HNB, Seylan, DFCC, Standard chartered bank & BOC with a further 10 % OFF on credit cards. Furthermore, Master card is offering an Extra 12 % OFF on all master cards (T&C applied)
Most of your favourite brands are already on board to celebrate the Birthday with Daraz. Daraz Mall has Partnered with several brands from multiple categories to bring you the best prices in town. 100% authentic products, with Faster Delivery and a 14-day easy return policy. Look out for the Daraz Mall label at the bottom of the product to distinguish them from the rest.
Let's take a look at some groceries that you can get for the lowest prices during the sale.
Rice, Grains and Pulses
Rice is no doubt the staple food in every household. Therefore, you can never have too much rice stocked up in your kitchen. One serving of pulses contains around one-third of the daily fibre recommendation you require to lead a healthy lifestyle. As a result, they are one of the fibre-rich meals. Also,  Pulses can be used in various different ways.   These may be used as a main entrée, a side dish, or even in snacks and baked goods at any time of the day. Likewise, grains are a super healthy food group that belongs to every household. Especially if you are a vegan, it's recommended to increase your grain intake. Get all of these food staples from the Daraz Birthday Sale at discounted prices.
Sauces
Sauces are essential for enhancing flavours, increasing juiciness, and improving the deliciousness of a meal. For example, if you're throwing a BBQ party at home, having a tasty sauce to pour over your BBQ meat will make all the difference. Also, most of us like to consume foods like pastries, pizza and finger foods with ketchup. Therefore, if you are shopping for sauces or chutneys, the Birthday Sale is a great opportunity for you to get them all at discounted prices.
Snacks
Who doesn't love something to crunch when you feel hungry in the middle of the day? Therefore, if you are a fan of biscuits, chips and crisps, you can now get them all at the lowest prices on your Daraz App.
Instant Noodles
Instant Noodles always make for a quick and easy mealtime favourite. You can prepare it the way it's instructed on the packet, or you can add additional vegetables, meat and sauces and convert it into a special treat. Whichever way it's always handy to have instant noodles stocked up in your kitchen cabinet for fast and easy meals.
Beverages
As we get tied up in hectic chores on a daily basis, we could all use an energy boost every now and then. Malt drinks are one of the most popular supplements after vitamins. Whether you prefer to have it with your tea, coffee, or by itself, they make a healthy energy drink. Check out Daraz's birthday sale for the lowest prices on beverages like Nestomalt, VIVA and Milo.
Flour
Flour is one of the most important kitchen essentials, used from cooking to baking. Many types of flour are available for different purposes, such as rice flour, almond flour, gluten-free flour, pastry flour, gram flour, and wheat flour. All-purpose flour is the most versatile, from making roti to cakes. Rice flour, on the hand, is used for gluten-free baking and helps to make things crispy. String hoppers and rice noodles are also made using rice flour. Therefore, if you make foodstuff in your kitchen that requires flour often, here is a great opportunity to save a lot.
Tea
Tea is the drink of choice for many Sri Lankans. We take our morning tea and afternoon tea in almost a ritualistic manner. A day won't feel complete if we miss tea time. Therefore, grab this essential at discounted rates during the sale.
Instant Tea
With the price hikes in milk powder, many have opted to drink instant tea. There is a cost-effective advantage of having a pack of instant tea in your kitchen cupboard. All you need is three teaspoons of instant tea powder, and that makes up for the cost of tea, milk and sugar.
We hope you can get all of your grocery essentials at the lowest prices from the Daraz Birthday Sale. If you are shopping for home appliances, check out our blog, Premium Quality Home Appliances Sri Lanka Up To 45% Off.